However, a tepid 2-0 loss to Colombia in Miami on Wednesday night proved a rude awakening from last year's dream.
Let's not get too carried away though. It was the first game half of this group has played in nearly four months, and an exhibition to boot. But the performance underscored some worrying signs that had largely been glossed over thanks to de la Torre's torrid start as Mexico's head coach.
In Colombia, Mexico faced an opponent with which it shared many parallels -- a young group of players sprinkled with veteran talent, but a group with a bright future. Some of that talent is playing in Europe, others are spread across the Americas. Both have historically been the victims of their own hype and are out to prove otherwise.
Yet on the field on Wednesday, the two teams looked nothing alike. Mexico, feeling the effects of the injuries and lack of playing time that have characterized many of that group's time with their European clubs, was sluggish.
Colombia, on the other hand, looked hungry, the players eager to prove themselves for new head coach Jose Pekerman, an inspired choice upon first observation.
On the theme of playing time, Colombia's players on Wednesday evening (starters and substitutes), have averaged 25.87 games in all competitions for their clubs in the 2011-2012 season. Mexico's averaged just over two fewer games, at 23.82.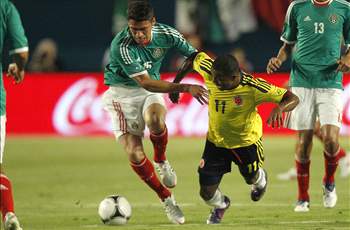 (One player on each side posed a problem here: Dorlan Pabon at Atletico Nacional and Rafael Marquez at the New York Red Bulls play in the Colombian and U.S. leagues, respectively, which follow the calendar year. Colombia's league is divided into two phases, so Pabon's appearances for only the second phase were counted. For Marquez, his appearances over the final half of New York's regular season schedule and playoff appearances were counted.)
It is also worth noting that while four Colombia players on the field at some point on Wednesday evening play in the Americas (Aquivaldo Mosquera, Aldo Ramirez, Pabon and Giovanni Moreno), with the other 11 in Europe, Mexico's team featured 10 Americas-based players (mostly in Mexico).
Of the seven European-based players that took the field at some point, two (Jonathan dos Santos and Andres Guardado, both starters) have spent most and all of their seasons, respectively, playing second division soccer, compared to just one Colombia substitute, Abel Aguilar. (It is a pretty safe bet, though, that you will see all three in a first division somewhere come next season.)
This is not to say that the game was won or lost because of the club situations of the players on the field. But it would be difficult to argue that it did not contribute to Mexico's sluggish performance, especially from players such as Giovani dos Santos, who has only played 451 minutes for his club in the 2011-2012 season.
De la Torre alluded to that fact in his postgame press conference, explaining, "We must save those players that aren't regulars at their club. I analyzed a few of them, and it left me calm."
The question for de la Torre now is, 'What next?' If these players with undeniable talent continue to struggle for playing time (Giovani dos Santos, Efrain Juarez), injuries (Javier Hernandez) and/or form (Marquez), the coach will start having to look for other options. Luckily, potential replacements abound, but it is not always as straightforward as swapping them in.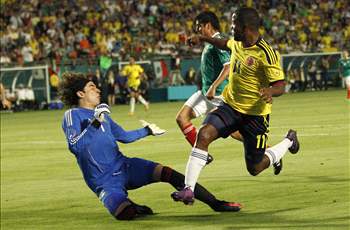 Mexico has gobs of bright young talent, but there is no substitute for playing time at the professional level in a player's development. Mexico's professional league is a great source for young talent, but should not be the end goal for young players.
It is certainly worth considering the effects of playing time on development and performances at the national team level, but the game itself offered some other concerning conclusions.
For instance, Mexico's central defensive pairing of Rafael Marquez and Hector Moreno struggled to combat the dynamism of Colombia's forward pairing of Pabon and Falcao. That, and Colombia's aggressive but technically sound play across the pitch, forced plenty of miscues on both sides of the ball. While Mexico can shine playing its own game, it can often struggle when it is forced to play another team's, as it was Wednesday.
"The game got complicated for us, but aside from the result we must take way certain important aspects from this match," de la Torre said.
Though Chepo and his charges will have plenty of time to learn from this game, it is vital that they do. The fare served up in the early stages of CONCACAF qualifying may not provide the same kind of test, but lessons like these could well be vital when a trip to Brazil is on the agenda in two years' time.