Mexico experienced a dramatic fall to Earth from the giddy heights of 2011 on Wednesday evening, losing 2-0 to Colombia in Miami. However, head coach Jose Manuel de la Torre and his team are not about to let the defeat hamper their preparation for World Cup qualifying, as the group looked for positives after the defeat.
"The game got complicated for us, but aside from the result we must take way certain important aspects from this match," de la Torre explained to reporters after the match.
Though Mexico started off brightly, it eventually succumbed to Colombia's athleticism and skill in the attack, with errors from Jesus Zavala and Guillermo Ochoa leading to Radamel Falcao's first half tap-in.
"We started fine, we had a miscue and that's too bad, now we must turn the page and keep working," Mexico winger Pablo Barrera said after the match.
When asked about the sequence which led to the first goal, though, Ochoa denied culpability. A weak clearance from Jesus Zavala fell to Dorlan Pabon, who fired a shot on goal that Ochoa spilled right at the feet of Falcao, who finished easily.
"No, these are quick plays for goalkeepers, sometimes you don't have time to react and save the ball. There are rebounds that you can't control," Ochoa replied when asked about the play.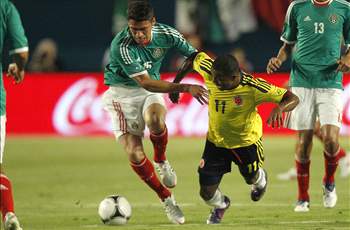 Mexico appeared notably slower in the second half. On the hour mark, Juan Guillermo Cuadrado found himself unmarked at the far post to finish off a well-worked move initiated by Pablo Armero and James Rodriguez on the left-hand side.
Mexico didn't help itself with a sluggish attack, and aside from a spell of early pressure in the first half, failed to support Javier Hernandez and his replacement, Oribe Peralta.
"Colombia has great players and we weren't sharp today. We missed a lot. It cost us and now we must look forward," Barrera added.
De la Torre had similar praise for Colombia, and while he acknowledged his team's shortcomings, he also credited his team's opponents for their resolve.
"The game got complicated for us, but aside from the result we must take way certain important aspects from this match," he commented.
Ochoa echoed the thoughts of his coach and teammate, explaining, "We weren't precise tonight, we missed our clarity. We chose plays badly. The important thing is that the team tried to maintain its essence. Sometimes things don't work out."
While it was a warm evening in South Florida, the pitch was heavily watered, though Jonathan dos Santos refused to blame the slippery conditions for his team's standard of play and even cited as a reason for the quality of the game.
"I'm used to it. Here in Mexico they do it too, but to be honest it was the best for both teams because tonight there was a better level of soccer," he said.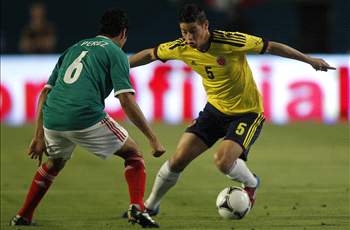 Dos Santos looked quite at home on the field after being handed the start by de la Torre after a recent run in the Barcelona first team. Though he only played 45 minutes, his ball movement and the pressure he put on Colombia players were some of the few bright points of Mexico's game.
"Tonight, Jonathan dos Santos ratified what he's been able to show with his club," de la Torre said.
Though dos Santos had earned his start throw positive showings at the club level, de la Torre took a different approach with some of his other players who aren't seeing much time at their clubs, namely Giovani dos Santos and Pablo Barrera, as well as late substitute Efrain Juarez.
"We must save those players that aren't regulars at their clubs," he explained. "I analyzed a few of them, and it left me calm."
Ochoa finished his remarks by reminding those watching not to blow the result out of proportion.
"We have to be calm. This was a friendly, let's not exaggerate," he urged. "Mexico tried to win tonight, we did it with responsibility. We always try to do that from the first minute."