Carlos Salcido is the headline name in the group, but the intrigue will certainly be brought by the players that have returned from suspension.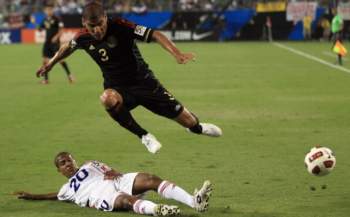 Four players on the list, Marco Fabian, Nestor Calderón, Javier Cortes and Israel Jimenez, were indefinitely dropped from the team after their involvement with a prostitution scandal during last year's Copa America. Jesús Corona also returns to the squad after having been dropped prior to the prior to the 2011 Gold Cup for violent conduct.
Also of note, calls to have Monterrey goalkeeper Jonathan Orozco selected were ignored while Oribe Peraltam, who was called up, is the leading Mexican scorer in the league since the beginning of 2011.
Aldo de Nigris of Monterrey was not called up as he is currently injured.
Goalkeepers:
Jesús Corona (Cruz Azul)
Alfredo Talavera (Toluca)
Defenders:
Hugo Ayala (Tigres)
Israel Jiménez (UANL)
Hiram Mier (Monterrey)
Edgar Dueñas (Toluca)
Carlos Salcido (UANL)
Jesús Zavala (Monterrey)
Efraín Velarde (UNAM)
Jorge Torres Nilo (UANL)
Nestor Araujo (Cruz Azul)
Midfielders:
Marco Fabián (Chivas)
Javier Aquino (Cruz Azul)
Israel Castro (Cruz AZul)
Javier Cortés (UNAM)
Edgar Andrade (Chiapas)
Jesús Molina (América)
Nestor Calderón (Toluca)
Forwards:
Oribe Peralta (Santos)
Rafael Márquez Lugo (Morelia)