 For the second match in a row, Mexico coach Jose Manuel de la Torre, upon struggling to break down a constricting opposition midfield, cast his Aldo De Nigris-shaped dice and came out the winner.
This game, a 2-0 triumph over Honduras in the Gold Cup semifinal in Houston, was even more physically brutal and emotionally tense than the last, a come-from-behind 2-1 win over Guatemala in the quarterfinal.
But eventually, in extra time, De Nigris' insertion paid off, with the Monterrey striker planting his head on two corners, one for the winning goal and the other for a cheeky assist on Chicharito's follow up to put the game on ice.
The champagne will have to stay on ice for now, however. El Tri heads to Pasadena, Calif. to play its biggest rival, the United States, in a third straight U.S.-Mexico Gold Cup final.
As Mexico prepares for that, here's three tactical notes from the semifinal match.
1. Honduras caught Mexico in its five-man midfield web
Honduras has played much of the tournament with a lone striker - that part wasn't new. The flat bank of five unadventurous midfielders behind him was, though. With Carlo Costly still not fit, the mobile Jerry Bengtson continued in attack. However, as opposed to the Costa Rica match in which the bright Walter Martinez (injury) and Javier Portillo (used in a much more restricted left-wing role) linked up closely with him, Bengtson spent much of this game with a 30-yard gap between him and the closest midfielder.
To underline Bengtson's isolation, take note that that closest midfielder was often Roger Espinoza. You know, the Sporting Kansas City left back, who filled a central midfield role on Wednesday. Though the 24-year-old's got a venomous left-footed shot on him (and a venomous left-footed lunge, as proved by his late red card), Espinoza is most definitely not the player you want feeding service to your lone striker.
However, the negativity worked. For the most part. The five midfielders acted as a web strung across the middle of the field, gumming up El Tri's slick passing game. Mexico found it difficult to build momentum and the game quickly turned scrappy.
2. De la Torre again turns to Plan B
In downtown Bellingham, Wash., there is a bar called Plan B. It's a rather ingenious name. ("Our plans for the night fell through, I guess we'll have to come up with a Plan B now." "OK, sure, meet you there in 15.") De la Torre may never have been to Bellingham, but if he has, he's a frequenter of that bar, at least judging by how apt he is at changing the thrust of his attack when the initial strategy isn't working.
Starting Javier Hernandez up top alone allows Mexico to field a handful of slick passers and feature some guileful movement. This short-passing system allowed Mexico to shred through the group stages, scoring 14 goals in the process. However, against stauncher, stouter knockout competition, that outlook hasn't panned out quite as well.
In De Nigris, De la Torre has found a quick fix from the bench. Just add headband, will score goals. The 27-year-old scored the equalizing goal against Guatemala and the winner in extra time against Honduras, as well as adding an assist. Moreover, De Nigris offers a more direct option - the ability to win knockdowns on long balls out of defense and play with his back to goal. String a web across the midfield, and we'll just chip the ball right over your heads into attack. It makes for uglier viewing, sure, but it also means Mexico lives to see the next round.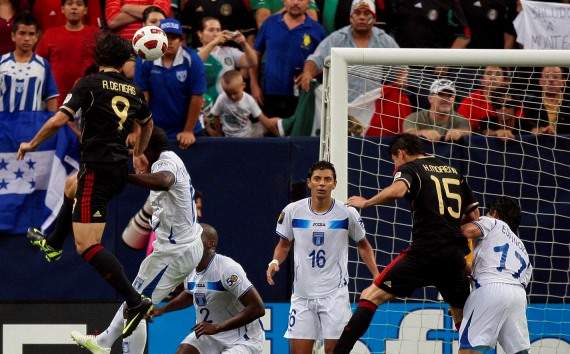 3. A note about defending set pieces
Honduras provided a rather illuminating example of how not to defend a corner kick to any youth teams which may have watched the game. It was awful generous of the nation to sacrifice a spot in the final to show children exactly what not to do during set pieces. Hopefully they were all paying attention, because the Honduras defense sure wasn't.
The first set piece was just an individual error. Osman Chavez, a hulking beast of a physical specimen with a propensity towards tactical errors and needless fouls, was marking De Nigris. He simply didn't do enough to throw the striker off or block the shot, instead half-falling over his own feet as the cross came in.
The defending, if you want to call it that, on the second corner, just six minutes later, was unforgivable. Two Hondurans marked the near post, with no one picking up Chicharito on the far side. Several teams lately have experimented with not putting anyone on the posts, the tactical equivalent of a strapless dress. It's sleek, it's sexy, but it's perhaps not the most versatile or useful in gritty situations. However, even leaving the posts unmanned would have been preferable here. Then at least the Manchester United man would have been offside. Instead, the defenders on the near post kept Hernandez onside as he bundled the ball into the back of the net and killed off the game.
After five games, two of which went into extra time, huge amounts of heart, tactical discipline, and holding the best team in the tournament scoreless for 90 minutes, all that hard work was instantly undone by a simple set-piece error. This beautiful game can sometimes be unbearably brutal.
Zac Lee Rigg is an editor of Goal.com. Send him doting poetry or compliment his fluttering eyelashes through email or Twitter.