Sepp Blatter's hope is that by the time Brazil kicks off the World Cup in Sao Paulo on Thursday against Croatia, all the ills in the run up to the World Cup will be forgotten. A tournament win for the host nation would, perhaps, also serve as a temporary bulwark against public anger towards FIFA, allowing Blatter and his organization to escape with that estimated $4 billion in revenue unscathed.
The World Cup finals is a great unifying event but its popularity and importance owes more to a spirit of brotherhood than to anything that FIFA can bottle up and sell. FIFA merely feeds off its fumes although it does so very successfully. It is FIFA's one true asset, one with which it can hold the world to ransom as the game holds so many millions of people in thrall.
It will temporarily take FIFA's scandals and football's various vices off the agenda but then what awaits Blatter when it all finishes?
There are strong calls to re-run the vote for the awarding of the 2022 World Cup. The
Sunday Times
leak, regarding the awarding of the 2022 World Cup and the investigation into the processes of how the tournament came to be awarded, presents claims that delegates representing the Confederation of African Football received payments from the disgraced former FIFA Vice-President Mohamed Bin Hammam during the time that the host nations for the 2018 and 2022 World Cup finals were decided.
The cache of documents leaked to the British newspaper suggest that members of CAF were kept sweet by the Qatari Bin Hammam although it is not proven that there was a connection between payments allegedly made by Bin Hammam and the Qatar 2022 Supreme Committee.
Calls for a re-run of the 2022 vote are, so far, hasty. FIFA's current silence on the Qatari issue must not be seen as inaction, it must be regarded as discretion. Granted, it is difficult to give FIFA that benefit of doubt given its turbulent history but there is more at stake here than simply a football tournament. There exists the perception in Qatar that the accusations of impropriety hinge on spite and racism. With Qatar a major power broker in the world of football any attempt to strip it of its 2022 hosting rights would be lengthy, costly and highly contentious.
What must happen next is for FIFA and Blatter to show they are up to investigating the entire process around awarding the cup to Qatar, however cynical the football public at large remains.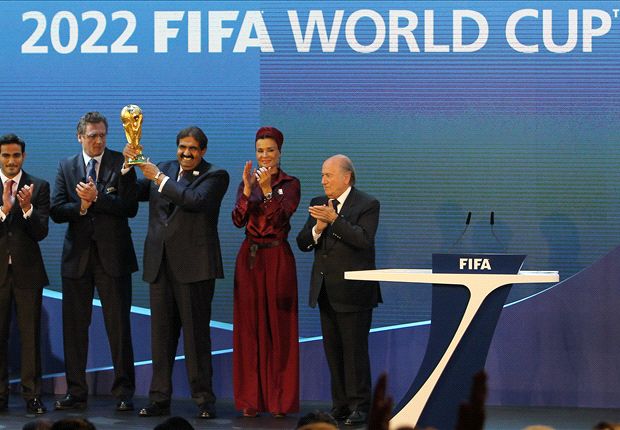 Controversy |
FIFA's awarding of the 2022 World Cup to Qatar has caused uproar
Blatter has been dogged by controversy throughout his presidency but never as acutely as in the weeks and months following the successful bid of Qatar. After running unopposed for re-election in 2011, Blatter installed Professor Mark Pieth as head of an Independent Governance Committee as FIFA faced widespread criticism over its practices and lack of transparency.
Many of those FIFA Executive Committee members who played their part in awarding the tournament to the Gulf state are now departed, some in disgrace and some under suspicion. There are still problematic elements with the Exco, according to Pieth. However, even if the pace might be glacial, there is at least some evidence - however minuscule - that FIFA is at last moving towards transparency.
For football to move forward, the 2018-2022 World Cup vote and subsequent FIFA presidential election have to be seen as the line in the sand; the end of the old FIFA. Now is the time to prove that Blatter's declarations of reform were not just lip service.
Michael Garcia, FIFA's chief ethics investigator is due to wrap up his own investigation next week into the awarding of the 2018 and 2022 World Cups to Russia and Qatar respectively before presenting his final report some six weeks later. Just enough time to enjoy the World Cup in between.
If it is indeed proven that there were bribes paid to FIFA Exco members in exchange for their votes, then FIFA has no option but to rethink the locations of those tournaments. However, the likelihood that these documents appear to have been leaked from within FIFA suggests that no 'smoking gun' will be presented by Garcia in July.
Brazil plays Croatia in the Itaquerao on Thursday in the World Cup's opening game - the stadium which will now not be completed until after the tournament ends. Only 40,000 tickets were sold for last week's final warm-up game as the local fire department would not approve all sections of the 65,000-capacity stadium. This tournament has been beset by all manner of setbacks - from delays in stadium and infrastructure projects to widespread social protests and strikes in the public sector.
There will be a four-week hiatus in the disillusionment towards the way football is run as fans and non-fans alike the world over settle in front of their televisions and watch it all come to life because there remains a luster and unity about the World Cup that no number of scuffs to FIFA's facade could ever deface.
After that though and the time for misdirection will be over. FIFA has one shot to show it is serious about good governance.