* Blatter defends appointments of Russia and Qatar as World Cup hosts * States that a winter World Cup is "at least 50 per cent" possibility * Hits out at corruption allegations
Sepp Blatter has insisted that Fifa is still pursuing the introduction of goal-line technology, and will introduce systems into the professional game if their accuracy and effectiveness can be proven.
In a broad interview with CNN World Sport's Pedro Pinto, the football governing body's president stated "if [the proposed methods] work then we will do it".
It is a debate that has raged on for years, with Fifa officially ditching the idea altogether in March 2008, but after two high-profile refereeing errors in the 2010 World Cup, Frank Lampard's disallowed goal for England against Germany being the most infamous, Blatter publicly u-turned on the scrapping and re-opened the discussion.
The case now rests with the International Football Association Board (IFAB) who will examine the shortlisted candidates chosen by Fifa, from 17 originally submitted plans, in March but Blatter was also quick to put across that despite the number of applicants it was not definite that a method will be approved.
"Here in Zurich, we have tested 17 different systems and now three or four or five of them will go to the Board," Blatter told CNN.
"The Board will then have the opportunity, first the technical committee will have a look on that and then there will be a recommendation, but if there is one of these systems that is accurate and immediate, and also not too complicated, then I think goal-line technology has a good chance to be accepted."
Blatter was immediately questioned about a possibility that no recommendation will be made, despite the huge outcry from the public that goal-line technology is installed, a question that the President
"If you make a gallup everywhere in the world with the fans then it will be a majority "yes", but if you go in the football family, with the football players, with referees especially and let's also say with the dignitaries then they are against because they are conservative."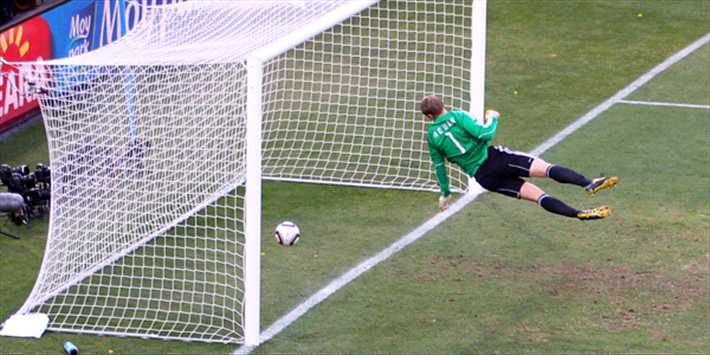 Tech the next step | Blatter insists Fifa would approve 'working' system
Despite the mention of referee Howard Webb, the Champions League and World Cup final official, who has previously spoken out about his want for the technology, Blatter ignored it and instead focused on the negatives that the technology could raise.
"My position is that if they work then we will do it," Blatter continued.
"The President of Europe Michel Platini is totally against any technical device because he's afraid that when we are in the goal-line technology we could go to the 18-yard line and we can go to the offside position or whatever, but for the time being we are talking about only goal-line technology. So let's look forward positively."
Blatter was also quizzed on the possibility of the 2022 World Cup, set to be hosted in Qatar, will be held during the winter months.
"[It] is possible because in the basic documents of the bid it is said that the Fifa Executive Committee can at any time make some amendments to the basic conditions," Blatter explained.
"But if you ask me the percentage to play in winter it is definitely over fifty per cent. It means this is more than just a probability to play in winter time because also for the spectacle, for the football and to protect footballers and also spectators, finally.
"It would be unfair to the players to play in summer when there is a possibility to play in winter."
With fans and members of the press questioning the decision to give the 2022 hosting rights to Qatar from the moment that their name was pulled from the envelope, Blatter immediately got himself in more hot water after joking about the lack of freedom available in the Middle Eastern country, namely the issue that homosexuality is illegal. Blatter moved quickly to avoid any further embarrassment and to attempt to put those minds at ease.
"The principles of human rights would not be respected, this could be a problem. We will push Qatar to make sure the World cup will be played in such conditions that other World Cups have been played and that human rights are respected."
Such strict practices in Qatar has led to many criticisms of their choice as host, and Pinto pressed this point to Blatter, stating that both Russia and Qatar were issued as 'high risk' after their technical reports yet both won the right to host the tournament. In response, Blatter swept aside the important of the technical reports and stated, surprisingly, that those responsible "vote more with their heart than they vote with their head".
"Well, since I am in Fifa we have made the technical reports and I have to say that never the technical reports have identified the right winner," stated the Fifa President.
"We are going to [scrap the reports] because we want to show also to the world that we have done our job, but finally you have a college of voters and they do finally, they vote more with their heart than they vote with their head."
Quickly back-peddling, Blatter added: "but also I have to say that Russia have shown a very compact organization that the World Cup. The benefit of the World Cup is already there in the country because the country will be developed. In the other countries everything is already there."
The biggest challenge Blatter and all those in Zurich have faced recently are these threats of corruption, lead by, first, The Sunday Times and then the BBC Panorama documentary that aired just three days before the all-important votes were cast.
The result was that two Fifa officials were suspended after being found guilty of attempting to sell their votes, and the relationship with England and their bid were seriously harmed.
In response Fifa stepped up their Ethics Committee, their sole aim to investigate the allegations of corruption in the governing body.
"What I want to put together is a sort of compliance group. People from outside of Fifa, but being involved in politics, in culture, in economy, whatever, also in sport and they will be like to chaperon in a group of personalities to say we will give some credibility to this organization," Blatter explained.
However, these measures took a hit recently when Guenter Hirsch resigned stating that "those responsible in Fifa have no real interest in playing an active role in the resolution, pursuance and prevention of violations of Fifa's Ethics code".
Blatter responded, "I am very disappointed by his declaration. He was there at the beginning of the Ethics Committee, he was not attending other meetings of the Ethic Committee, he was not making any comments on the ethic code.
"He was asked to make comments in writing, he has not participated in the meetings we have had in connection with the 2010 voting process, so how such high level legalist can make such declaration."
Follow Goal.com on

to get the latest soccer news directly. Check out Goal.com's

page; be part of the best soccer fan community in the world!