Wil Trapp's comfort zone is the last place he wants to be.
That's why Trapp, as a youth soccer player in suburban Columbus, always looked to play up an age group or two. This also explains why he had no qualms about shifting to a new position at the University of Akron, or forfeiting two years of college eligibility in favor of a Major League Soccer contract.
Complacency is a crutch Trapp has no interest in leaning on. With satisfaction comes stagnation.
"From a young age, I was pretty adamant about trying to push my limits," Trapp told
Goal USA
. "When you're comfortable, you're not progressing. So I was always trying to put myself in situations that were a little uncomfortable."
U.S. SOCCER LATEST

It's an approach that has served the 21-year-old well. In just his second season with the Columbus Crew, Trapp has emerged as one of the top holding midfielders in MLS.
While American soccer has produced plenty of gritty ball-winners in central midfield, Trapp falls under a less common breed. As a cerebral facilitator, he controls the match with clean touches and smart decision-making. In his words, he's "the tempo and rhythm guy."
There is a reason only Sporting Kansas City can better the Crew's mark of 54.7 percent possession this season. Trapp is fourth in MLS in passes completed, and third in accuracy among regular starters. Although he wants to improve at clogging passing lanes, he already ranks third in interceptions by midfielders.
"He brings a calm presence in the middle," Crew midfielder Ethan Finlay said. "His role is to get the ball in those pockets, get it off our center backs' feet and hopefully turn it forward. He has an ability to get his head up and to thread the needle in a tight spot."
Trapp, in many ways, is an ideal example of "MLS 3.0" player development. A Crew academy product and longtime U.S. youth international, Trapp polished his skill set during two seasons at Akron before inking a homegrown deal with Columbus. It was the type of well-rounded soccer education not enjoyed by previous generations.
A Crew season-ticker holder, Trapp grew up admiring Brian McBride and Co. But he also found himself exposed to matches abroad, growing fond of "midfield taskmasters" such as Paul Scholes, Andrea Pirlo and Xabi Alonso.
Even though Trapp was the 2010 National High School Player of the Year as a striker-turned-playmaker, then-Akron coach Caleb Porter saw the potential at defensive midfield.
"It's funny — probably half the guys in MLS, if not more, were strikers growing up," Trapp said. "At Akron, we didn't really have a defensive mid. They just threw me into the fire there, and I took to it and really enjoyed it. It kind of fits my strengths as a player, and I just fell in love with the position."
After signing with Columbus in December 2012, Trapp didn't debut until the following July. But he locked down his spot from that point on, starting 24 straight matches.
It was a welcome change from his first half-season as a professional, which he acknowledged was a "mental battle" as he acclimated to the higher stakes of MLS.
"It's a job," Trapp said bluntly. "I come from college where everyone on the team is there to support you and you're all moving toward a common goal. It's not that you're not doing that at the professional level, but it becomes a little bit more of a selfish game in a lot of ways because you have to look out for yourself. That was something I wasn't really accustomed to."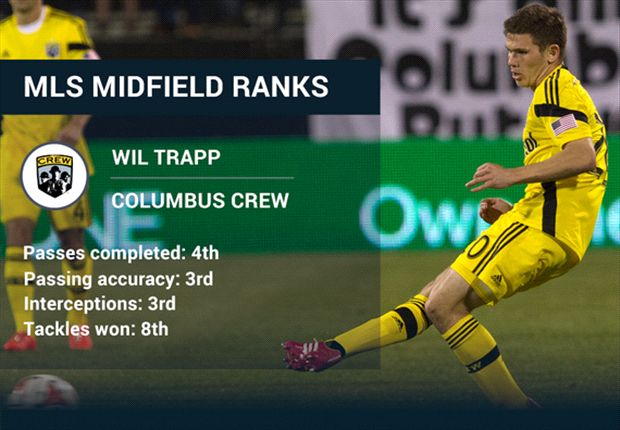 When it came time for new Crew coach Gregg Berhalter to tab his captain this past preseason, he unsurprisingly went with veteran defender Michael Parkhurst — then raised some eyebrows by choosing the inexperienced Trapp as vice captain.
As Trapp wryly points out, he's undefeated in two matches wearing the armband for the fourth-place Crew (7-8-9). While Trapp is barely a year removed from his professional debut, Berhalter already spots the qualities of a future captain in the Ohio native.
"I thought it was important to put Wil in a position where he's groomed to eventually do something like that," Berhalter said. "He has great leadership qualities. Even though he's one of the younger guys on the team, people respect him. He's a good player, he's a tireless worker, so he's a guy who's going to push people forward."
Added Finlay: "He's been able to take feedback and also give feedback to players who are maybe a little bit more experienced than him. It's great to see a young player have the confidence to do that."
Trapp also has shown that leadership for his country, captaining the USA in a 1-1 draw against France at the U-20 World Cup. After facing the likes of Juventus standout Paul Pogba and Barcelona's Gerard Deulofeu last summer, Trapp sees their progress as impetus for his own development. If they can play in Europe's elite leagues, why can't he?
Of course, Trapp doesn't need to look that far anymore. Earlier this summer, he saw former U-20 teammate DeAndre Yedlin parlay a breakout World Cup into a move from the Seattle Sounders to English Premier League side Tottenham.
"He was on that team last year with me and now look at him," Trapp said. "That's something I've always wanted to do ever since I was a kid, when I was watching EPL or La Liga games on TV. That's where the highest level of competition is in world football. If you don't want that as a player, I think there's something wrong with you."
In addition to Yedlin, midfielder Luis Gil, defender Shane O'Neill and goalkeeper Cody Cropper also received full national team call-ups following the U-20 World Cup. With U.S. coach Jurgen Klinsmann voicing a desire to evaluate younger players in the buildup to the 2015 Gold Cup — and the 2016 Olympics — Trapp hopes he's next in line for a camp invite.
It's a natural step, after all, for a player always looking toward the next challenge. No sense in getting comfortable now.
"That's the goal, ultimately," Trapp said. "You want to represent your country. It gives me motivation to try to better myself so I can be in there as well. It's cool to see those guys do it — and it fuels my fire."