There are a fair few fans across the continent willing Atletico Madrid to go even further in this season's Champions League as Diego Simeone's team prepare to take on Chelsea in the second leg of their semi-final on Wednesday night. Their evolution from Europa League winners to Champions League contenders under the Argentinian coach has earned them a great deal of respect.
Simeone has forged a committed and diligent unit capable of disrupting the very best teams in the world. That's the company in which they belong after taking four points from Real Madrid in la Liga - as well as beating the Blancos in last season's Copa del Rey final - and eliminating Barcelona from the Champions League this season. As things stand Atletico is the favorite to win the Spanish top flight too.
This, however, cannot be seen as a defiant victory for the little man in the face of the immense strength of the Clasico duo. While Simeone's on-field turnaround merits credit, Atletico is not deserving of its billing as the people's champion. That would be to whitewash the club's recent history. The capital club has come to represent, in recent years, much which is troubling about the modern game - third-party ownership, spiralling debts and an abdication of responsibility.
Atletico is Spain's third biggest team - in terms of revenue and support - but has struggled to keep its house in order since converting to a PLC in 1992. Ever since Jesus Gil became chief shareholder, Atletico's financial management has been open to question.
This is a club that has shown disregard for the regulations and fiscal prudence throughout its modern history. It was relegated in 2000 not long after its offices were raided in the infamous Caso Atletico. That eventually led to Gil's jail sentence of three-and-a-half years as well as punishments for Enrique Cerezo and Miguel Angel Gil Marin - who remain at the club. Following relegation, the club simply stopped paying taxes for two years. In that way it avoided around 46 million euros worth as it expedited escape from the Segunda Division.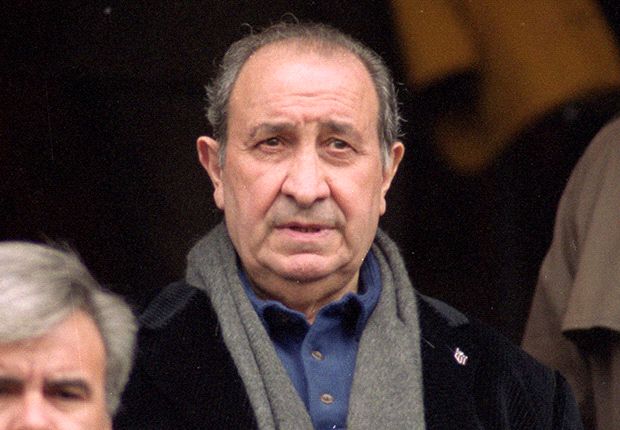 Godfather of modern Atletico | Jesus Gil was majority shareholder and died in 2004
By 2011 the club owed a scarcely conceivable 517 million euros to creditors - including as much as 171 million to the tax authorities alone. The Spanish government could have done more to call in the debt instead of offering Atletico a favorable rate of 4.5 percent interest per annum while it paid off 15 million euros of its tax bill every year.
Perversely, the economic meltdown in Spain, where unemployment stands at around 26 percent, gave Atletico the opportunity to alleviate its own predicament. "The government cannot demand payment without crippling clubs and leaving supporters very upset," economics and finance professor Jose Maria Gay told
Die Welt
in 2012. "Considering the situation our country is facing, it is unreasonable to start introducing dysfunctional steps into the championship that could affect its image, which has a commercial value."
That rationale meant that laxity prevailed. Uli Hoeness, then president of Bayern Munich, expressed his frustration when referring to the EU bailout of Spain in 2012. "This is unthinkable," he said. "We pay hundreds of millions to get them out of the sh*t, and then the clubs don't pay their debts."
Not paying their debts was Atletico's modus operandi under Gil. Although they have finally begun to pay down their tax debt, in theory, they will have not paid what they owe until some time early in the next decade. Instead of taking it on the chin and, perhaps, living within its means, Atletico simply carry on spending. UEFA temporarily withheld the club's Europa League prize money for breaching Financial Fair Play regulations in 2012. Atletico was among the first teams to be sanctioned although the punishment was eventually overturned. It is not difficult to see why the club came on the radar.
Not long after sending Sergio Kun Aguero on his way to Manchester City to stave off the tax man, a deal worth 40 million euros to bring in Radamel Falcao from Porto was agreed. It was apparent that Atletico wasunable to fund the deal itself and so the Doyen Sports Group - a hedge fund - reportedly picked up around 50 percent of the fee.
Falcao may well have enjoyed his best years at Atletico but it never deserved to have him. It could not afford it from within its means. That didn't stop them. Falcao was not the only one. According to one investigation in 2013, it was found that only six players on their first-team books were owned outright by the club. Despite the circumstances in which they found themselves, Atleti still spent over 160 million euros net on transfer fees from 2002 to 2009. To chase deals for the best players in the world while owing so much in back payments smacks of astonishing hubris.
IN NUMBERS
Atletico's financial irresponsibility

1992
Atletico convert to PLC
€59k
Unpaid wage claim filed by Diego
€40m
Spent on Falcao despite tax debt
€171m
Sum owed to tax authorities
€517m
Total owed at peak in 2011
Even being assisted by Doyen in paying for Falcao, Atletico could still not maintain their obligations to Porto. The Portuguese club, according to reports, was close to asking FIFA for a resolution when Atletico fell behind in its payments. Shortly after that complaint, Doyen's name began appearing on the Atletico kit.
And on the subject of kit sponsors, Atletico is currently into their second agreement with the Azerbaijan tourist board - a deal which raised eyebrows. It paid a reputed 12 million euros for an initial 18-month deal. The well-documented human rights abuses in that country stirred debate about the suitability of this sponsor.
Furthermore, in 2011, it was also reported that Atletico owed 52 million euros in wages to its own club staff. That was around 81 percent of the total wage bill. During his last spell at the club, playmaker Diego filed an unpaid wages complaint for around 59,000 euros.
There is, at the moment, a sense of stability around the Vicente Calderon ahead of the club's move to the Olympic Stadium in 2016. This is, however, an empire built on rickety foundations. How long will Simeone be around? Will he be afforded the funds to strengthen the team? Will top performers like Aguero, David de Gea and Diego Costa be continually sold to keep the wolves from the door?
This is likely to be Atletico's one and only shot at the big time at home and abroad for a long period. It had best make the most of it because it spent long enough living the high life while someone else picked up the tab. Austerity looms on the horizon.