Valencia and Sevilla both overcome first-leg deficits in impressive fashion on Thursday night to advance to the semifinals of the Europa League, flying the flag for Spain alongside Atletico and Real Madrid, both of whom made it to the last four of the Champions League earlier this week.
Sevilla's 4-1 win over Porto was a remarkable result for the Andalusian side, yet Unai Emery's men had been expected by many to progress after losing just 1-0 in Portugal last weekend. Not so Valencia, though, after a disappointing 3-0 defeat at Basel.
But Pizzi's pupils produced a memorable comeback at Mestalla to beat the Swiss side 3-0 and add two more in extra time to seal an unlikely place in the semifinals.
With that in mind,
Goal
looks at five classic turnarounds in two-legged battles in European football, including Valencia's wonderful win on Thursday.
Valencia 5-3 Basel (Europa League, 2013-14)
April 3, 2014: Basel 3-0 ValenciaApril 10, 2014: Valencia 5-0 Basel (AET)


Basel looked likely to advance after beating Valencia 3-0 in Switzerland last week, a result which left Pizzi "ashamed" of how his side had performed in the first leg.
However, the Argentine coach promised to do "everything possible" to turn the tie around and came good on his pledge as Valencia produced a stunning comeback on Thursday.
Youngster Paco Alcacer opened the scoring and Juan Vargas made it 2-0 minutes later to give the home side the initiative it needed before halftime. Alcacer added another after the break and completed his hat trick in extra time after Marcelo Diaz and Gaston Sauro had both been sent off.
Juan Bernat then rounded off a memorable night for the home side in an amazing 5-0 win.
Deportivo La Coruna 5-4 AC Milan (Champions League, 2003-04)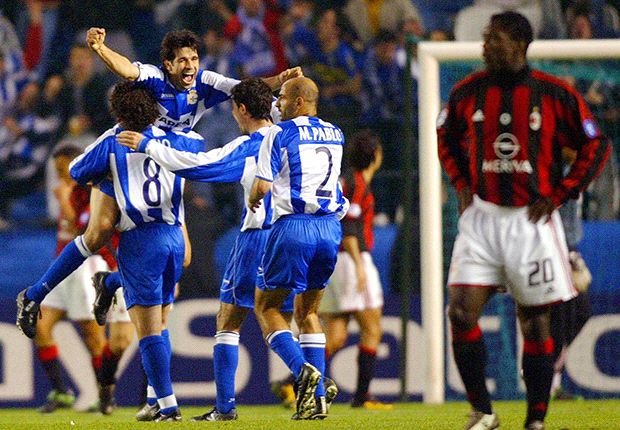 March 23, 2004: AC Milan 4-1 Deportivo La CorunaApril 7, 2004: Deportivo La Coruna 4-0 AC Milan
Since the European Cup became the Champions League in 1992, only one side has overturned a three-goal margin going into the second-leg of a knockout game in the latter stages of the competition.
Deportivo La Coruna may have since fallen into obscurity but back in 2004 it was nicknamed SuperDepor for a reason, as AC Milan found out in the quarterfinals. The Serie A side held a comfortable 4-1 advantage after the first leg, during which Kaka contributed two goals. But Walter Pandiani's early strike in Milan would prove to be vital.
Back in Galicia, the Spaniards made a rip-roaring start to the encounter and were in front through the Uruguayan within five minutes. By halftime, Juan Carlos Valeron and Albert Luque had Depor ahead in the tie, which was sealed 5-4 on aggregate when Fran capped a memorable night less than 15 minutes from the end.
Werder Bremen 5-3 Dinamo Berlin (European Cup, 1988-89)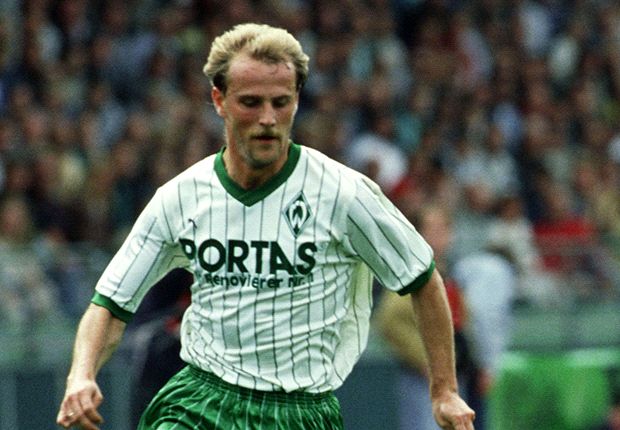 September 6, 1988: Dinamo Berlin 3-0 Werder BremenOctober 11, 1988: Werder Bremen 5-0 Dinamo Berlin
Prior to Deportivo's heroics, the last team to recover from a three-goal deficit was Werder Bremen, who won a battle against East German rival Dinamo Berlin in a highly politicized clash in 1988.
It was a strong Dinamo which got the better of the first leg, running out to a 3-0 win thanks to goals from Andreas Thom and Thomas Doll, as well as Frank Pastor.
If Werder had been outplayed in the first game, it was all over its rival from the other side of the Berlin Wall in the second encounter. Michael Kutzop got the ball rolling midway through the first half, but it wasn't until the second 45 that the hosts really kicked on. Guenter Hermann and Karl-Heinz Riedle got the tie back on terms before Manfred Burgsmuller and Thomas Schaaf (pictured above) completed a remarkable recovery late on.
Having previously retrieved a similar scoreline in the UEFA Cup against Spartak Moscow one season before, Werder gained a reputation as being a dangerous underdog and the 'miracles of the Wesser' have been repeated several times since.
Barcelona 3-3 Gothenburg (European Cup, 1985-86)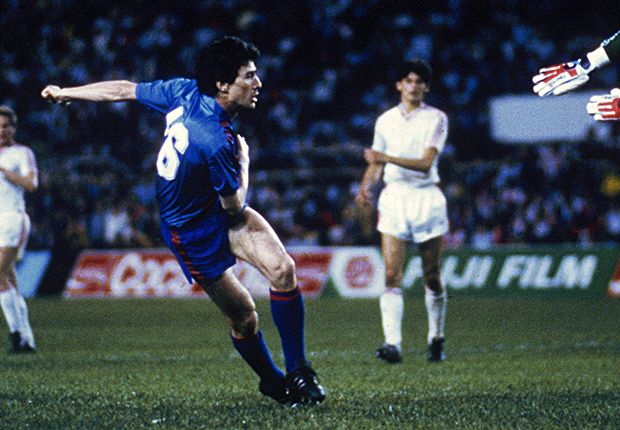 April 2, 1986: Gothenburg 3-0 BarcelonaApril 16, 1986: Barcelona 3-0 Gothenburg
Barcelona is a club with a history of recovering from an unlikely position to progress in European competitions.
On the hunt for their first ever European Cup, the Catalans seemed to have struck a dead end when they came up against an excellent Gothenburg side in the spring of 1986.
Thumped 3-0 in Sweden, where Torbjorn Nilsson grabbed a double for the hosts, Barca returned home determined to make sure its elimination of Michel Platini's Juventus in the previous round was not in vain.
Pichi Alonso (above) would be the hero of the hour for the hosts as he struck a hat trick to send the match to penalties following the 3-0 finish. Roland Nilsson actually had a penalty to put Gothenburg through, but his miss was symbolic of the whole tie for the Swedes who crashed out 5-4 to the Catalans.
Barca's hunt for its debut European crown, meanwhile, was to fall short against Steaua Bucharest in Seville, where it was the victim of a penalty defeat after a 0-0 draw.
Derby County 5-6 Real Madrid (European Cup, 1975-76)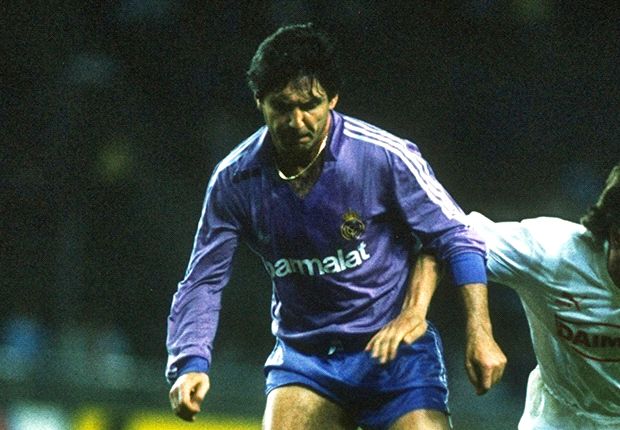 October 22, 1975: Derby County 4-1 Real MadridNovember 5, 1975: Real Madrid 5-1 Derby County (AET)
The season of 1975-76 was a great one for comebacks, but it would be Real Madrid's recovery against Derby County that was the greatest in terms of magnitude, eclipsing Saint-Etienne and PSV who both overturned two-goal deficits at the quarterfinal stage.
Two penalty kicks in the midst of a hat trick from Charlie George contributed to a 4-1 lead for the English side following the first leg at the Baseball Ground. However, this advantage would be insufficient to stave off the threat of the fearsome Spaniards.
Back in Madrid, Roberto Martinez's third-minute strike looked insufficient at halftime, when Madrid held only a 1-0 advantage, but he quickly doubled his tally after the restart and Santillana (pictured) grabbed a third moments later. Though George poked the Rams back ahead, Pirri leveled the tie from the penalty spot before Santillana won the match during extra time, taking the score to 5-1.
The Blancos' adventure came to an end in the quarterfinals, however, when they were defeated by eventual winner Bayern Munich.