More than a club? For years, Barcelona prided itself on being different to the rest. The club's playing philosophy changed the course of modern football and wowed the world, its values were admired far and wide. The last year, however, has taken much of the shine off the Catalan club's squeaky clean image.
Barca's style of play is still lauded, but Tiki Taka is no longer the force it once was in European football and the Blaugrana have been in gradual decline on the pitch since the final year of Pep Guardiola's tenure, in 2011-12.
Off it, Guardiola was replaced by assistant and friend Tito Vilanova, whose battle against cancer captured the hearts of many football fans across the world. The Barca boss, along with defender Eric Abidal, represented a symbol of hope as he returned from illness to resume work for the Catalans before eventually stepping down due to a relapse last summer.
Abidal also returned after a liver transplant and was publicly promised a new contract when he played again. That deal never materialized, however, and the France defender departed under a cloud, leaving many to question Barca's much-mentioned values.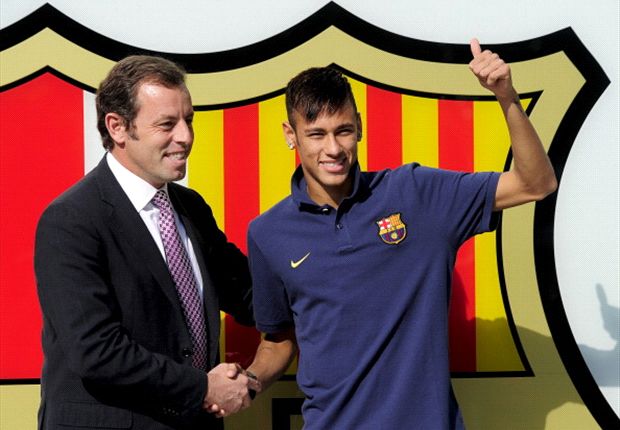 Happy times | But the Neymar deal ultimately led to Rosell's resignation


In the meantime, the shirt sponsorship agreement introduced by then president Sandro Rosell proved unpopular with fans. Previously, Barca's jersey had been free from any advertising and under Joan Laporta, a deal was reached to promote charity organization UNICEF. However, that shirt space was then sold to the Qatar Foundation and after that, to Qatar Airways, with UNICEF relegated to the back of the famous Blaugrana kit.
Public criticism of Guardiola by spokesman Toni Freixa also upset many supporters. After all, it was the Catalan coach who had built this terrific team. Meanwhile, failure to convince the popular Thiago Alcantara that his future lay at Camp Nou was another bone of contention, although it was the transfer of Neymar from Santos which really rocked the Barca boat and ultimately brought an end to Rosell's reign.
Barca claimed the Brazilian cost 57.1 million euros, but a complaint by socio Jordi Cases over how the money was spent led to a court case. And when a judge charged the Catalan club, and Rosell, with misappropriation of funds, the president decided to step down - despite continuing to protest his innocence.
New chief Josep Maria Bartomeu promptly revealed the figures behind the total operation in a press conference, but those showed Barca had spent in excess of €100 million on Neymar and paid €40 million up front to the players' parents. Many fans called for his resignation too while others demanded summer elections.
This latest transfer ban for alleged irregularities in the signing of young players from overseas comes hot on the heels of those legal battles and represents another hammer blow to the club's previously puritanical and almost self-righteous stance in recent years. So suddenly and somewhat sadly too, the 'Mes que un club' mantra is now wearing rather thin.
Follow Ben Hayward on