The 2012-13 Champions League group stage has been completed and now only 16 teams remain in Europe's premier club competition.
All four Spanish sides cruised through, as did each of the three German teams, while the likes of Manchester City and Chelsea missed out on making it into the knockout stage of the elite UEFA tournament.
Below, we look at the 16 teams left in the competition ahead of the UEFA draw on Dec. 20, including the odds that each side has been given to lift the trophy.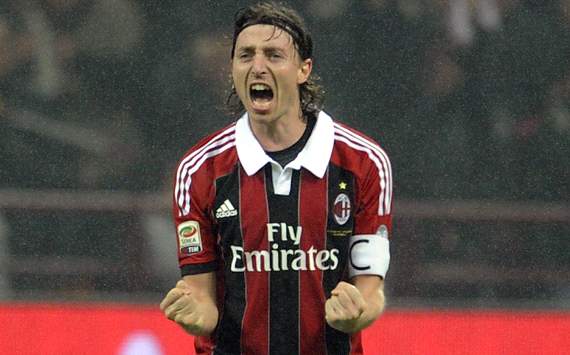 The Italian giants had a hit-and-miss group stage campaign, as they won twice, drew twice and lost twice. However, due to results in other fixtures, they sneaked into the last 16 ahead of Zenit St Petersburg by a single point, but behind Group C victor Malaga.
Their stuttering Serie A form does not necessarily equate to an early exit in the Champions League for the Rossoneri - last season, eventual winner Chelsea finished sixth in the Premier League but managed to conquer Barcelona and Bayern Munich en route to the coveted trophy. Star forward Stephan El Shaarawy - who has been spectacular this season - will hope some of his team-mates start scoring as frequently as him in 2013 should they hope to win silverware.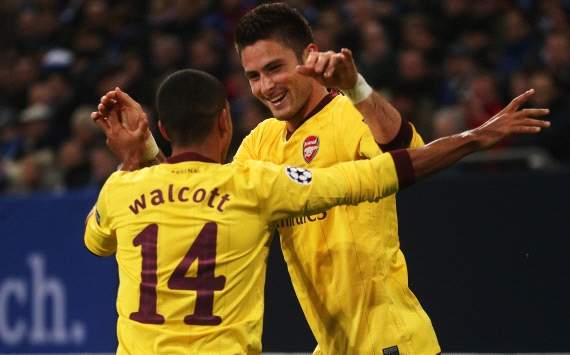 Arsenal is another team that has had an indifferent 2012-13 season but scraped into the last 16 by a point in second place. The Gunners started brightly enough, but one win and two losses in their final four games could have cost them dearly.
Arsene Wenger, head coach at the north London club for well over a decade now, has not led Arsenal to a Champions League final since 2006, when the club lost to Barcelona. Six years later and the Blaugrana have repeatedly been an unsurpassable object for the Premier League giants, and their second-place finish means that another knockout stage clash against the Catalan giants is far from unforeseeable.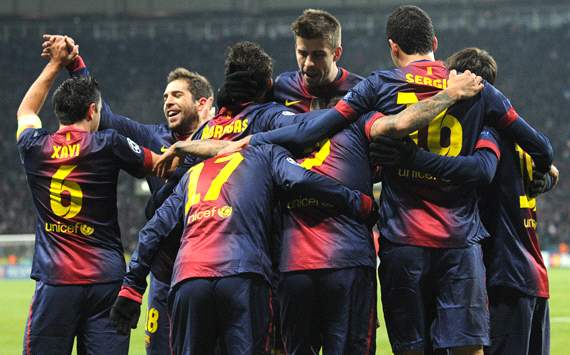 Barcelona has not been as impenetrable as usual in the group stage this term. Defensive injuries affected their 'Goals Against' tally, and the club was beaten by Celtic in a shock result in November. However, wins scattered in other fixtures allowed it to ease away from its opponents and finish comfortably top of Group G.
Unsurprisingly - considering its recent record in the Champions League, and the incredible array of talent at their disposal - Barca is the favorite to reclaim the trophy. It has reached at least the semifinal stage in the five most recent seasons, and has won the competition three times in the last seven years.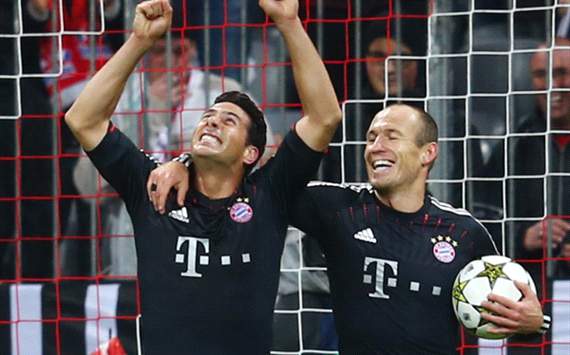 Last year's runner-up was assured of its spot in the last 16 with a game to go, when a draw to Valencia allowed the club to progress due to BATE's inability to beat Lille.
Die Roten have been rampant in the Bundesliga and have been amongst the form teams this season anywhere in Europe. With the likes of Mario Gomez, Arjen Robben, Franck Ribery, Toni Kroos, Mario Mandzukic and Thomas Muller to choose from in attack, and seasoned Germans such as Bastian Schweinsteiger, Philipp Lahm and Manuel Neuer behind it, Bayern is in a fantastic position to take Europe by storm this season. Bayern is up there with the likes of Barca and Real Madrid as favorites to win this time around.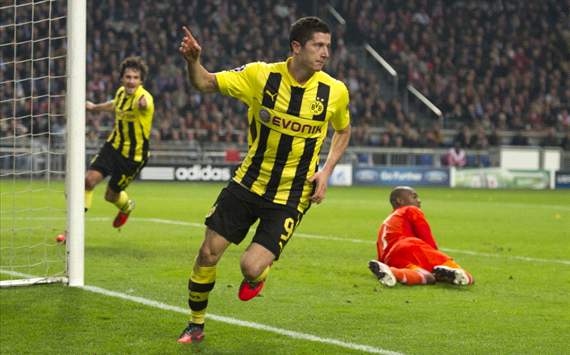 Borussia Dortmund might have headed into the Champions League group stage tentatively, but it exits as one of the best bets to make it far in the competition this season. The club's conquering of this year's 'Group of Death' - which included Real Madrid, Manchester City and Ajax - in unbeaten fashion was exquisite, and it will not be underestimated in the knockout matches.
Robert Lewandowski, Mario Gotze and Marco Reus are all key assets to the reigning Bundesliga champions, who may choose to focus their efforts on the Champions League if they fail to make ground on Bayern in the German league.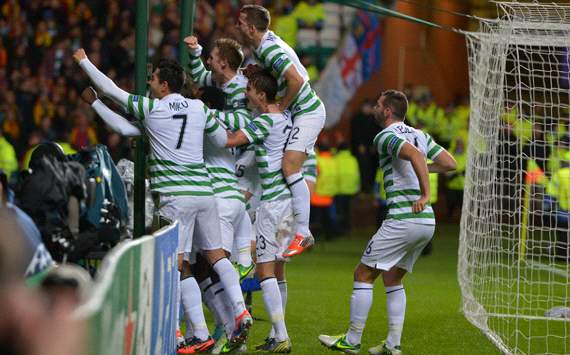 Fun fact: Had Celtic's two consecutive matches with Barcelona in Group G been in the knockout stage of the competition, the team would have taken the Spanish giants to extra time! Could Celtic have lasted until penalties in that situation? It will be hoping that the resilience it showed against Tito Vilanova's side comes in handy in the last 16 after the Scottish side squeezed into second place ahead of Benfica.
The odds of Neil Lennon's lads taking the trophy are predictably high, and only a mad man or incredibly optimistic Bhoys fan would ever seriously think they can win the continental competition this campaign. However, just making it this far can be considered a success for the SPL side, and you can bet that their Celtic Park supporters will be roaring them on in 2013 when the 1967 European Cup winners' knockout stage starts.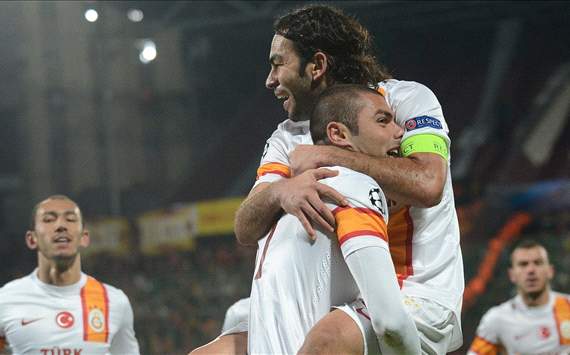 Galatasaray finished with a flurry in Group H to allow itself access into the last 16 at Cluj and Braga's expense. A home win against Manchester United was celebrated by coaches, players and fans alike, and the team followed through on that euphoria by ensuring it equaled Cluj's result at Old Trafford on Wednesday night.
The Turkish team is another example of an underdog that could worm its way into the quarterfinal - or even semifinal - stage should it be given a beneficial draw against an out-of-form club. However, Champions League success is nothing but a pipe dream, and Galatasaray lifting the trophy in May would be one of the biggest shocks this tournament would ever see.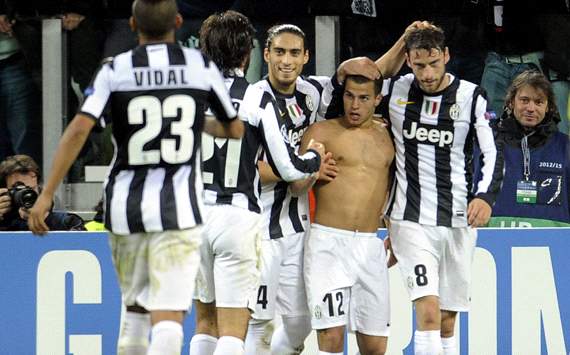 Juventus survived a difficult Champions League group finish top of Group E following three successive victories in its final three games.
Having helped knockout reigning European champions Chelsea at the group stage of the tournament, Juventus enters the latter stages among the favorites to become the newly crowned victors. The club's superb winning streak in Serie A - which ran for 49 games before Inter beat them 3-1 on its own turf in November - shows that it is capable of consistency, but cup competitions are all about performing when it matters, which the Italian side will need to prove on its return to the knockout round of the Champions League.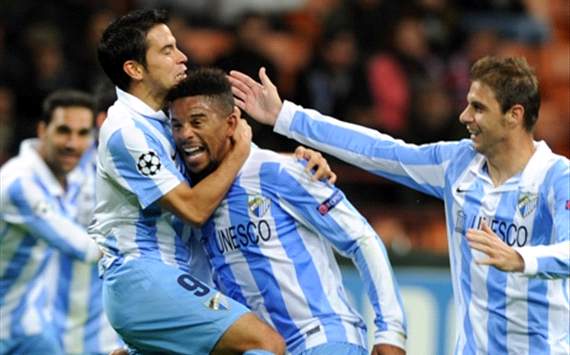 Malaga was one of the surprise packages of the group stage, taking a very open Group C by the scruff of its neck and finishing top of the pile with considerable, unbeaten ease. The club may not have been amongst the favorite at the start of the competition, nor may it be amongst the favorites now, but its form this season on the European stage has been undoubtedly impressive.
What will be a test for the Andalusian club is how it handles the knockout pressure. Will it maintain its superb streak and plough forwards into the tail-end stages of the tournament, or could it crumble like many had predicted it might at the start of the season when the groups were drawn?
After a humiliating group stage exit for Sir Alex Ferguson last season, the Red Devils romped their way to victory in Group H, being assured of top spot with two games to go. However, the results did not reflect a number of negatives in their midweek performances, and often it took late comebacks and a lot of luck to assure themselves of three points.
United's recent (in fact, ever-present) history in the Champions League has acquired the club the favorite status, but, having been fairly unconvincing defensively at times, it will need to up its game if it wants to reclaim the trophy which it has not lifted since 2008. The added firepower of Robin van Persie will help them no doubt; as will the status as top seeds due to finishing top of its group, though Real Madrid, AC Milan and more could still await the Premier League giants.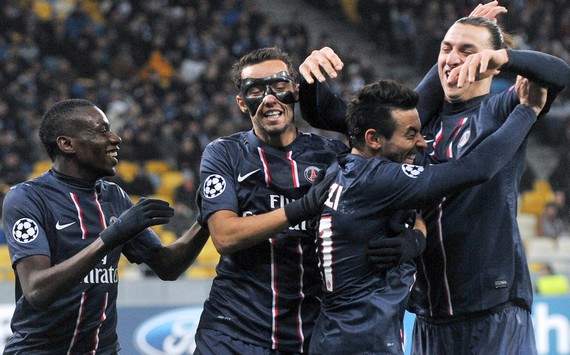 Under the wing of Champions League-winning coach Carlo Ancelotti, Paris Saint-Germain finished top of Group A on a very respectable 15 points out of a potential 18. Having an illustrious squad list that includes Zlatan Ibrahimovic, Javier Pastore, Thiago Silva, Ezequiel Lavezzi and Jeremy Menez has helped get the club this far, but the last 16 could throw it a curveball in the form of a team with more experience at this level together.
As Manchester City has found out continuously on the continental stage, however, throwing together world class players does not necessarily equate to a world class team. The Ligue 1 club is in the shadows of the heavy favorites such as Real Madrid and Barcelona, and its inconsistency - especially when Ibra is unavailable or out-of-sorts - makes it a tough one to want to gamble on.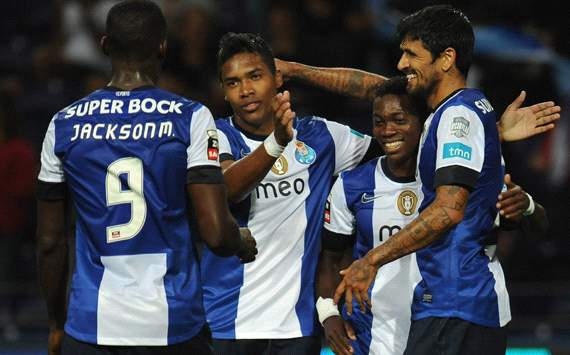 Their loss in the final group match against Paris Saint-Germain meant that they finished behind the cash-rich French club, but their confidence heading into the knock-out stages will be high nonetheless.
Porto has pedigree in recent years in the Champions League, winning it under Jose Mourinho, and in 2011 they conquered the Europa League under Andre Villas-Boas. Current head coach Vitor Pereira may not be a name on anybody's tongue just yet, but an unexpected run deep into the European tournament would no doubt get the likes of Roman Abramovich gazing down at the Portuguese club once more.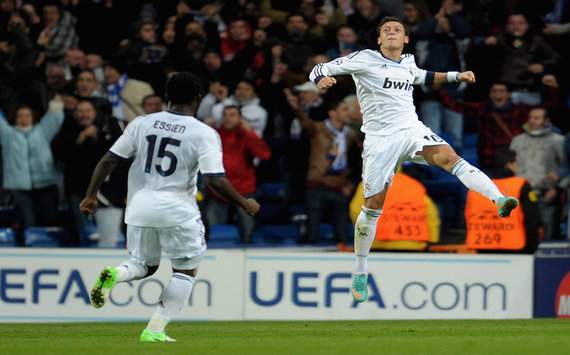 Real Madrid's season has been a peculiar one to date, and its Champions League and La Liga progress mirror each other. In both instances they have been completely overshadowed by another club unexpectedly (Borussia Dortmund and Barcelona), and yet they are continuing to record huge scorelines in their favor (4-1 at home to Ajax, 5-1 Athletic Bilbao).
However, as always, los Blancos head into the last 16 amongst the favorites to take the title home. At their disposal they have a head coach - Jose Mourinho - who has won the title with two different clubs; a Ballon d'Or nominee in the superstar form of Cristiano Ronaldo; and a squad of expensively-assembled players that can rival any other squad on the planet, on paper. But that's the problem: this is all on paper. Madrid has not made the final of the elite tournament since 2002, and has only succeeded in getting into the quarterfinal twice in the last eight seasons (admittedly, both were on the last two occasions under Mourinho). If the Spanish giants want to conquer Europe once more then they will need to shake off their recent failings and forget about their shaky history in the past several years.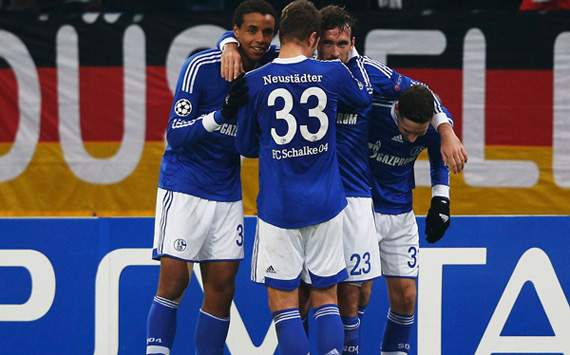 Schalke is yet another example of a German team which impressed in the Champions League group stage. It dented Arsenal's impeccable home record on the European stage by beating the English side 2-0 earlier this season and ensured it would finished above the Premier League team in Group B with a draw against reigning Ligue 1 champion Montpellier.
The Konigsblauen being back in the knockout stage of the competition is not too surprising, as they barged their way into the semifinals in the 2010-11 season, before being knocked out by Manchester United. They will at least avoid the Red Devils in the last 16, but troublesome potential opposition in their next European clash include Real Madrid or Porto. It will take a monumental effort to repeat their last-four run from two seasons ago, but, based on the current climate in German football, it would not be too surprising to see Schalke shuffle deeper into the tournament.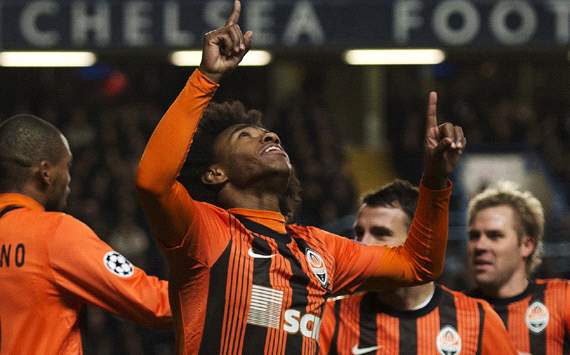 Calling Shakhtar Donetsk a surprise package would be unfair on a team that has a growing number of players high up of the 'To-Buy' list of top clubs around the world. Willian, Henrik Mkhitaryan and Fernandinho have sparkled against Nordsjaelland, Juventus and Chelsea this season as the team turned Group E on its head and made it a battle between three upper-tier teams instead of the two-way battle some had suspected it would be.
Shakhtar is arguably one of the dark horses for the Champions League crown, having gone unbeaten for the whole of 2012 before a last-gasp goal from Victor Moses allowed Chelsea to beat them 3-2, despite the Ukrainian side having outplayed them at times at Stamford Bridge. They have etched their way up the list of favourites with their attacking prowess in European clashes this campaign, but they will need to consign history to dust and take Ukrainian football to another level if they want to succeed in the top European competition.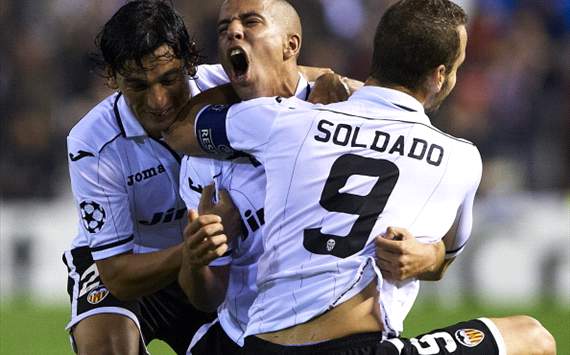 Finally, we come to Valencia, which is one of the tougher teams to predict right now as it fired its head coach on Dec. 1 due to poor Liga form, despite having already qualified for the last 16 of the Champions League under Mauricio Pellegrino.
They secured qualification for the knockout rounds in their penultimate clash, with a draw against Bayern Munich - the sort of result against a top team that they will hope they can repeat against other prestigious opponents as the business end of the tournament begins.