They made a .gif of Arjen Robben's trophy-deciding penalty miss.
No, not that one. The other one.
Last month, Robben missed a penalty against Borussia Dortmund which would have equalized the game. Had Bayern Munich won, it would have drawn level on points with BVB. Instead, Dortmund opened up a six point gap and won the Bundesliga for a second year in a row.
After the spot kick, former U.S. youth international Neven Subotic ran up and screamed his celebrations in Robben's face,
à la
Martin Keown to Ruud van Nistelrooy. It was meme gold.
More iconic was the miss against Chelsea in the Champions League final. A low scuffed shot went into Petr Cech as a yellow beach ball rolled in the opposite direction, from the fans toward the field. Either ball had approximately equal chances of entering the goal.
"It wasn't a good penalty," said Robben. "I wanted to shoot the ball hard and high in the goal, but the ball didn't go high enough. It was a terrible penalty kick."
Despite the two high-profile misses, Robben is Bayern's automatic penalty taker. In the league and Europe this year, he's scored the six others he's taken. Since the Dortmund miss, he's walloped penalties home against Real Madrid and Dortmund (in a German Cup final loss).
Robben only
looks
like the arthritic version of Benjimin Button. He has a deceptively hard shot, with his snatched, unorthodox form helping surprise goalkeepers rather than subtracting power. The Dutch international scored 18 goals in all competitions this year.
Only a malicious deity and Cech prevented him from scoring Saturday night. Robben shot 15 times in 120 minutes, six more than the entire Chelsea team combined. Of the three that missed the target, one hit the post. Seven were blocked (Chelsea defenders blocked an unbelievable 21 of Bayern's 43 shots), and Cech somehow spidered five away.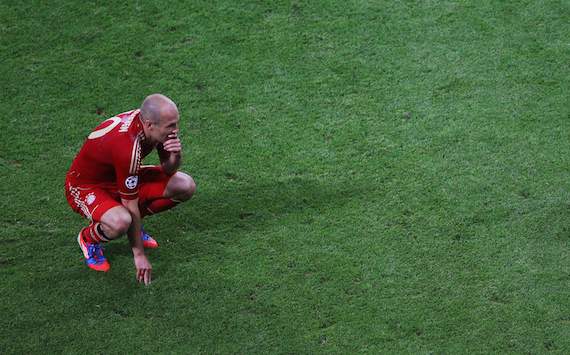 Robben even created eight chances for teammates. His own particular brand of slicing runs – arms flopping exaggeratedly around him, incessant tiny taps forward with the outside of the left foot, going full tilt at defenders – reminded Chelsea that it has missed his ability since he left for Real Madrid in 2007.
"What makes Robben scary is the way he moves," Andi Thomas wrote for
SBNation
. "Not the style – though he does run with a strange, slanted, syncopated whirr, the blessed left foot obsessively tending the ball, the benighted right shambling along behind, unloved and underused, his body tidelocked as the moon – but the lines. He has an instinctive, almost preternatural feeling for the geometry of collapsing defenses:
if I run here, then here, then here, this whole thing will come crumbling down around me
."
It wasn't that he was poor. It was what John Updike called, in a piece on Ted Williams in the
New Yorker
, "the tissue-thin difference between a thing done well and a thing done ill." In the moments that mattered, Robben fell on the wrong side of that line. "After that [penalty miss], I still played well but you have to change your mindset at that point," Robben said.
The adjustment in Robben's head involved turning down the chance of a second penalty attempt in the shootout. Instead, Manuel Neuer courageously stepped up and shamed his cowardly teammates.
"He did not feel confident to be nominated," coach Jupp Heynckes said of Robben. "So that is why Neuer took a penalty. It is understandable."
That's a far cry from the brash teammate who, after commandeering a free kick in the first leg of the Champions League semifinal against Real Madrid, was punched in the face by Franck Ribery at halftime.
Instead, Ivica Olic (also choosing the narrow angle with his left foot, going to his right) and Bastian Schweinsteiger missed in the shootout and somehow the English team beat the German in penalties. Bayern had won all four of its previous penalty shootouts in European competition. Chelsea had lost both of its, including the 2008 final to Manchester United in Moscow.
Robben has now lost two Champions League finals, one German Cup final and a World Cup final in three years. The Dutch bridesmaid blood runs strong in him.
One last note: four of Robben's 12 corners (Munich had 20 total) found Bayern players. None led to goals. Chelsea's lone corner found twine. "Tissue-thin" indeed.
Follow ZAC LEE RIGG on

or shoot him an email.