Former
Barcelona
midfielder Gaizka Mendieta believes the
Champions League
semifinal tie is more important to the Spanish side than their rivals
Chelsea
.
The reigning European and Spanish champion is trailing Real Madrid in the domestic league and Mendieta feels that renders European soccer's elite competition as a must-win competition for the Catalans.
"It is a more important semifinal for Barcelona," Mendieta told Goal.com. "For Chelsea, I know that this is the title that they have always been after but there is less pressure on them than there is on Barcelona.
CHELSEA - BARCELONA Andres Iniesta believes Chelsea will be 'very intense' at Stamford Bridge

"At the current moment in the league they are behind Real Madrid. They have still got the Spanish Cup to play against Athletic Bilbao but in terms of winning the really major trophies they will be looking at the Champions League as their best opportunity because their destiny is in their own hands and no one else's.
"Chelsea are the underdogs so in a way they have nothing to lose. Barcelona are the current champions and everyone expects them to go through.
"What makes the difference is that not only do they have brilliant players but also they have been in this situation many times before and come through."
Mendieta knows a thing or two about Champions League action, having twice inspired Valencia to reach the final of the competition as skipper before moving to Lazio for a world record 29.8 million pounds and later heading to Barcelona on a year-long loan.
"I think it will be a very tight game. I would say Barcelona are a technically better side but Chelsea will do their best to make life as uncomfortable as possible for Barcelona," the former Spain international added.
"Barcelona will see plenty of the ball and they will probably dominate possession and create goal-scoring chances because you don't see many games where Barcelona do not score goals but on the other hand Chelsea will have to make sure that they go to Camp Nou with everything to play for.
"Chelsea will do that by being very physical and that is a speciality for Chelsea because they have so many physical imposing players and they will try to keep the tempo high and press in midfield.
"They will be putting as much pressure on Barcelona as they can but they will do in the right places. They will not go chasing around when Barcelona have got the ball in defence but they will press Barcelona as soon as they start moving forward, knock them out of their stride and then try to hit them on the counter-attack.
"They can let Barcelona have the ball at the back and not worry too much about that when it is far away from their own goal but as soon as Barcelona get going that is when Chelsea will be at them to close down space.
"That is what we used to do when I was at Valencia. We would try to make sure that they did not get time and space in our half and then as soon as we had the ball we would like to counter-attack.
"Both teams will have to make sure they make the most of their chances because you never know when the next one will come around in a game like this when the little things can make all the difference because you are talking about the best footballers in Europe."
Mendieta, a television pundit who divides his time between Spain and England - where he spent the latter days of his career with Middlesbrough - has seen enough of Chelsea to know it will be formidable opponents for his compatriots.
"Chelsea might not be the English champions at the moment but they still have great players in their team. There has been a big improvement for them since Roberto Di Matteo took over from AVB (Andre Villas-Boas) as manager. Their confidence has returned," Mendieta said.
"For me I would consider the Chelsea 'old guard' to be their most important players – John Terry, Frank Lampard and Didier Drogba – because in games like this experience is so important.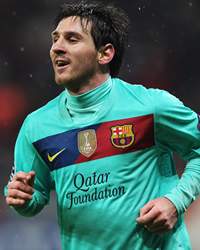 "Juan Mata is also going to be a very significant player for Chelsea because he gives them a little bit of creativity in between the midfield and Drogba.
"He can provide that last pass that needs just a bit of extra quality. Fernando Torres will also be important if he can get involved in the game."
Mendieta pinpointed Lionel Messi as the main threat to Chelsea's European interests.
"The whole of the Barcelona midfield are exceptionally good players and area the reason why Barcelona are the best soccer team in the world at the moment and Chelsea will do well to match them," the 38-year-old said.
"You have got Xavi, Iniesta and Fabregas who are all fabulous players but they key player for them will be Lionel Messi.
"He is the individual who can change them game on his own and that is an amazing quality. He not only scores lots of goals but he creates them as well and if Chelsea foul him in dangerous areas then they could be punished at set-pieces.
"Another thing is that when he is on the pitch the opposition can forget about the other players and they are good enough to punish that."
Mendieta will be back on his old Teesside stamping ground when he is among 2012 runners in the SABIC 5k Riverside Run in Middlesbrough on Sunday, May 13. For details go to visit www.runmiddlesbrough.com.