A freak performance can only go part of the way to explain Arsenal's definitive defeat to Milan, with Wenger's approach heavily to blame.
Apparently Arsene Wenger doesn't read the
Daily Mail
.
Prior to Arsenal's Round of 16 Champions League matchup with AC Milan, the English paper ran a scouting report on Milan by Taye Taiwo, who left the club as recently as January.
It was mildly amusing – the takes on Gianluca Zambrotta ("you would never see him in training. But if we had a game on Saturday, he would pop in on Thursday or Friday – and he would always play the match"), Alessandro Nesta ("if a striker isn't that mobile, then Nesta will have a glass of red wine on the go and still help keep a clean sheet") and Zlatan Ibrahimovic ("boy, does Zlatan like to have a moan!") particularly humorous.
There was also plenty to ignore, including listing Antonio Nocerino as a forward or suggesting the injured Zambrotta and Alberto Aquilani would start. But beneath that hung a solid game plan for defeating Milan.
The take-home points: Bully Ibra, press the midfield high to deny him service and exploit pace on the wings. Tottenham used essentially the same blueprint at the same stage of the Champions League last season, beating out a far more experienced Milan team to advance to the quarterfinals.
Wenger ignored that approach.
A poster held aloft in the San Siro crowd Wednesday suggested that Milan owner (and former Italian Prime Minister) Silvio Berlusconi would do some rather rude things to the Queen of England, but what Milan did to Arsenal on the field was just as rude.


"It was one of those nights you never forget. It is our worst night in Europe. There was not one moment in the 90 minutes we were really in the game."




- Arsene Wenger

The Italian side bulldozed its way to a 4-0 first leg win, surely putting the two-legged tie out of doubt.
"The result is a disaster," Wenger admitted. "Realistically we are out of this competition."
Though the Frenchman was honest about his team's chances and performance, he feigned ignorance on his share in the blame.
"I don't believe we made big tactical mistakes," he said. "We did not have any other choices."
That's silly.
For one, there was Alex Oxlade-Chamberlain. Maybe his surname didn't fit on the team sheet, but the 18-year-old became Arsenal's most dangerous player when he entered with Milan already three goals up. His bullish approach and pace is exactly the sort of beast Milan's defense can't handle.
Left back Luca Antonini has played one and a half games of the seven league matches in 2012, yet started Wednesday and had the most touches of anyone on Milan (63). (All stats from Opta.) Instead of letting him troll forward in attack, Arsenal should have exploited his marking deficiencies. Oxlade-Chamberlain, or at least leaving Theo Walcott in the match past halftime, could have done that.
But beyond personnel, Wenger's approach didn't make sense.
Some 75 percent of Arsenal's shots came through the middle, compared to Milan's 33 percent. Trying to match Milan's narrow game by playing through the middle, Wenger forfeited his side's strengths. Robin van Persie touched the ball the least amount of times of any Arsenal player who saw out the match as play got gummed up through the middle.
The surprise inclusion of Tomas Rosicky only accentuated the problem, with the Czech midfielder darting inside and slowing down moves. Thierry Henry's insertion at halftime meant Arsenal had zero wingers against a team which has struggled consistently against fast breaks down the flanks.
Even 57 percent of (largely ineffective) possession couldn't help protect the defense. Each of the four goals came from glaring errors.
Wojciech Szczesny bundled clearances in the first half, two of his turnovers leading to the opening two goals. Thomas Vermaelen slipped to allow a rare shot on target from Robinho to score the third. And Johan Djourou brought down Ibrahimovic in the box for the fourth.
IBRAHIMOVIC' KEY MATCH STATS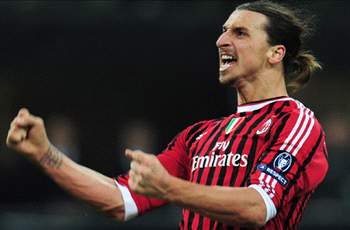 KEY PASSES
OFFSIDE
GOALS
ASSISTS
5
5
1
2
PLAYER RATING

8.0
Grew in influence as the first half progressed. May have been offside in the buildup to Milan's second goal, but his cross was perfect. Later brilliantly set up Kevin-Prince Boateng for a good chance.
"I told Ibra not to use his hands but only feet, and he did it tonight," Berlusconi said wryly of the Swede, currently serving a three-match domestic ban for slapping an opponent. "He reminds me of [Marco] van Basten."
Not known for his pace, the 30-year-old consistently out-sprinted any markers. His hustle created the second goal when he zipped down the left flank and ricocheted a ball off Robinho's head into the goal. He assisted the third as well, and created a game-high five chances.
"He isn't a striker who is going to make darting runs," Taiwo had pointed out to the
Daily Mail
. "He always wants the ball to feet. So in that sense he is a player who is quite easy to mark."
Instead, for some reason Arsenal stood off Zlatan, just like the Londoners stood off Mark van Bommel and Thiago Silva. The defensive duo leads Serie A in accurate long balls per game, but no Arsenal attackers bothered to hassle either. Silva was 10 for 10 in long balls and led his team in passes (47), followed closely by the Dutchman (44).
"It was always the same problem," Wenger groaned, "balls over the top and we were well beaten."
Well, duh.
Such a ruthless, heavy defeat means Wenger shouldn't need a newspaper to tell him what to expect in the return leg.
Follow ZAC LEE RIGG on

or shoot him an email.