If Sir Alex Ferguson and Manchester United left Rome embarrassed in 2009, there should be no shame in defeat to Barcelona at Wembley.
To paraphrase another great Scot, Robert Burns: even the best-laid plans often go awry. The Red Devils, against giants of the game, at least performed like men, and not the mice of Rome.
Much was made of the two years in which Ferguson was able to compile his master plan to stop Barcelona but with the Catalan side in form such as this, two decades wouldn't have been enough. At the supposed home of football, Pep Guardiola's men took their own brand of the game to a level that once again defied belief.
United's start certainly offered promise, with Javier Mascherano looking slightly fallible at the back and the Premier League champions pressing high, coming out of the starting blocks with the greater intent. It was a momentary offering of hope to a team that needed much more than that.
The famous carousel which Ferguson lamented in the eternal city was soon put into overdrive and as Pedro gave Barcelona the lead, having been allowed far too much space by Patrice Evra on the right, it was all just a little bit of history repeating.
However, unlike 2009, United fought back and Wayne Rooney's equalizing effort was a sublime demonstration of Ferguson's side quality. This was not a side at Wembley without merit.
To pick fault in United's tactics would be an exercise in speculation. Attempting to shut Barcelona off at the source of its powers, the triumvirate of Iniesta, Xavi and Busquets may well have worked if any of the three had failed to perform at their dizzying best- a phenomena that is proving increasingly rare.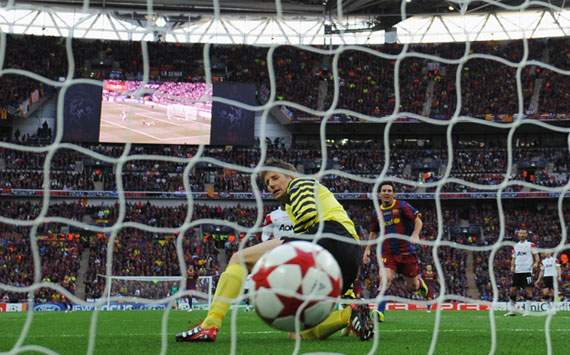 Net loss | Van der Sar is helpless to prevent Pedro's opener - but United showed true grit
A performance from Michael Carrick, who has come through arguably his most difficult period in football in his time since Rome, proved himself to be much more than the flop that so many have opted to label him.
Rooney, also a passenger in Rome, offered much more than just the goal to level the game. Dropping in behind Javier Hernandez, the England man's work rate was symptomatic of a side that refused to lie down, refused to be shamed.
United's captain and undoubted player of the season, Nemanja Vidic, was imperious, delivering a number of last-ditch tackles to keep the game in United's reach, on paper at least.
However, for all of Barcelona's brilliance and the efforts of some in United white, there were players whose inability to maintain possession damaged their side's chances. Ryan Giggs was wasteful, Evra was dragged out of position with troubling ease and perhaps the cruelest fate of all was left for Edwin van der Sar, who lacked his usual sharpness on the final game of his illustrious career, particularly with Messi's goal, which he will no doubt analyze long into his retirement.
Despite the few criticisms, Sir Alex and his side should travel back to Manchester with their heads held high. The fact that they won't pays testament to their relentless winning mentality.
Manchester United may have made great strides in two years but Barcelona, once again, was simply untouchable.