Exclusive
Rafael Marquez. Roger Federer. Peyton Manning. Diego Forlan. Terrell Owens.
These are only a selection of the athletes that TV Azteca reporter Ines Sainz has interviewed in her illustrious career.
Now in London preparing for this year's Champions League Final, Sainz spoke with
Goal.com
about her thoughts on the match between Manchester United and Barcelona, one she feels is going to wow the nearly 90,000 people at Wembley and the millions watching around the world.
"I really feel that this match is going to be amazing," said Sainz from the Champions League Festival in London. "Both teams are so offensive, but also really strong defensively. It's always exciting to look at Messi play and he'll cause a lot of problems for Manchester's defense. They do have a great coach in Sir Alex Ferguson, though, and he'll know how to stop Barcelona's players."
A veteran of the soccer scene, Sainz is well-versed in tactics and knows how good Ferguson's counterpart, Pep Guardiola, is at making sure his side dictates its games. She expected Saturday's match to be no different.
"We know how Pep Guardiola is going to play," said Sainz of how the Catalans run out. "They're going to try and hold the ball in the final third and midfield and use Messi and Villa in the attack. What it comes down to is if Messi has a good game or not because if he is, then it's really hard to stop the Barcelona offense."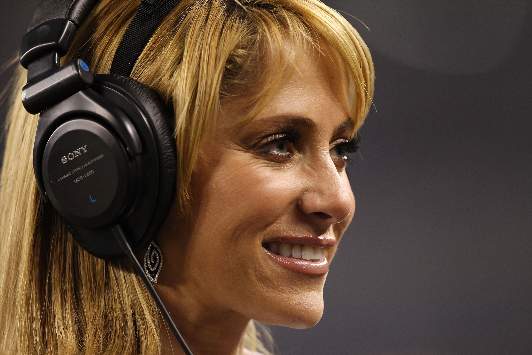 Speaking very highly of Barcelona's star forward Lionel Messi, as most do, Sainz recalled interviewing him before he really broke out on the world scene. A long time and a lot of goals have passed since the first time they spoke, but she maintained he is just as modest now as he was then.
"I had the chance to interview Messi about five times. The first time was when he was so much younger and few people knew about him," Sainz noted of the Argentine phenom. "Every time that I came back to talk to him, he stayed the same and has remained humble despite now being a superstar."
With the match rapidly approaching, Sainz agreed that Messi and Barcelona are the favorites to take home a third Champions League title in just over five years.
She also admitted the side, and more specifically, the player who she hoped would finally be lifting the trophy.
"I think Barcelona will win the game, because they are the better team and are obviously the favorites," said Sainz of the match. "If you ask me who I want to win though, it's Chicharito and Manchester United!"
Follow Goal.com on

to get the latest soccer news directly. Check out Goal.com's

page; be part of the best soccer fan community in the world!