Saturday's final is set to be a close affair, so how can Inter gain the advantage? Goal.com's Kris Voakes takes a look...
5) Keep The Tempo Running High

Inter are not a team generally linked with fast flowing football, and many believe that they'd struggle were they plonked straight into a Premier League fixture list. Besides that being a pointless argument, it also overlooks the fact that some of Inter's better performances this season have come against teams who like to play the ball around at speed (see Chelsea, Barcelona, Genoa, Milan, Palermo...) Therefore, should they go for the spoiling approach in trying to deal with Arjen Robben et al, they may be on the wrong track. By allowing the game to be played at a decent pace it will give them extra opportunities to punish Bayern on one of their notorious counter-attacks.

4) Get At The Bayern Centre-Backs

By giving themselves extra opportunities to catch Bayern short, Inter will likely give Daniel van Buyten and Martin Demichelis (if he's selected) more to think about. And despite the fact the centre-back pairing are set to walk out for a Champions League final, they have at times been among the less convincing defensive partnerships in the competition since many of the minnows were ousted at the group stages. Eight goals have been shipped in the knockout rounds alone compared to the Nerazzurri's three, and there have been regular examples of poor judgement offered up by Demichelis in particular.

3) Give Mark Van Bommel And Bastian Schweinsteiger As Little Breathing Space As Possible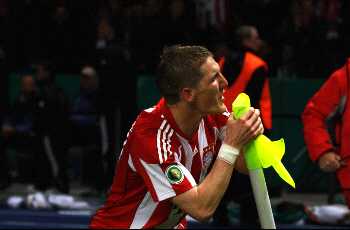 Schweinsteiger | Calls the tune in midfield

The Bayern midfield duo have become one of the greatest partnerships on offer in European football. They are the yin and yang of FCB's engine room which, forget Arjen Robben, have been the major driving force behind the German club's run to the final. Mistakes have been rare from the double act, but when they have been made – such as Schweinsteiger's failure to track Darron Gibson early on in the quarter-final at Old Trafford – it has served only to make them more determined to carry their side through. If these two are given space on the ball then they could well send their more attacking team-mates into game-winning positions. It's going to be a big night for Esteban Cambiasso and Dejan Stankovic.

2) Don't Panic

Inter's hallmark this season has been their ability to keep plugging away when other sides might have run out of patience, or steam, or ideas. With many of the Beneamata's victories this season there has come a sense of inevitability as their systematic pummelling of the opposition on the break has eventually brought its reward more often than not. Should they find themselves level, or worse, as they approach the final 20 minutes on Saturday, it would be wrong of them to revert to route one. This has not been their first choice gameplan this season, and whilst substitutions may change their shape, they have never changed their philosophy.

1) Jose Mourinho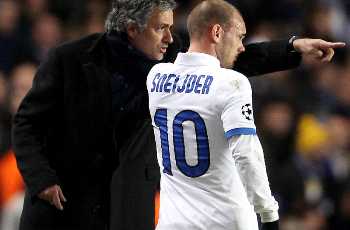 Mourinho | Always involved

Few coaches can claim to have such an active role in the way their team plays throughout a game as Mourinho. Some shout and scream, some deliver all kinds of wavy and gesturing hand signals which probably only make sense if you know your semaphore. But the Special One's ability to have an effect on every single play is uncanny. You can see his frown a mile off if one of his players is so much as a yard further forward than he has been instructed, as his preparation is so thoroughly precise that Inter have had many a game won even before kick-off this season. Though the final may not be one such occasion, they will without doubt get the guidance they need to give them the very best chance of lifting the trophy every time they look over to the dugout. And whilst he may well be seen much more often in that same Bernabeu seat next season, on Saturday he will be Inter's greatest weapon.
Keep up to date with all the latest Champions League news with Goal.com and join Goal.com USA's Facebook fan page!