All eyes are on
David Beckham
, but the return of
A.C. Milan
's "world class"
Alessandro Nesta
and
Alexandre Pato
could blast them past
Manchester United
, according to
Goal.com'
s Serie A expert Carlo Garganese.
Friday's 3-2 victory against Udinese saw the pivotal pair back in the first team fold after spells on the treatment table, and Garganese is convinced their re-appearance for the Champions League second round meeting makes the Rossoneri favorites.
We quizzed our resident Italian pundit on Tuesday night's hosts.
Does this Milan have the capacity to repeat the victories of 2005 and 2007?
In terms of quality and quantity this Milan side is far inferior to the 2005 outfit, and older than an already aging 2007 squad. But you could also argue that the current Manchester United XI is considerably weaker than the United of 2007-2009.
"Milan still possess world class players in their squad such as Alessandro Nesta, Thiago Silva, Alexandre Pato and Ronaldinho, so if these are fit and on form they certainly have the ability to win this tie.
What vibe has come out of Milan in the build-up to this game? Are they confident of success?
Regardless of domestic form, Milan are always confident when they play in the Champions League. Their record in the competition over the past decade is nothing short of extraordinary.
Between 2003 and 2007 they reached three finals (winning two) as well as a semi-final and quarter-final. Milan are always confident of success in the CL, regardless of the opposition. "It is in their DNA," as vice president Adriano Galliani always says.
How will Milan approach this game? What kind of form are Milan in?
Milan had been in poor form prior to their 3-2 win over Udinese on Friday night. They had drawn consecutive league games against relegation strugglers Livorno and Bologna, been knocked out of the Coppa Italia, as well as losing the derby to Inter.
These results have all but ended their chances of winning the league this season. Nevertheless, Milan will approach this game with confidence because the Champions League and Serie A are such different competitions.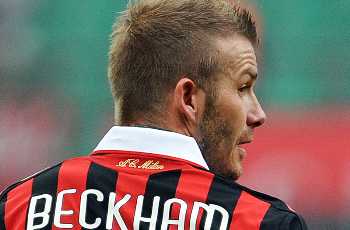 Returning hero | Beckham will face his first club
All eyes are on David Beckham. What kind of form is he in and what role can you see him playing in this tie?
Beckham started his second loan spell really well, but he has struggled a bit recently and his post-match comments after Udinese seemed to suggest that he won't start against United.
Milan play a 4-2-1-3, and it is highly questionable whether Beckham and Pirlo can co-exist together in this midfield. Therefore, if Beckham is to play a key role in this tie it could be as an alternative to Pato on the right of the trident, which is where Beckham has been utilized so far since returning.
Beckham will play his part in both legs, but it may not necessarily be from the start.
Who should United pay particular attention to?
Ronaldinho and Alexandre Pato. If the two Brazilians are at their best they could cause havoc on each side of the forward trident.
As always in Europe, Andrea Pirlo will have to be prevented from dictating the tempo in midfield. Pirlo's form has been very inconsistent since 2007, but when he is in the mood he will run the game so the likes of Darren Fletcher and Michael Carrick need to close him down and bully him.
How important is the return of Pato and Nesta this weekend?
Crucial. Nesta may soon turn 34 but he is the best center-back in the world.
This campaign he has been truly magnificent, especially when you consider that last season he made only one substitute appearance.
Pato is also of vital importance to the Milan attack. He adds some much-needed pace to an otherwise slow offence, and offers them so many more options.
You can see the fear in defenders when Pato sets off on a run. The four-game winless run that Milan embarked upon, Nesta and Pato were out injured.
Kaka destroyed United in 2007. Do Milan have anyone in their ranks now capable of producing such a performance?
Probably not. Ronaldinho no longer has the pace to singlehandedly dribble past player after player, while Pato perhaps doesn't have Kaka's poise at the final moment.
If one man is going to do a Kaka it is most likely to be Pato, but he is not at full match fitness having just returned from a lay-off.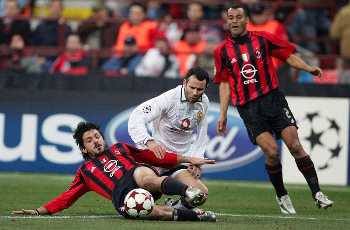 Glory days | But Gattuso is now past his prime
Pirlo, Nesta and Gattuso were also pivotal to the 2007 victory. Have they still got the ability to produce at the highest level?
Nesta has without doubt. As mentioned above, he is the best defender in the world.
Gattuso no longer has the ability to produce at the highest level. He has lost a yard of pace, as well as his stamina and energy in closing down opponents.
As for Pirlo, it really depends what side of bed he gets up on. At times he has been world class, at others he has been very poor. This season he has been more like his real self, but he can be difficult to predict.
What Ronaldinho can United expect to face? Recovering superstar or washed up waster?
Ronaldinho has been outstanding since November, and is currently playing at a world class level. He is top of the Serie A assists chart, and against Udinese he created all three goals.
Ronnie is not the untouchable superstar he was at Barcelona - he has lost his pace and acceleration to surge past defenders. But he still has the technique, tricks, flicks and through balls to really worry United.
Wayne Rooney has terrorized Premier League defenses this season. Can Milan's back-line stop him?
Whether Milan's back-line can stop him depends on one thing - will Nesta and Thiago Silva play both games together?
If they do, then Rooney can be stopped as this is the best center-half partnership in circulation. If one or both are out, it is game over for the Milan defense, as Milan's goalkeeper and full-backs are shaky.
Thiago Silva is a doubt for the first leg with a muscle injury, so Milan really need to get him fit.
What is your prediction for the tie?
If Nesta and Thiago Silva play both games, and the rest of the Rossoneri big guns such as Pato, Ronaldinho and Pirlo turn up then I just favor Milan to go through.
Also because I don't particularly rate United's midfield, and in Champions League knockout ties this can be important. Without Nesta or Silva, then United are strong favorites in my book as Rooney could run riot.
Keep up to date with all the latest Champions League news with Goal.com