Andrea Canales and Luis Bueno examine the USA's loss to Mexico.
Andrea Canales
:
It's been called by some, "the biggest upset in women's soccer history", but how would you rate the significance of the USA women losing to Mexico last week?
Luis Bueno
: It was an upset for sure. Even though the game was in Mexico, the Mexicans were not supposed to be able to play with the U.S. and instead they took it to their more talented counterparts.
However, for it to be considered a truly historic upset, the stakes needed to have been higher. The U.S. lost out on an automatic berth to the Womens' World Cup but they came back to beat Costa Rica and now will play Italy for a spot. So ultimately, the USA will be at the World Cup and that loss will be a mere footnote.
Canales
:
I have to say, though, that the women's soccer world tilted on its axis a bit.
Mexico had never, ever, ever beaten the USA, in a friendly or anything. To do so in a match that sent the El Tri ladies to their first World Cup since 1999 - it is terribly significant for them at least. For the USA, too, it's new territory - not only losing, but being in danger.

Since the Women's World Cup started, they've dominated CONCACAF competition - spunky attempts by Canada notwithstanding. Now, no matter how much people assume that they'll beat Italy, the fact that they're even at risk is remarkable.
Bueno
: Now, for Mexico this is easily their biggest victory ever. To have been dominated by the U.S. for so long and then finally get a win in a game that really mattered, on their own soil no less, is significant. But this isn't as stinging a defeat for the Americans.
Perhaps it's showing some cracks in the U.S. armor and maybe this team will need to re-discover itself between now and the WWC but the U.S. has the resources to do so. Not everything is tip-top with the USWNT but the ladies haven't bottomed out, either.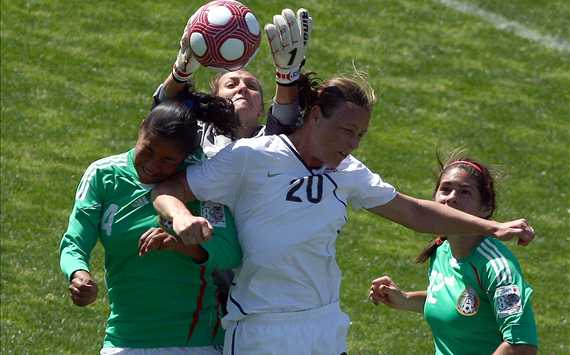 Canales
:
What I think is notable is that I've interviewed the USA players several times, and they've told me the international women's game is improving and getting more competitive all the time, but frankly, as long as the American women kept winning, I don't think many really believed it.

This loss is proof positive - other teams are getting much better. The elite teams are going to have to scrap in the early rounds of competition, trust me. England is getting better, Italy, France, etc.

Bueno
: It's just a natural progression of the development of women's soccer. The top teams in the world were bound to get some true competition at some point, and teams that now have some talent and organization feel more confident and are taking the game to the top teams.
That's what Mexico did; they got up early and answered the equalizer with another quick goal. Still, it's better to have happened in a game that really did not have true long-lasting consequences than to happen on a bigger stage.
Now, of course, if the U.S. cannot get past Italy, it's a different story, but the wake-up call probably woke the ladies up.
Canales
:
Honestly, I think it's more about waking up the rest of the world, rather than the USA squad, which has been aware that other teams are getting pretty darn good for a while. Mexican fans, for one thing, haven't pulled for their women's team anything like they've cheered for their men's teams. Part of that, honestly, was because the fans didn't like to see them losing to the USA again and again, even if the Americans were the world's best team. But the Mexico fans were crazy supportive of their team in this upset, and they were a big reason why the win took place.
I think smaller teams on the world's stage will be encouraged as well.

And if anyone has gone complacent, it might be USA fans, who now have a chance to rally behind their team and make sure they get to the World Cup with that second leg versus Italy in Bridgeview.
I'm just excited to see a new CONCACAF rivalry on the women's side. It's historic.
Bueno
: For sure. There's some life to this rivalry after all. That's one benefit to this. Maybe they meet at the WWC next year and there would be a great storyline between the two. It's true, complacency set it. There was suddenly much more interest in the tournament after the U.S. lost than there was going in, and now that there's a playoff there will be more interest than usual because of the nature of the series.
What will make this result truly historic, though, is if the Mexicos of the world can continue to grow and punch the big teams in the face again and again. If Mexico crashes out of the WWC in the first round and the Americans make a deep run, this match becomes even less significant.
Click here to follow the Goal.com Twitter feed and join Goal.com USA's Facebook fan page!