Luis Gil
hears the comparisons, though he doesn't give them much credence.
The 20-year-old midfielder admires and observes the world's elite, of course. He might try to add a dash of Andres Iniesta to his game, or a pinch of Cristiano Ronaldo. But he's not the American version of Cesc Fabregas, as that widespread refrain would indicate. He's not a proxy for
Real Salt Lake
teammate Javier Morales, either.
U.S. SOCCER LATEST

In his mind, he's Luis Gil — and that's it.
"I know there are a lot of people out there who want to be the next Messi or the next Ronaldo and things like that, but I try to do my game," Gil told
Goal USA
. "I try to give myself an identity. I do look at some players and their style of play, but I try to stick to what I do because it got me where I am now. I don't want to change things."
Why would he? Before his 21st birthday, Gil has already started an MLS Cup final, represented the United States at the U-17 and U-20 World Cups, and earned his first senior national team cap.
There's a reason, after all, that Salt Lake and U.S. midfielder Kyle Beckerman once said Gil "could be a player that we eventually build a national team around." The Southern California native has had that spotlight on him ever since shining at the U-17 World Cup in 2009, then turning down a contract offer from English power Arsenal so he could sign with MLS shortly thereafter.
"When he first came to the team, there was kind of a buzz about him," Salt Lake defender Nat Borchers said. "You could see that he has this amazing potential every now and again, and you were like, 'OK, now when does he get more consistent?' Now it's every day."
Offering what RSL coach Jeff Cassar described as an "amazing soccer IQ," Gil has made the jump from talented but raw prospect to everyday starter. His silky first touch is a valuable asset in Salt Lake's highly technical system, as is his ability to find the ball in dangerous spots between the midfield and defensive lines.
After not playing any league minutes as a rookie, Gil logged 14 starts in 2011 and 19 in 2012. It was last season that Gil truly broke out, compiling five goals and three assists while starting 24 regular-season matches and five playoff contests.
"Obviously it sucked in the beginning because I didn't really get to play," Gil said. "But I think about it now and it was a good thing for me. They wouldn't just throw me in the fire. What a lot of young players need is patience. It's difficult to handle not being out on the field and just training every day, but I feel like that's how you can develop the best because it's less pressure on you."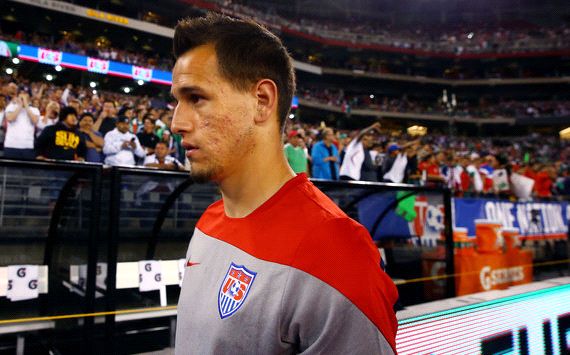 In The Picture | Luis Gil dressed for the U.S. national team's draw with Mexico last week.
Gil certainly grew during those countless training sessions. With the club boasting an All-Star playmaker in Morales, then-coach Jason Kreis began grooming Gil as a winger in the club's diamond midfield. Learning that role took time, especially when it came to embracing the position's defensive responsibilities. Starting to sustain those flashes of creative promise was also key.
"It became a thing where we had to get him on the field as much as possible, and that's a product of just Luis working and being patient and also competing every day in practice," Cassar said. "It really started with him gaining the respect of his teammates on the practice field, where he was putting in the defensive work. And we all know his capabilities in the attack."
Those capabilities led to Gil recording his first U.S. cap Feb. 1, when he played the final 15 minutes of the Americans' friendly win over South Korea in Carson, Calif. — a half-hour drive from his hometown of Garden Grove. Gil also made the game-day roster for the USA's friendly draw with Mexico on April 2, as his American mother and Mexican-born father watched from the University of Phoenix Stadium stands.
Although he is a long shot to make Jurgen Klinsmann's squad for the World Cup this summer, Gil is laying the groundwork for what could very well be a long tenure on the international stage.
"That core team, they know what to expect from Jurgen, what he wants the team to do," Gil said. "I'm still learning their system and getting a feel for the guys, so these past couple of camps have really helped me."
Known as a quiet, unassuming figure within the RSL locker room, Gil has earned praise for how he's handled the ever-increasing exposure. The talk of his national team prospects and potential future abroad continues to brew, yet Gil's confidence never teeters toward cockiness. He's too pragmatic for that.
"You know, media stuff, hype stuff and all that, I feel like a lot of younger players let that get to them," Gil said. "I don't try to pay attention to that. I try to develop myself. I know I'm still young, I'm still going to have ups and downs.
"Some people will say this is my fifth year in the league, but I'm still growing as a player. I'm not even at my peak yet, so I'm going to have some bumps. It's just about being humble and being hungry for the game — and it will take some time."
Follow THOMAS FLOYD on