TORONTO -- It's a bloody big deal.
That promotional tagline took on a whole different meaning on Saturday, when
Toronto FC
's
Michael Bradley
got himself a deep gash in the side of his head after a mid-air collision with D.C. United midfielder Davy Arnaud.
Two things happened in the immediate aftermath of that violent meeting of the minds: 1. Arnaud stayed down and had to eventually be removed from the match; 2. Bradley stayed on his feet, and after some brief attention on the sidelines was back on the pitch to help his team see out a 1-0 victory.
It speaks to the mentality of the youngest of TFC's big offseason signings that he barely seemed to notice he was sporting a deep enough cut in his shaven dome that he required a baker's dozen's worth of
staples
to close the wound.
When asked by a reporter in the postmatch scrum how many staples he needed, Bradley shrugged his shoulders. "I dunno," he responded, as if the 13 tiny pieces of metal recently inserted into his scalp were just part-and-parcel of another day at the office.
Michael Bradley did this: http://t.co/xafQbMe8SC ... and ended up looking like this: pic.twitter.com/Qlny1QmZmu

— cathalkelly (@cathalkelly) March 22, 2014
He later lit up when asked about the atmosphere at Saturday's home opener, calling it "special." Bradley's enthusiasm really shone through when talking about his fellow teammates, and he made sure to heap praise on the squad as a whole for its efforts in TFC's best-ever start to a season.
Don't get it wrong though, Bradley is not your typical cliché machine. His answers are always measured and thoughtful, and his deft handling of the media scrutiny in a Toronto market starved for any kind of good sporting news far belies his 26 years.
Needless to say, Bradley's already become a media darling in his short time with TFC, a handy asset in a city where reporters have been known to turn on its stars for little more than being a few minutes late to a scrum.
While endearing himself to the media is certainly a plus, the important ones to impress are the fans. The 22,591 in attendance at TFC's home opener walked away having seen Jermain Defoe score as advertised, Julio Cesar keep the clean sheet and returning hometown hero Dwayne De Rosario make an impressive cameo in which he probably would have potted one himself if not for the terrible state of the BMO Field playing surface.
But what those fans also would have witnessed is a tour de force in the center of the pitch that only Bradley can provide. Aside from fearlessly throwing himself into opponents, the American national team stalwart tirelessly chased down D.C. players, barked out instructions for his teammates, and -- to the delight of the BMO Field faithful -- bowled over referee Silviu Petrescu after stripping an opponent of the ball.
That he continued on with the play while Petrescu hit the deck just further demonstrates Bradley's singluar focus when the game is on. No one was going to get between him and the ball, not even the man charged with dishing out discipline to the 22 players on the field.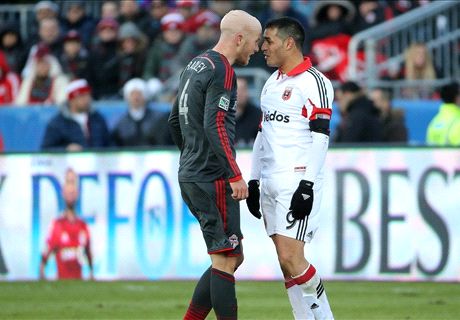 Michael Bradley is not afraid to go face-to-face with opponents.
In a city that has made legends out of rough-around-the-edges types like hockey player Tie Domi and basketball player Jerome "Junkyard Dog" Williams -- and currently has a love affair with pint-sized baseballer Munenori Kawasaki -- it's not hard to deduce that if Bradley continues his no-nonsense style of bossing the midfield, he'll quickly become a Toronto legend as well.
But unlike those lunch pail types, the one thing that Bradley can boast is oodles of talent. Even without the 90 minutes of harrassing opponents and the in-your-face style, the 26-year-old former Roma player can ball with the best of them.
Intelligent decision-making combined with veteran patience immediately makes Bradley one of the best players in Major League Soccer. What separates him even further is the ability to make inch-perfect passes like this one that eventually led to Defoe's game-winner versus D.C.:
Unshackled from being more of a defensive midfielder in Italy, Bradley's offensive abilities have shone in TFC's first two games of the season. He's already made several passes like the one above in his 180 minutes as a Toronto player, and given his pedigree it's reasonable to expect more like it as he becomes more accustomed to his teammates and the squad around him gains more cohesion.
It's almost scary to think how much the Princeton, N.J. native can transform the middle third of the pitch for Toronto given what he's already accomplished in such short order.
Signed to a six-year deal, Bradley
will
become the TFC captain someday. If Toronto gets to keep him for all six of those years, the prime of his career, then it says here that Bradley will the first bonafide soccer legend this city has seen since the heady days of the late Eusebio back in the 70s.
No pressure, Michael. It's not like it would affect you anyway.