Whenever U.S. national team January training camp rosters are released, they inevitably come with omissions that leave people scratching their heads and wondering why the coach left some players off and brought certain other players in. The latest roster unveiled by Jurgen Klinsmann isn't without a few question marks, but does as good a job as we have seen in recent memory of digging into the available talent pool and delivering a promising squad.
Klinsmann has shown a willingness to give MLS players a chance, and with this January's training camp roster, he runs through the league's talent pool like a master craftsman. Yes, there is at least one head-scratcher of a call-up (Eric Alexander) and some MLS players who could have merited looks (like Kelyn Rowe, Lee Nguyen and Perry Kitchen), but the 26-player roster called in by Klinsmann does an excellent job of not only tapping into need areas, but also casting an eye toward the future.
The group has its top players like Landon Donovan, Matt Besler, Graham Zusi, Nick Rimando and Eddie Johnson, but also a refreshing mix of deserving MLS performers like Brad Davis, Dax McCarty and young faces like DeAndre Yedlin and Luis Gil. It is a group with a good amount of talent, and one that could definitely produce a few players who play their way onto the plane to Brazil.
Here is a closer look at the U.S. January training camp roster:
THE FAMILIAR FACE
Benny Feilhaber has had a roller-coaster ride of a career, and as recently as a year ago it seemed like returning to the national team might be long shot for him. A strong season and MLS Cup title later, the Sporting KC playmaker and 2010 World Cup veteran is back in with another chance to impress Klinsmann.
Feilhaber's call-up bears watching because he brings qualities that are unique in the player pool as a truly creative central midfielder. Playing for Peter Vermes forced him to improve the defensive side of his game and now he heads into the January camp a more well-rounded player who could absolutely play his way back into the full national team conversation. Having Mix Diskerud in camp will also be good for Feilhaber because it will allow Klinsmann to compare and contrast the two, who could wind up competing for the same spot on the U.S. World Cup roster.
THE MVP
It's hard not to feel happy for Mike Magee, a career MLS player who made the jump from someone known for performing well in the playoffs to MLS MVP this year. What had been missing for him was a national team look, but after the year he had, it was tough for Klinsmann to justify not taking a look.
Magee's is a feel-good story, but he still has plenty of work to do, starting with figuring out how he best fits on the team. The competition at forward is fierce and Magee might not be well-suited to play on the wing on the international level. He will get his chance to shine in camp though, and in the end that's all Magee was hoping for.
FULLBACKS GALORE
If there is an area to be excited about it's at the fullback spots, where Klinsmann is bringing in some new blood to try and revitalize two positions with questionable depth. At left back, Chris Klute was one of the revelations of the 2013 MLS season while Seth Sinovic has quietly developed into one of the best fullbacks in the league. Michael Harrington is coming off an outstanding season with Portland, and can play both left and right back. At right back, Chance Myers is a skilled player who has developed the consistency and toughness that comes with passing through Peter Vermes' system. Then you have youngster De'Andre Yedlin, one of the most exciting young prospects in MLS, which brings us to our next segment.

THE NEXT GENERATION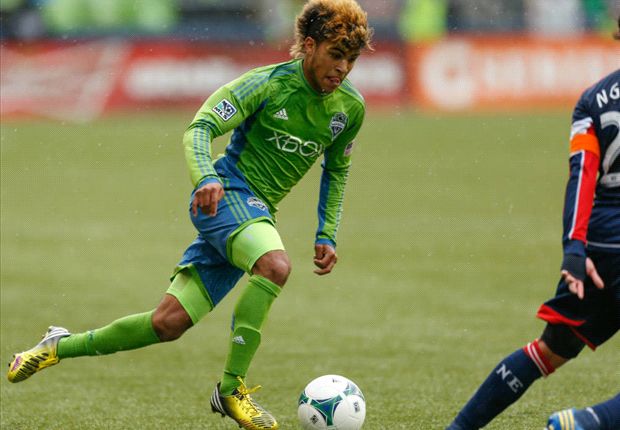 Klinsmann has been careful about not rushing the next generation of young talent up, specifically the members of the U.S. Under-20 national team who stood out the most in 2013. He let them develop in the MLS incubator and Yedlin, Luis Gil and Shane O'Neill all were regular starters on playoff teams, earning key experience to make them better prepared for their first senior national team experiences.
Are any of the three realistic possibilities for the 2014 World Cup team? No, but all three should be key factors in the 2016 Olympic Qualifying cycle and could develop into options for 2018, which Klinsmann will now be around for after signing a new contract.
THE "SNUBS"
It is difficult to call anybody a true snub this time around considering 26 players were called in, but the inclusion of some surprises makes it easy to raise some questions about players left out.
Eric Alexander's call-up was the most surprising. It isn't his first January camp call-up, having received one in 2010, but he did have a career year with the New York Red Bulls. He played mostly on the wing for New York, though that isn't really his best position (he is more a central midfielder). Perhaps that versatility led Klinsmann to consider bringing in Alexander.
Given how thorough Klinsmann has been in diving into the player pool, it's tough to be too hard on him for making a surprise call-up like Alexander, but it certainly does make you wonder about other players who missed the cut this time around who could have been justifiably included in this camp.
With that in mind, here is a Best XI of players who played well enough in 2013, and have good enough qualities, to have been reasonable additions to the January U.S. training camp roster:
Clint Irwin, Kofi Sarkodie, Sheanon Williams, Ike Opara, Amobi Okugo, Kelyn Rowe, Perry Kitchen, Ricardo Clark, Lee Nguyen, Jack McInerney, Lamar Neagle
CAMP BEST XI
The U.S. will be holding training camp from Jan. 6 to Feb 1, including a two-week stint in Brazil. The camp will culminate with a friendly against South Korea on Feb. 1 that should be a good showcase for several players vying to be brought back when the full squad gets together for a friendly in March.
Here is a projected starting lineup we could see face South Korea:
Nick Rimando; Brad Evans, Matt Besler, Omar Gonzalez, Seth Sinovic; Graham Zusi, Mix Diskerud, Kyle Beckerman, Brad Davis; Landon Donovan, Eddie Johnson.