To be the best, you have to challenge the best.
That's exactly what Jurgen Klinsmann had his players do when the U.S. national team decided to journey out to Italy for a friendly on Wednesday night. And it just so happened that the Americans did more than just challenge the world's sixth-ranked team. They beat it.
Thanks to a goal from Clint Dempsey in the 55th minute, the U.S. walked away with a shocking 1-0 victory in Genoa, a city that had never hosted an Italy loss. It was the first time the U.S. had ever defeated the Italians in 11 games over 78 years. It was also the fourth straight win for Klinsmann, who now has a winning record in 10 games as head coach.
"Obviously from our end, we are really pleased with the game and with the result," Klinsmann said after the game. "If you beat Italy on their own soil then that means a lot. For us, the goal was to learn – to come here to learn."
The lesson is to get players used to playing outside of their comfort zones. Klinsmann has already had his team play four of its 10 games in Europe, including matches in France, Belgium and Slovenia. He took a group made up of mainly U-23 players to Panama in January for them to get a feel for what it's like to play in a hostile Central American environment.
The experiences seem to be paying off just as Klinsmann's honeymoon period approaches an end with World Cup qualifying three short months away. The team hasn't lost since recording a 3-2 win over Slovenia last November, and Klinsmann has his players believing they're on the right path to competing with the world's best teams on a consistent basis.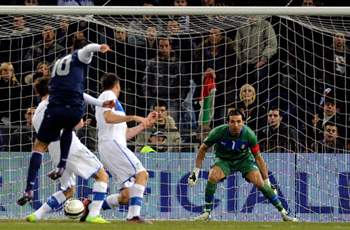 "It's just a confidence builder," Dempsey said. "We're just trying to move in the right direction and trying to get as sharp as we can for the summer and the World Cup qualifying games because the goal is to qualify for the World Cup."
The midfielder added: "I like to think that we're closing the gap [on the top teams in the world] and hopefully one day we can do something special."
Klinsmann was hired to bring U.S. soccer to compete with the elite. As much as he appreciates everything Major League Soccer has done for American soccer, the reality is that his benchmark is international soccer. It's all about beating the Italys, Spains and Argentinas not the Costa Ricas, Venezuelas and El Salvadors.
"Those are the teams that I want to beat one day," the coach said earlier this year.
"I have to figure out how to do that. I have to find ways and I have to introduce things to players to give them another tool on how to understand how to beat them one day. I have to tell them that if you want to go at them then this is what you need. It's not only playing the game, it's a lot more than that. That's simply what I'm doing."
For at least a day, Klinsmann succeeded.