U.S. national team coach Jurgen Klinsmann has called in 21 players for his side's friendly against Italy on Feb. 29 at the Stadio Luigi Ferraris in Genoa. Here's a look at four of the more important developments from his squad.
Will Sacha Kljestan ever get another chance?
After being excluded from Jurgen Klinsmann's roster for the USA's friendlies against France and Slovenia last November, Sacha Kljestan sent out this now-infamous tweet:
"12/12 points in Europa League and qualification for the knockout stages. Well done boys! Are you even watching???"
Are you even watching? The phrase - presumably directed towards his national team manager - has become something of a rallying cry for Kljestan's supporters who can't understand how, despite his outstanding form with Belgian front-runner Anderlecht, he hasn't reckoned in Klinsmann's team since last September.
Despite drawing raves for his play as a facilitating central midfielder this season, and earning reported interest from clubs in bigger leagues, the 26-year-old former Chivas USA man was again left off Klinsmann's roster for the Italy friendly. The U.S. boss is certainly watching, but based on the 4-2-3-1 system he's been running, perhaps he sees Kljestan as too attacking for a defensive midfield spot, and not worthy of the number 10 role playing just beneath the lone striker. Whatever the reason, Kljestan will have to be content with Belgian and Europa League playing time for now, and hope to force himself into a national team spot with continued club success.
Terrence Boyd gets a surprising call-up
There weren't a ton of surprising names on Klinsmann's 21-man roster, but one that certainly raised a few eyebrows was that of Terrence Boyd, a 21-year-old who joins the now-rich tradition of U.S. national team players born in Germany to a German mother and American serviceman father.
The striker has impressed with the U-23 teams of both Borussia Dortmund and the United States, earning plaudits for his physical yet skillful style of play. His call-up still came as a surprise to many though, including Boyd himself, who was on his way to U.S. U-23 camp when he got the news that he'd been summoned to Italy.
Though he hasn't made his first team debut for Dortmund yet, he has featured on the 18-man gameday roster recently, and his ascent into a role with the full squad is now a matter of when, not if, as manager Jurgen Klopp has praised the young striker and said that he was being groomed for a place in the first team of the current Bundesliga leader.
Cameron and Parkhurst earn their shot with the A-squad
The USA's annual January camp serves as something of a filter for the team's coaching staff. With mostly fringe squad members called in, the camp gives players a chance to separate themselves from their contemporaries, and show they are worthy of a shot with the A-team.
Of the 20 players called into January camp, just four are back for the Italy friendly: Nick Rimando, Jermaine Jones, Michael Parkhurst and Geoff Cameron.
Rimando is a backup goalkeeper, and Jones wouldn't have been called in January were it not for the lengthy suspension he's serving for club team Schalke, so Parkhurst and Cameron are the real significant names in that foursome.
Klinsmann was obviously impressed enough with the duo to graduate them to the full squad and with Oguchi Onyewu out with a knee injury and Tim Ream still settling in with new club Bolton, the chance for significant minutes at center back with the full national team is ripe for the taking. At a thin position, both players could earn substantial roles in World Cup qualifying with impressive shows against the Italians.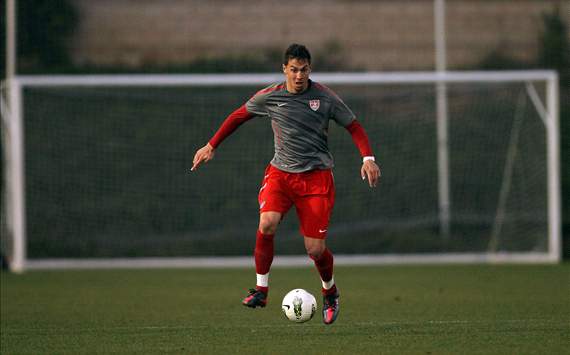 Cameron | Has a huge opportunity to shine in Italy
Landon and Clint: Together at last
After nearly seven months on the job, Jurgen Klinsmann should finally get the chance to play his two best outfield players on the pitch at the same time. Both Landon Donovan and Clint Dempsey offer plenty of versatility, and could play any of the three attacking midfield roles in a 4-2-3-1, and could even slot in up top at forward if Klinsmann decides to play a more-traditional 4-4-2.
The deployment of the Dempsey/Donovan duo will be one of the more significant storylines to monitor in Genoa. For now, more than any other two players, this pair will determine the fate of the U.S. national team all the way through World Cup qualification.
Follow SETH VERTELNEY on

or shoot him an

email