Benny Feilhaber started in a new attack-centric role for the USA in Saturday night's 1-0 friendly win against Venezuela. It's a spot he is not overly familiar with.
"Benny's role was a bit different to [where] he's used usually because we put him in almost up front there with Teal Bunbury underneath him, just to provide the service to Teal," said U.S. coach Jurgen Klinsmann after the match.
Throughout Feilhaber's career, he has played a more traditional center midfield position where he could use his provident vision and oil-slick passing to find attacking teammates. Saturday, however, Klinsmann decided to place Feilhaber much closer to the forward than he is used to, urging him to directly link the midfield and forward lines.
This was an adjustment for Feilhaber as he looks to fight for a spot on the first team and prove himself all over again to a new manager. The 27-year-old earned all 38 of his previous international caps -- a high on Klinsmann's January roster -- under former coach Bob Bradley.
"I'm definitely comfortable with the things I do, but having said that you do have to reprove yourself," Feilhaber said.
Feilhaber has always had a flare for the dramatic. Maybe it stems from his Brazilian roots or perhaps it's a result of his clever style of play.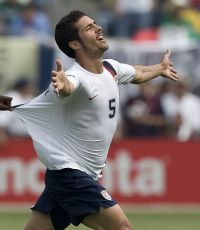 There is no better reference to this point then the 2007 Gold Cup final, which marked Feilhaber's emergence onto the U.S. international scene. With time running out in the second half and with the final against archrival Mexico leveled at one goal apiece, Feilhaber sent home a thunderous volley. A fortuitous bounce from a Landon Donovan corner fell kindly at Feilhaber's feet. Instead of controlling the loose ball, Benny unleashed a one-time shot into the side netting at a blistering pace.
The shot proved to be the game winner in the decisive final of the regional tournament, and sent the United States to the 2009 Confederations Cup.
Since then, Feilhaber's career has not been all roses. He has never found his footing at the club level. Feilhaber began his career in the youth system of German club Hamburg, then had an unsuccessful season at newly promoted Premier League side Derby County in 2007, followed by two-plus years playing with Danish club AGF Aarhus.
Although Feilhaber finally found consistent minutes in Denmark, he was doing so in a mediocre league, not to mention that the club was relegated to the second tier after his first season. With his contract coming to an end and with a restricted budget, AGF sold Benny to MLS last season, where he currently plays for the New England Revolution.
Despite his rocky club career, Feilhaber has played an integral role in the U.S. national team's recent success. The interesting note is that Feilhaber has done the brunt of his damage coming off the bench for the Yanks and has never been able to supplant himself as a starter.
A consistent string of injuries and a deep American midfield pool are to blame for this anomaly. In the 2008 Olympics Feilhaber was a substitute in all three matches. In the 2009 Confederations Cup Feilhaber made a substitute appearance in the historic semifinal win over Spain. Once again, in the 2010 World Cup, Feilhaber was strictly used in a super-sub role.
So what does Feilhaber have to do to get off the bench and become a starter? He will have to prove his ability to thrill and trill to Jurgen Klinsmann, just like the rest of the prospective 2014 U.S. World Cup roster will to earn a coveted seat on the flight to Brazil.
Marc Serber (@soccerserber) of usfutblog.com contributed reporting from Phoenix.