Jurgen Klinsmann's life as the boss of the U.S. national team will not get any easier this week.
Rather than stacking his schedule with easily winnable games in an attempt to bloat his record and let his team gain some confidence, the German manager has decided to test his team against two quality European sides in Europe, a continent that has traditionally brought about struggles for the USA.
Klinsmann's team will have a couple of things going its way heading into the friendly with France on Friday. Landon Donovan is back playing and seems to be on good form. Jermaine Jones and Michael Bradley have both been playing well at the club level and should be fit enough to start should Klinsmann choose to go that route. And, in case there wasn't enough of a German flavor to the team, Fabian Johnson and Alfredo Morales will both be involved this time around.
Unfortunately, despite the eternal good vibes that Klinsmann passes off, none of that is likely to make any difference against a French team that is absolutely loaded with talent.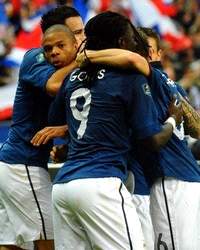 From the well-known entities of Karim Benzema, Franck Ribery and Samir Nasri to the less heralded Loric Remy and Marvin Martin, the French side has attacking options aplenty. On defense, where the likes of
Laurent Koscielny
and
Mamadou Sakho are coming into the match in great form, France boasts a group that is equally strong at the moment to its attacking line, and the center of the pitch is no different.


"These games are valuable opportunities for us as we continue to explore and evaluate everyone in the national team program," said Klinsmann. "We have started to build a foundation on our playing style, and every time we are together the team gets a more precise picture of how I want to see things done on the field.
"We want to continue to progress so we are able to challenge teams like France, who have earned their place as one of the top 15 teams in the world."

Klinsmann's tactical plan, which apparently includes holding the ball for long spells and actually building into the attack (though we've seen only glimpses of it at this point in his tenure), will be tested to the fullest. What will also soon be tested is the German tactician's ability to adjust his style accordingly.

"The fight will continue for starting spots, and it's important to see how the players perform in every training session," Klinsmann told U.S. Soccer's official website. "We will continue with high-intensity training and the players will get a more precise picture of how I want to see things done on the field, our tactical approach and the speed of the game we want to play.
"We will train the same way we will play in games, with high intensity and awareness. With every camp, they know exactly what to expect"
Talk of fighting for spots and intense practices is nice to hear, and it's clear from everything Klinsmann says that he wants the pace of play to pick up drastically. But there is now, and likely will be for the foreseeable future, a real question as to whether or not the USA is equipped with enough talent to make that style of play pay off.
Pace and size are clearly not issues. This group of USA players is blessed physically with the ability to run and the strength and height to be dangerous on any set play. But the intricate passing moves, the bursts of one-touch counterattacking football that Germany has so often used to break down Europe's elite teams, is still more than a little way off.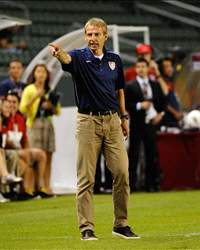 The argument can and will be made that the USA is making progress under Klinsmann and that those moves will come in plenty of time for the USA to once again qualify for the World Cup, and that the USA will have to suffer some losses until that happens. But there are other matters to take into consideration, and it might be wise of Klinsmann to have a couple of other plans available for when things go poorly.
To this point in Klinsmann's run as boss the USA has managed to stay well up with the run of play despite a poor record. That's not likely to b the case against France and how Klinsmann adjusts his strategy for that match could offer a very real look into the future of the national team.
Will the free-flowing attack persist? Or will this group of players, under Klinsmann, revert to inviting pressure and trying to hit back over the top? Are Klinsmann and his players confident enough in playing the his new style that if the match gets ugly they'll stick with it?
And if the plan doesn't work against France, and things get ugly, will this group and its manager be able to rebound and get a good result from another tricky game in Slovenia next Tuesday?
With the USA still in the process of building a team, Klinsmann could get fortunate, turn out a good result, or even a strong showing, against France and make some of these lingering questions irrelevant. But if all goes poorly, and the answers that come lead to two more losses, it might be time for some of the optimisms to go away until the results start coming in.
Follow ALLEN RAMSEY on