It's somewhat strange hearing players on the United States national team referred to as "the Germans." But Timothy Chandler and Danny Williams hear it each day from their American teammates as they train just outside of Miami ahead of a pair of October friendlies.
"That's normal," Chandler told Goal.com. "There are currently several players from the Bundesliga, which is good."
The reason why they are called "the Germans" is not because of the league they play in. It's because, like Jermaine Jones, they were indeed born and raised in Germany, both of them sons of American servicemen. Chandler and Williams, along with the German-born Fabian Johnson, who is not currently with the team, are eligible to play for Germany. But the U.S. offers more playing time and it's not guaranteed that they would even make the German squad.
For Chandler, a defender for FC Nurnberg, it was an easy choice. He may have trained with the German team when he was younger, but his best opportunity comes with the Stars and Stripes. It also helps that the U.S. is coached by a German, Jurgen Klinsmann, who speaks to the Bundeliga players in both English and German.
"This is an emotional and a sporting decision," Chandler said.
Chandler on U.S. future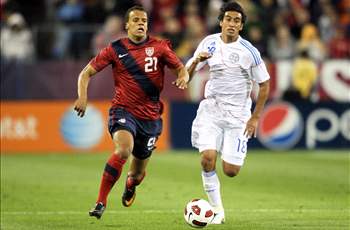 "At the moment I have nothing to do with the DFB. I opted for the U.S. and am going with my heart for the United States. No one needs to have any worries."
- Timothy Chandler

Over the last few months, there were several reports that Chandler was leaning toward rejoining Germany. Chandler made his U.S. debut in March and has played in three more games since, but they were all friendlies, making him eligible to return to Germany should the team come calling. Adding to the rumors was his absence from the Gold Cup following a long club season and a tweet from former U.S. player Tony Sanneh suggesting Germany coach Joachim Low was set to meet with Chandler.
It was a concern for American soccer fans who are counting on the fullback to be a star on a team that lacks depth in the position and currently ranks 31st in the world, behind Korea and Ireland. Chandler was already being dubbed the next Giuseppe Rossi, the New Jersey-born striker who declined an offer to play for the U.S. as a teenager, opting for Italy instead.
Chandler, however, is always quick to deny he's going anywhere.
"I've already told American journalists at least five times," he said. "In my youth I was in several courses at the DFB, but at the moment I have nothing to do with the DFB (German Football Association). I opted for the U.S. and am going with my heart for the United States. No one needs to have any worries."
An appearance in an official FIFA match is the only thing that will really make his switch to the U.S. official. Next June, when World Cup qualifying begins, couldn't come sooner for American supporters.
Add Steve Cherundolo and Jones, and Klinsmann's future plans include five players from Germany's top league. (Ricardo Clark and Edson Buddle, who play in Germany's second tier, have also received calls from the 47-year-old.) It's no secret Klinsmann likes players with similar backgrounds as himself, "because they are in the Bundesliga and because he played there and is German," as Chandler would point out.
As for Chandler's soccer future on the club level, the youngster is taking it day by day. It was just a year ago when the 21-year-old was playing for Nurnberg II against Wehen Wiesbaden II in front of a grand total of 195 fans. Half a year later, he's matching up against Argentina's Lionel Messi, arguably the greatest player in the world.
What's next? Chandler can't even answer that one.
"There is no plan for my career. I first want to play well for the club (FC Nurnberg) and bring my best performances there. I'm still not concerned with other things," he said.
Daniel Buse of Goal.com Germany contributed reporting to this article. The quotes were translated from German to English.