Ross Paule, Josh Gros, Taylor Twellman, Alecko Eskandarian, and now Jimmy Conrad. As the first studies into the long-term effects of concussions to sportspeople begin budding through, head injuries continue to claim the careers of MLS veterans.
On Thursday, Jimmy Conrad announced his retirement from professional soccer in a lighthearted, endearing press conference at the Home Depot Center.
"There's a lot more research being done on the brain, and there's still a lot of unanswerable questions," the 34-year-old said. "I mean, doctors can't tell me what's going to happen to me in 10 or 15 years, what my life's going to be like."
Conrad hadn't played for Chivas USA since his second appearance, when he took a punch to the head from Colorado Rapids goalkeeper Matt Pickens.
"I had a real solid buzz in my head for two and a half, three months," Conrad said.
But no one is blaming Pickens. That was Conrad's sixth documented concussion. With the blows coming more rapidly, with less time between, the central defender worried that a life-altering seventh wasn't far away.
It was Eskandarian's fourth recorded case that ended the former Chivas USA striker's career. Playing for the LA Galaxy in a friendly against AC Milan, Eskandarian took a ball to the face when Thiago Silva attempted a clearance. It broke his nose and
brought a close to his career
. Eskandarian was 27.
Taylor Twellman similarly suffered
numerous concussions. The last came when then-Galaxy goalkeeper Steve Cronin landed a two-fisted punch to the base of his skull, instead of the ball. Twellman even made a brief return to
score his 100th career goal
before retiring and moving into punditry with ESPN.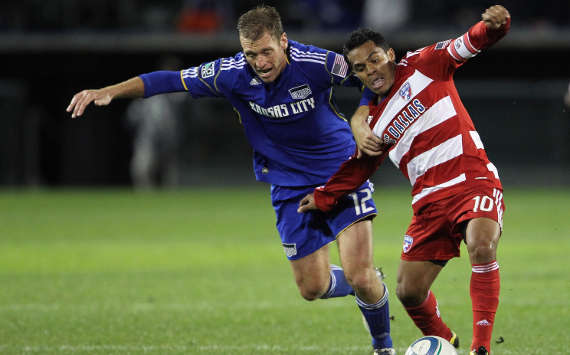 Strike a pose | How about this posture for Conrad's statue?
Conrad could follow Twellman into the TV world and has already held initial talks with ESPN, Fox Soccer and
NBC Sports, which will begin broadcasting MLS games in 2012
. Initially, however, he'll emulate Eskandarian,
who is now the Youth Technical Director for the Philadelphia Union
.
Conrad will work as an assistant to Goats head coach Robin Fraser, specifically providing organizational oversight to the Chivas USA youth program. The club recently
took over New York Cosmos Academy West
.
"I take a great deal of pride in brainwashing America's youth," Conrad said.
"When I coach kids, I let them know that there's no magic pill you can take. Nothing I say is magically going to make you better. If you're willing to put the work in, then you're going to reap the rewards. It's that simple."
The Temple City, Calif. native has always been willing to put the extra work in. Never blessed with considerable pace or even outstanding natural abilities, Conrad can look back on some impressive achievements during his 13-year career.
"To me it's not a sad thing, it's a celebration of an unbelievable career," Fraser said of Conrad's retirement.
Some of the highlights include five All-Star selections, four MLS Best-XI nods, and the 2005 MLS Defender of the Year gong. Of his 290 MLS appearances, only two came for Chivas USA. The rest came for San Jose and Kansas City, where he spent eight years. (Conrad suggested that a statue outside of LIVESTRONG Sporting Park would be appropriate.)
Additionally, Conrad represented the U.S. national team, earning 28 caps including two during the 2006 World Cup.
"I remember they had a video of Clive Charles that we'd watched prior to going, and he said just to take a moment when you're on the field to take a look around, look at the crowd, smell the grass. I did that," Conrad said. "I remembered that when I got on the field against Italy, and I did that. I can still remember how fresh and vivid that memory is in my mind because I took that moment."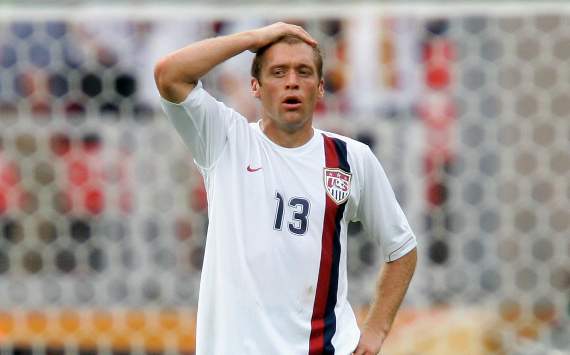 Conradical | Jimmy Conrad played two games in the 2006 World Cup
That's what Conrad will remember from his career, but how does he want others to view it?
"Robin I think said it best: a story of determination. That I decided what I wanted to do early on and I wasn't going to let anybody tell me that I couldn't do it," Conrad said. "I heard a lot of nos and that I wasn't good enough and I was slow - I think those still follow me around. And here I am 13 years later with a lot of awesome accomplishments, with a lot to be proud of."
Follow ZAC LEE RIGG on

or shoot him an email.