 EXCLUSIVE
U.S. men's national team and Aston Villa goalie Brad Guzan is going to miss 2011 Gold Cup for obvious reasons; the Illinois native is getting married to long time girlfriend Bre Chentnik. They've been together for eight and half years going back to high school.
The former Chivas USA star is very competitive. He once broke the 200 mark in bowling and he reminds his friends constantly of the feat. See most of the time he barely makes 140 so people might doubt he ever got to 205.
His competitive spirit is to be expected. After all, he is a professional goalie who is still number two for club and country.
"Everybody wants to be playing and everyone wants to be the number 1 - you want to be the guy - but at the same time I know that the guys in front of me are doing a great job," Guzan admits to Goal.com.
Even though he respects the two choices, Brad Friedel (Villa) and Tim Howard (USA), he would rather start for club and country. It does test his confidence and push his patience; he's only human.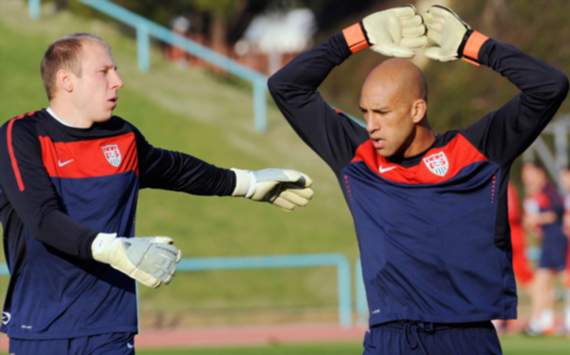 Fighting For His Chance | Guzan wants to eventually be America's No. 1 keeper
"One hundred percent for me I think to really push on at the national team level I need to be playing consistent football week-in, week-out at the club level," he says.
That's why when the opportunity to go out on loan to Hull City this January came around Guzan took it with both hands. It was the most consistent soccer he had played since he arrived in the English Premier League under then manager Martin O'Neill in 2008.
The City deal literally happened overnight
.
He was in his apartment in Birmingham on Dec. 30 when he heard about the possibility of a loan move. He woke up the next day to missed calls from his agent saying City wanted to speak to Villa. He went to practice and afterwards was driving on the M1 and he started on New Year's Day.
"It all happened within 24 hours, next thing you know I'm driving up the highway to Hull City to play my first game," Guzan says. "I spent the night in the hotel and played on the 1st."
Though O'Neill started Guzan in Europa League, FA and League Cup games, he was a bench player when it came to the Premier League fixtures.
"It's a lot different instead of playing once every third month in a cup game, you're able to play consistent football. It does wonders for your confidence and ultimately that shows in your play," he says.
It was a positive experience. He was grateful to Hull for giving him the opportunity to play. The club entrusted him and he repaid its confidence with some remarkable performances that moved the team up the Football League Championship table.
Hull City didn't make the playoffs but Guzan left a mark on the club's fans with some memorable saves.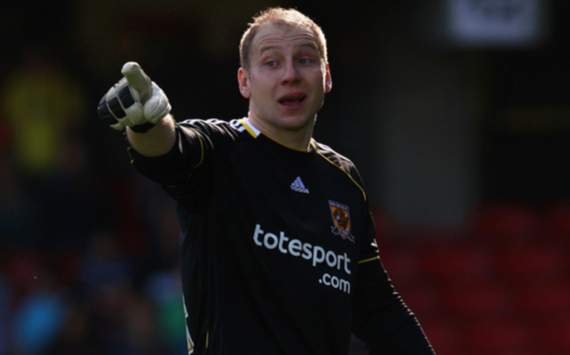 Making An Impact | Guzan capitalized on finally having a chance to be a starter at Hull City
"For me it was fantastic, there's a big difference when you're able to play week in and week out," he says.
There were possible talks about signing him permanently to City, but it was outside of the transfer window. The club also wanted to keep him till the end of the season but because of the system where you can only have five loan signings, it had him on a month to month deal.
"I wasn't able to stay because one of the other loan signings at the time was injured so they had to bring in another player," he says.
Back at Villa, Friedel and Guzan both have a great relationship.
But it's also spirited. It's similar to one of the professor and protégé where the potential in Guzan could match the man ahead of him.
"When I signed with Aston Villa I knew they were going to bring in another goalkeeper. When Brad friedel signed, I thought to myself this should be great. I spoke with Martin O'Neill when I first arrived and the plan was to have Brad play while I get used to English Football," Guzan says. "Nobody could have predicted that Brad would be in such great form for so long."
Friedel is considered a legend at Villa and Guzan feels his minutes are being restricted due to the 40-year-old's stature at the game. Guzan is obviously frustrated by the situation. If you were in his shoes, would you blame him? Every professional dreams of starting regardless of who is in front of them. Having that mindset only makes you better.
"It's just a matter of going out and trying to prove myself and pushing for that starting spot but that does not take away from any of the respect that I have for him and what he's done on the international stage or here in England in the Premier League," Guzan says about Friedel.
He respects the consecutive amount of games Friedel has played which he says is outstanding, but he wants to keep pushing for the ultimate gig. He has been close a few times and it all comes down to the manager making the switch.
Before this season, Guzan had some memorable games for Villa. While on the road at the Stadium of Light two seasons ago, Guzan made four penalty saves; one in regulation time and three more in the shoot-out win against Sunderland in the League Cup.
He led Villa to the League Cup final where it would face Manchester United. But the manager decided to go with experience over a consistently proven Guzan.
"He [O'Neill] basically just called me into the coach's office. I kind of had a feeling because of the way he went about things and he didn't announce the starting 11 until an hour before kickoff. He called me into the office outside the locker room sat me down and said he was going to go with experience that day. It was one of the toughest decisions for him and that was it really," Guzan recalls.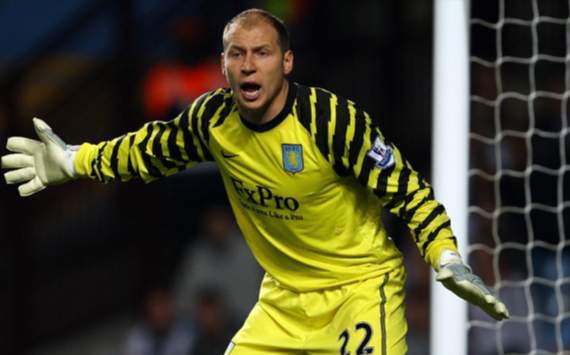 Aston Villa Future Uncertain? | If Guzan isn't a starter next year, he will explore his options
There weren't too many words exchanged between manager and player because it wasn't the time or the place to ask why. It was the manager's decision and the player had to live with it.
That was probably the toughest moment in his professional career. His family flew over from the Midwest to watch him play, even his fiancé and her family were in town thinking he would start.
"They all came over knowing that obviously I had played all the matches leading up to it and to have the chance to play in a cup final at Wembley would have been fantastic. To have that moment taken away from me an hour before kickoff is definitely one of the lowest points in my career," he says.
Villa eventually lost to United and Guzan didn't like the decision neither did he agree with it but he was a team player about it.
It gave him a lot more motivation to become better and now he understands what fellow American Michael Bradley is going through when he is not getting playing time at Villa.
"I've talked to him and it's nothing that he already does not know. He knows when he gets his chance he has to be ready for it," Guzan says.
At the end of the season, Bradley returns to Germany unless Villa opts to buy him. Guzan says there is an option to bring Bradley.
"Mike is a great professional. He is one of the first in training and the last to leave. He is always doing extra work to stay fit and to push himself to make sure that when he gets the chance he is ready to go," Guzan says.
Bradley has also been in Europe long enough to understand that sometimes things go for you and other things it does not happen. Even though neither he or Bradley haven't been able to get minutes under Gerard Houllier, Guzan doesn't believe that the french manager has a negative perception of young American players.
"I don't think that's the case at all. We hope the manager hopes a speedy recovery. I don't think he hates Americans," he says. "At this club we have some very talented players. The depth of our midfield has international players at some level and it's very competitive. When players come to England, the pace of the game is extremely fast and the tempo of the game is very high compared to some other countries."
Guzan has no idea what the future of Friedel is at Villa. Manager Houllier had stated that he wants Friedel back, but the former American goalie recently had a third child this week and he's dealing with those sleepless nights. So a contract talk would have to wait till the summer.
If Friedel decides to sign another deal with Villa, Guzan would hope to go get playing time elsewhere. Since he tasted first team action at City, he does not intend to go back to the stands.
"For me if that's the situation then and I'm going to be here as well, then a loan is definitely the plan of attack if I'm not going to be the number one," Guzan confirmed.
It's about playing consistent soccer rather than giving the AS Roma rumor some wings and probably sitting on the bench in Italy. He would rather take a loan move that would put in the best position for starting job at Villa down the line.
"At this point it's about playing on regular basis. Being out on loan only keeps me sharp and ready to come back to Villa," he says.
Guzan believes the U.S. has a strong chance to win the Gold Cup.
"I think we have a really good team. There are tons of players in Europe with some younger players in MLS that are doing extremely and that's good for the national team program, hopefully we win it, I'll be watching," he says.
As for Guzan, the 26-year-old belives that if he continues to be patient, opportunites will come. Until then, his dedication and hard work are the key components that will lead him to future success.
"Everyone always wants to be playing. You don't train every week to sit on the bench and not to be involved with the team on the pitch. You train hard to be able to play in front of 40,000 to 60,000 fans that are chanting and cheering your team on; that's what being a professional is all about," he says.

Follow Sulaiman Folarin on Twitter @sulaiman4real
Visit the U.S. national team page on Goal.com for more and join Goal.com USA's Facebook fan page!