Exclusive
When United States men's national team midfielder Benny Feilhaber signed with the New England Revolution to join Major League Soccer last month, many observers believed that the upcoming Gold Cup weighed heavily in the player's decision.
Reflecting on his decision to play in America, however, Feilhaber doesn't believe that his move from the Danish league to MLS will improve his chances of making the 23-man roster that will be announced this Monday.
"No, I don't think so," Feilhaber said to Goal.com. "I think whether or not I'm playing in Europe or playing in MLS, [U.S. national team head coach] Bob [Bradley] knows what kind of player I am and what I'll bring to the team. Hopefully, I get the opportunity to be called in but I don't think playing in MLS improved or hurt my chances of making the team."
Ever since AGF Aarhus had been relegated to the second division, Feilhaber's form with the national team had slightly dipped. Also, Feilhaber was out of luck when he looked at other options in Europe.
"I had offers abroad but not to play in Europe, "the 26-year-old said. "There were a couple of teams outside of Europe that weren't MLS teams that were interested. I waited a couple of months to see if there would be any opportunities to play in Europe during the transfer window."
According to the U.S. international, who has 38 appearances for the national, his mindset was simple: it was either Europe or MLS. He wasn't interest in any other options that were available abroad and was intrigued about MLS because of the interest it had shown in him and the fact that he had never played in the league before.
"I thought a terrific opportunity presented itself in being able to play in the U.S.," he said. "So it's good to come back to the U.S. and try to play my style of soccer."
Over the past month, Feilhaber has performed well with the Revolution, who have lost only once and gained seven out of 12 points since his arrival. Despite the team's solid play, Feilhaber admits that he is still adjusting to MLS.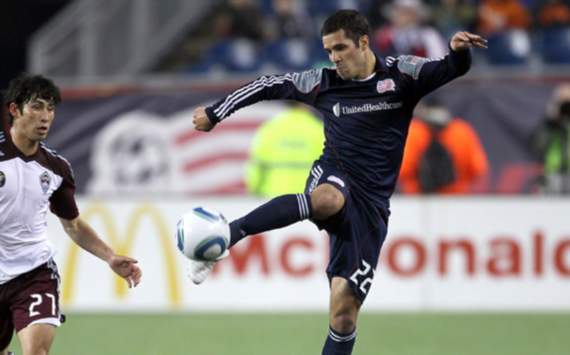 Fitting In | Feilhaber has performed well with the Revs
His style of play fits him well in Denmark, where he could use his technical prowess to succeed, but in America the games are a lot more physical and faster. While he has done well with being a playmaker for the Revs, he said that his defense still needs to get up to speed.
However, Feilhaber wouldn't suggest that MLS is stronger than Denmark's top division, the Superliga, but argues that two the leagues are similar in skill level.
"It's pretty even to be honest with you," explained Feilhaber. "There are some things that the league does better than MLS and there some advantages that MLS has over Danish football. If the leagues were to play against each other, it would be pretty even. "
Feilhaber expects the Revolution to make the playoffs this year and believes once the club is in an elimination tournament that it is a scary matchup for any team.
"I think the only thing we're thinking of is getting into the playoffs," he said. "Once we get there, we're capable of anything and the opportunities are there in the playoffs to win the whole thing."
Finally, with the Gold Cup roster expected to be announced this Monday, Feilhaber says that he has no inclination on whether or not he will be selected for the national team but hopes to hear his name called when it is announced.
Feilhaber believes that this Gold Cup will be important for the United States as its last win signaled its intention to lead the CONCACAF region as its best team. He also wants another shot at the Confederations Cup, a trophy that slipped out of the United States' hands after surrendering a two goal lead in the 2009 final 3-2 defeat against Brazil.
"It's very important to win your regional competition," said Feilhaber. "It's also important because the winner gets to go to the Confederations Cup and that's something we'd like to go back to and be involved with."
With the emergence of Javier "Chicharito" Hernandez at Manchester United, Mexico is expected to be the favorites to win the Gold Cup trophy. Feilhaber is impressed by some of the young talent that Mexico has and believes that several teams will make this a very competitive tournament but the Revs star is adamant that the United States isn't afraid of any team in its way.
"I don't think any team scares us," said Feilhaber."Mexico is a good team with some young players that are doing well but this is a tough competition all around. There are some good teams from Central America. I think Canada could be a sleeper in the Gold Cup. They have a lot of good players and if they play up to their potential, they could do well in the Gold Cup tournament."
He added, "It's a good competition but I don't think we're scared of anybody."
Alex Labidou is the Deputy Editor of Goal.com USA. Agree or disagree with the story above? Give him a shout @sportslab on twitter.

For more on Major League Soccer, visit Goal.com's MLS page and join Goal.com USA's Facebook fan page!