As striker Giuseppe Rossi makes headlines for his scoring prowess with Villarreal, and his agent takes advantage of his client's hot streak to pump interest from the likes of Barcelona and Juventus, there's a slight twist of the knife in the heart of many a USA national team fan.
It's an old story by now, how the soccer-loving kid raised in New Jersey could have represented the Stars and Stripes instead of the Azzurri, but for fans of U.S. soccer, it's all the more poignant now because the American squad is coincidentally suffering the lack of a consistent quality striker.
The combination of Charlie Davies' untimely accident, Jozy Altidore's lack of form and the limited experience of other options doomed the USA's advance in the 2010 World Cup. Not a single American forward scored in the tournament.
The 'what if' of how Rossi could have helped the USA squad is old, but little is known about the 'what happened' of when he made the crucial choice to play for Italy.
Bruce Arena was the USA coach at the time the federation tried to court the player, back when still a teenager and playing for Manchester United.
"Rossi was the one player with us in my time," Arena said this past Wednesday of the dual-citizenship conundrum. "We did our best to convince him to play with the US, but his preference was Italy and that's the way it goes."
Arena detailed a few of the ways he personally reached out to his fellow Italian-American.
"We talked a number of times on the phone," he said. "I don't know the exact timeline with everything and how it came down, but there were conversations and he knew [about our interest]. I'd invite him into camps. I invited him to play in some friendlies, which would not jeopardize his ability to play for Italy, but he had a desire to play for Italy."
Though it's likely that the talented striker could already be a two-time World Cup veteran with the USA, Rossi has yet to play in the tournament with Italy. However, of late Rossi has progressed to be a more crucial member of the Italian team.
Though Arena understood that the lure of playing for the multiple-cup-winning Italian side would be strong, he believed there was a possibility to sway Rossi to his birth country.
"I thought there was a chance," Arena acknowledged.
Despite the USA's quarterfinal finish in the 2002 World Cup, however, the reputation of the squad and the program in general worked against the USA choice. Plus, Rossi was likely eager to please the father who had taught him the game and always dreamed of his son playing for the Italian squad.
"At the time he was with ManU and his father was living with him in Manchester and had those influences," Arena recalled. "This was before the 2006 World Cup, in 2004, 2005."
The guesses only went so far, though, before Arena shrugged in resignation over what lay in the past.
"He's the only one who can tell you what his rationale was," Arena said of Rossi.
The long-time USA national team coach pointed out the glaringly obvious aspect that haunts some USA fans about Rossi.
"He's made some very good moves in his career," Arena said. "He's a guy that could have played for the U.S."
Yet Arena also struck back at those who have reacted angrily toward Rossi and labeled him a traitor to his home country.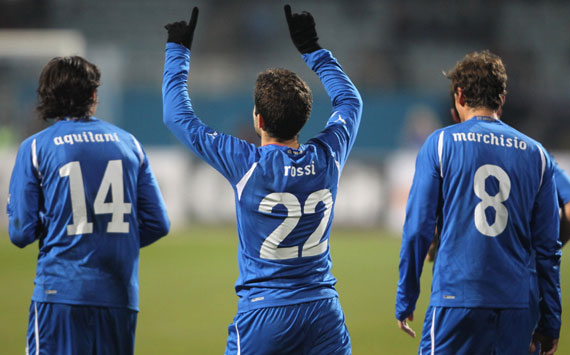 Rossi is now more integral to Italy's team
"That's foolish. If you're holding two passports, you have your choice. You have a privilege. That's like saying Andy Najar is a traitor… Thomas Dooley, David Regis. Half the U.S. team now, there's a bunch of guys who don't even speak English."
Arena's exagerration of the deficient English language skills of some of the recent USA players could be due to his disapproval of such far-flung prospects as a whole.
"For me, personally, I'm opposed to that stuff," Arena clarified. "For me, hunting around the world and trying to find a player that has a parent who happens to be in the U.S. military – which happens to be the case nine out of 10 times – to me that's against the spirit of everything, but whatever."
Although Rossi could be termed a similar example, but in an opposite direction, Arena maintained there was a clear distinction.
"Rossi is a different situation," Arena said. "Rossi is an American, he's not Italian, but he played for Italy."
Rossi may in fact be more a citizen of the world than anything else. Anyone who reads his twitter account, where he jokes easily in Italian, Spanish and English with a host of fellow players and friends around the globe, can see that he's picked up influences from many places in his career.
Yet even on twitter, there is a trace of Rossi's divided loyalties, and a hint that perhaps, despite his ultimate choice to play for Italy, it wasn't an easy decision. "Been around the world. . . Hometown is always NJ" reads his profile.
"I talked to him a number of times," Arena said about the USA's odds to convince Rossi back when the option was still viable. "There was always that chance. Whether it was one in a million or 50-50, who knows? It was certainly there for him and he made his decision."
Andrea Canales is an editor of Goal.com North America and is trying to remember to update her Twitter account.


Follow Goal.com on

to get the latest soccer news directly. Check out Goal.com's

page; be part of the best soccer fan community in the world!