The American veteran believes the squad is progressing.
It wasn't as if Landon Donovan didn't understand the challenge a top-level team like Argentina presented for the USA squad. Not only had he faced them three years ago, but also, everyone in the soccer world knew that Argentina was reloading with a new generation of players led by their maestro, Lionel Messi.
"From a possession standpoint, they're one of the best teams in the world," Donovan stated after the USA earned a 1-1 comeback result against the South Americans. "So we knew it was going to be the type of game where they were going to have the ball a lot."
Indeed, the USA looked completely dominated at the start of the match, but never lost heart.
"We wanted to, when we had the opportunity, to make sure we were good with the ball, too," Donovan explained. "In the first half, we let ourselves down a little bit in that aspect, but that got better in the second half."
Donovan was instrumental in the goal the USA scored to equalize. It was his freekick service that Carlos Bocanegra sent towards goal before the ball popped free for Juan Agudelo to adroitly finish past the goalkeeper.
Then it was up to the American players to make sure Argentina, with their fluid attack, didn't score again.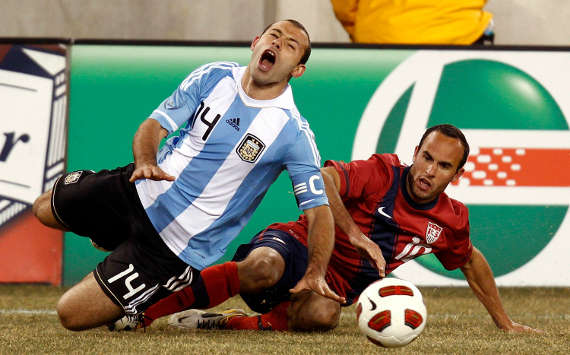 "Tonight was a difficult situation," Donovan said. "When you look at the way they play, they don't have only four or five [in the midfield], they have seven or eight sometimes. We needed to have numbers to counteract that. We didn't have enough going forward in the first half."
There was, in Donovan's eyes, a couple of simple reasons for the USA's improved play in the final period.
"I had the two big guys up there to hold the balls and draw fouls. Our fitness, in the second half, was a lot better and made a difference."
Though the result was earned in an international friendly, not a competition, Donovan still believed the game had meaning - standing as a barometer of the USA's status in the soccer world.
"We've earned respect and teams want to play us," Donovan attested. "In the past, playing the USA was considered a second-tier game. They know now they're going to get good competition. That wasn't always the case."
Follow Goal.com on

to get the latest soccer news directly. Check out Goal.com's

page; be part of the best soccer fan community in the world!