USA head coach Bob Bradley has hailed his team's fighting spirit after a second-half comeback saw them earn a hard-fought 1-1 draw with Argentina.
Bradley made two key substituations at halftime, bringing in 18 year-old Juan Agudelo in at forward for midfielder Jermaine Jones, as well as 20 year-old Timmy Chandler in place of Jonathan Spector at right back for his first career cap.
Bradley was especially happy with the performance of Agudelo, who scored his second international goal in only his third cap.
"For a young player, whenever you put him on the field, he has confidence," Bradley said.
Agudelo scored an equalizing goal in the 59th minute with a close-range tap-in off a United States set piece. He scored in his international debut against South Africa in November before drawing a penalty in his second international match against Chile in January.
"He's had a knack for turning up in some good spots to get goals, so we're pleased with the things that we see," Bradley said of his young striker.
The USA head coach was also pleased with Agudelo's combination play with fellow striker Jozy Altidore, after Altidore was left as a lone striker in the first half.
"The second half, we find a better rhythm and having Juan closer to Jozy certainly helped," Bradley said.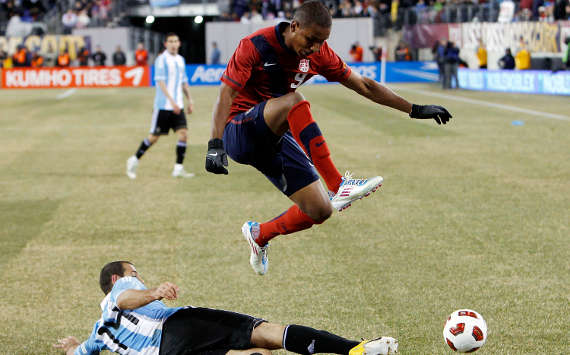 German-American defender Timmy Chandler made his international debut in the match as well. The right back has enjoyed a quick rise after only making his first-team debut for Bundesliga side FC Nurnberg in January.
"For a player who comes on for the first time, it was a good first half and he helped the team a lot. His movements coming forward have been good, his crossing has been good," Bradley said of Chandler.
The United States faces a very quick turnaround after their draw against Argentina, as they face Paraguay in just three days on Tuesday night in Nashville. Bradley admits that some of his younger, more inexperienced players may see more action on Tuesday evening.
"The turnaround is quick with the Saturday/Tuesday so we'll think about some different changes and that certainly includes some of the younger players."
Visit the U.S. national team page on Goal.com for more and join Goal.com USA's Facebook fan page!