Who was good?
Clearly, the nod in the back for the superstar performance should go to Tim Howard. As has happened before, the American goalkeeper shouldered the bulk of the work in keeping mighty Argentina off the scoreboard.
Howard came out charging for balls in the box, stood his ground against hard shots, fisted away balls bound for the corner, and was basically a stone wall denying the South Americans chance after chance.
He finally conceded when his defenders failed to clear a ball he had just saved, leaving a chance free for Esteban Cambiasso. Still, Howard continued his heroics before and after the USA equalizer - becoming the main man for the final result.
Another pleasant surprise was that Jonathan Spector was quite solid in the back, given that West Ham has deployed him more in midfield than in defense of late. Debutant Timothy Chandler was also lively, getting forward into the attack and capable of a decent cross.

Who was poor?
Though their spirits were willing, the limitations of the USA defenders were also on display.
Oguchi Onyewu is well over six feet and he was outjumped by Lionel Messi going for a ball in the air.
Carlos Bocanegra's header helped cause the USA goal, but he was beaten repeatedly by the Argentine dribblers.
Jay DeMerit did well to defend, but too often, the outlet pass would be right back to the opposing team, not his USA teammates.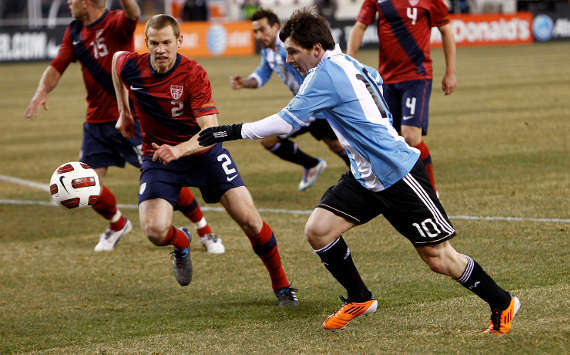 Where does the team go from here?
In some ways, it's easier to bring in new blood at the forward position. While they may not always help, forwards don't obviously hurt teams the way a weak defender can. Yet it's clear the USA needs to groom new prospects for the backline.
That doesn't mean that the defenders there now are done and worthless. However, they must prove themselves, as Spector, perhaps pushed by the inclusion of newcomer Chandler, has done. That's the kind of competition that will improve defenses, but only if it is truly competitive. Young players need to get the chance to put a little heat on the veterans.
Also, though Howard made the USA's goalkeeping tradition look good, it's troubling that the drop-off after him of top-level ready goalkeepers is so evident.
Follow Goal.com on

to get the latest soccer news directly. Check out Goal.com's

page; be part of the best soccer fan community in the world!