The USA earned a nice 1-1 draw with Argentina on Saturday night with Juan Agudelo scoring to level the match in the second half. The USA midfield, which started with five and ended with four, was largely outplayed in the first half but stepped it up for the second frame and ended up having a decent night all around.
Who was good?
Clint Dempsey was solid throughout. His holding of the ball was about as good as the USA had in the first half and he was involved on a number of the USA's best chances. Jermaine Jones was also good in the first half with his tough tackling and work rate. His removal from the match made way for Juan Agudelo, which ended up being a great thing, but it still seemed like the wrong player came off.
Still, the bright spots were very few and far between in the first half and the midfield as a whole played pretty well in the second.

Who was poor?
Honestly, this could be passed around in the first half. Landon Donovan didn't have a good touch on the ball until the 16th minute and his service was lacking for most of the night. Maurice Edu struggled to provide the pressure needed high up the pitch and Argentina dominated play through the middle.
In the second half things got better. Donovan picked his game up toward the end of the first half and Edu was solid after the break, breaking up play pretty well and even getting involved int he forward movement.
However, Michael Bradley was consistently poor throughout. From being ghosted by Messi in the first half to failing to ever find his form passing the ball, Bradley had one of his worst nights for the USA. Maybe it was the lack of recent matches or the overwhelming ability of Argentina to move the ball that had Bradley off balance, but whatever it was, it was ugly.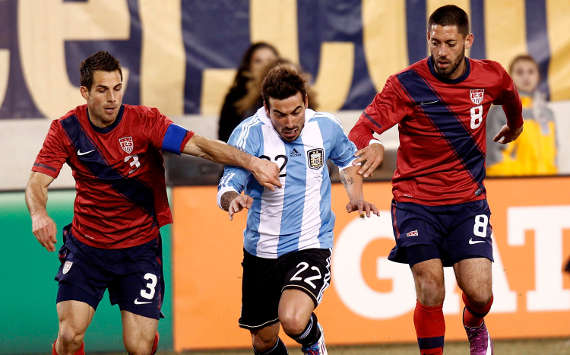 Where do they go from here?
Here's hoping the answer is Maurice Edu and Jermaine Jones playing in the middle against Paraguay on Tuesday with Dempsey and Donovan out wide and two forwards to start the match.
Not that Bradley should be removed from a starting spot for good, but it's been a while since he wasn't part of the first XI, and there is clearly a very real argument for both Jones and Edu to get the nod over him.

Follow Goal.com on

to get the latest soccer news directly. Check out Goal.com's

page; be part of the best soccer fan community in the world!