He's over six feet tall, young and strong, yet he's treated with kid gloves, because well, he's practically still a child, at only 18 years old.
He is also a full-fledged goalscorer on the USA national team.
These days, Juan Agudelo is the classic, "jewel in the crown". As part of the roster taking on Argentina this Saturday in New York, he is even tipped to see considerable minutes.
USA soccer guards their new star - even limiting his contaedia. So instead, Goal.com asked some of his more veteran teammates about the Colombian-born American.
Captain Carlos Bocanegra said, "He's a guy who is hungry, positions himself well, and he's young. He's got the physical ability. Normally, when players are in their first camp, they're pretty quiet, but we bring them in so they can get used to things. It's a natural transition, and they're excited and want to prove that they'll work hard. We have a great group of people here and when young players arrive, it's easy to include them. It's a little bit our responsibility, after the experience we have in World Cups, to bring that to a new generation.
Tim Howard was optimistic about Agudelo's prospects.
"He's got a great future ahead of him, and it's his job to keep his feet on the ground, work hard, so he can keep scoring," Howard said. "We need to help him stay humble."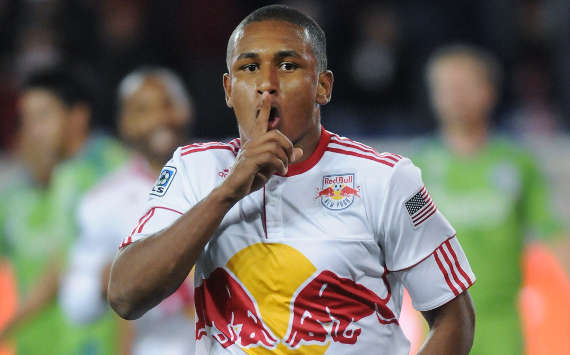 "I'm not around him a lot," acknowledged the goalkeeper, "but it's something that his family, friends, and coaches should try to do - keep his head on straight. We should all try to do that with all the rest of the players, too. If he works hard, and he keeps scoring, he'll have a brilliant future."
Striker Jozy Altidore isn't much older than Agudelo, and also has experience as the hot young striker on the USA squad.
"He's great," said Altidore of Agudelo. "He's in great physical shape, and has strong knees and ankles and all the qualities to be successful. He's also humble and I think he can play both up top and as a slightly withdrawn forward. He's a great addition to the national team."
Altidore had advice for his young teammate.
"I tell him to have fun, because a lot of people want to put responsibilities on him, but he should feel it's okay to make mistakes. He's got talent and it's important that the people around him help him handle the pressure and that he feels he can try new things, correct errors and grow. I hope people don't pressure him too much because he can help us a lot in the future."
Agudelo has only two appearances with the USA national team so far, and yet he has already scored a goal.

Follow Goal.com on

to get the latest soccer news directly. Check out Goal.com's

page; be part of the best soccer fan community in the world!