CARSON, California --They don't look much alike, but the ghost of Freddy Adu seems to be hanging over Juan Agudelo's shoulder.
Except, of course, that Adu isn't actually dead. It's just that it seems his professional career has settled into a sad purgatory where it's not quite moribund, but most definitely wasting away.
Adu, once considered America's most promising "can't miss" prospect, is now on trial with German second division club Ingolstadt. He has been unable to find consistent playing time at any team for years.
For Agudelo, Adu looms as a cautionary tale of what can happen when a player's notoriety outstrips both their accomplishments on the field and their ability to learn from others, including coaches and teammates.
"There's a lot going on for him right now," said USA coach Bob Bradley about Agudelo.
Burnt out on Adu's long slide into almost-irrelevancy, the American soccer hype machine had actually pulled back from Agudelo, but then his own performance set it burning into spastic overdrive.
Agudelo scored the winning goal for the USA against South Africa in a November 2010 friendly, finishing off a scoop pass from Mikkel Diskerud. With the successful strike, Agudelo became the youngest goalscorer for the USA ever.
Since then, his world has tilted on a dizzying axis.
"My whole life has changed," Agudelo said on Friday, where he had recently joined the USA's training camp.
Yet other young USA strikers, notably Jozy Altidore and Eddie Johnson, have hit historic heights before.
Neither is now in a club situation with consistent playing time.
Agudelo understands that past accomplishments are no guarantee of future success.
"It's our job to remind him that keeping humble and understanding that continuing to work and improve and earn the respect of your teammates is important," Bradley said. "So far, he's responded well."
"I have a lot of confidence now and I'm just looking forward to improving my game," Agudelo said, speaking softly in a voice surprisingly deep for a teenager.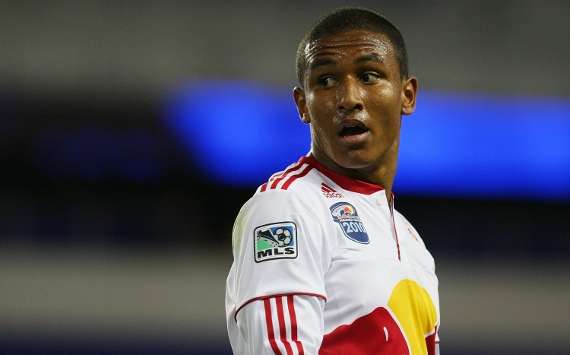 Juan Agudelo | Young striker fights to maintain focus
One sacrifice he has made in order to keep focused on improving is not changing up his current club situation immediately. Agudelo has tabled offers to go abroad.
"There are teams who are interested, but I've put all that to the side and I'm just trying to focus on the national team and Red Bull," Agudelo explained.
The New York Major League Soccer club has nurtured his development, and Agudelo looks to continue to improve there, where he could soon earn a starting spot alongside Thierry Henry and Rafael Marquez.
"I don't want anything that gets me distracted from growing my game," Agudelo insisted. "I've heard that's happened to players. I wouldn't want anything like that to happen to me. I just want to keep doing what I've been doing my whole life, just going on the field and playing my game."
Agudelo's talent on the field was one reason why New York was willing to let their aging star striker, Juan Pablo Angel, depart at the end of this past season.
"The last year has been pretty crazy for me," Agudelo acknowledged of his swift climb through the Red Bull ranks. "Everything has come pretty fast, but that's how I wanted it to come. Since I was little, I wanted to be a professional soccer player. I've wanted to accomplish that dream and I want to stay focused on moving forward."
Along with feeling comfortable in his club situation, Agudelo is also happy with his decision to become part of the USA squad, though he could have chosen to play for Colombia instead.
"I've been going through the youth system in the US and I've lived here most of my life, so it wasn't really that hard of a decision," Agudelo said. "I played with the U17, and the U20s and now the national team. I'm really happy with my decision so far."
In fact, with the U20 team still relying on Agudelo's leadership, there was a bit of a tug-of-war over the young striker's services lately.
"The agreement for Juan to come in two days late was based on Thomas (Rongen) feeling that he didn't have his group together all that much," Bradley detailed. "We work through those kinds of things, but the chance for us to have him was still important."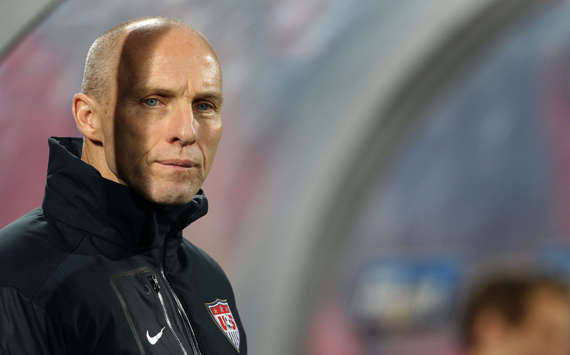 Bob Bradley | USA coach advises Agudelo to stay humble
Agudelo clearly relished his time with the senior national team. "Bob's a great guy and I love his personality," the striker said. "He just told me to stay humble and keep my feet on the ground and stay focused."
With so many young players taking part in the January camp, Agudelo has a chance to not only improve his game play, but also his team play with a new generation of USA talent, including Diskerud, who had the assist for Agudelo's record-setting goal.
"In South Africa, we were pretty close," mused Agudelo of bonding with Diskerud before their debut match. "We were always hanging out and playing Xbox, FIFA . Maybe there was some chemistry there that made us able to score that goal. I'm just hoping there are more goals like that to come."
Many USA fans would fervently agree.
Andrea Canales is Chief Editor of Goal.com North America and is trying to remember to update her Twitter account.