The Chilean national team has already started its preparations for an upcoming January friendly against the United States national team, with manager Marcelo Bielsa naming a 16-man squad to travel to Los Angeles. The roster bears some resemblance to
Bob Bradley's call-ups
for the annual January camp in that the players named are young (average age: 24.5) and, in Chile's case, exclusively based in the domestic league.
Colo Colo forward Esteban Paredes is the only player named who participated in the 2010 World Cup, making two substitute appearances and setting up Mark Gonzalez's game-winning goal against Switzerland. He is one of only three players in the squad with more than 10 caps for 'La Roja' and is perhaps the only player in the squad that can be considered a regular.
Still, the squad that will take the field at the Home Depot Center features some of the best young talent that the Chilean league had to offer in its 2010 season (all players named come from the top six clubs in the table) and there will be plenty of players hungry for more.
The defense is perhaps the youngest and most inexperienced part of Bielsa's squad, with only two players over 21 and only two who have earned more than two caps. Two of the youngsters to watch out for are center-backs Carlos Labrín (Huachipato) and Sebastian Toro (Colo Colo), both 20 and both of whom were defensive revelations through the 2010 season after having firmly established themselves in the youth national team setup.
In Chile's midfield, the two players to watch out for in the U.S. friendly are winger Felipe Gutierrez (Universidad Católica) and central midfielder Felipe Seymour (Universidad de Chile). Gutierrez was arguably the young player of the year in Chile in 2010, contributing heavily to Universidad Católica's title run, while Seymour was a key cog in the midfield for Universidad de Chile's run to the semifinals of the Copa Libertadores.
Joining Paredes up front is Colo Colo teammate Daud Gazale, who spent the 2010 season on loan at Huachipato. While not an out-and-out goalscorer, Gazale could fit well behind Paredes in Bielsa's unconventional formation and play a key role in creating chances for his teammates.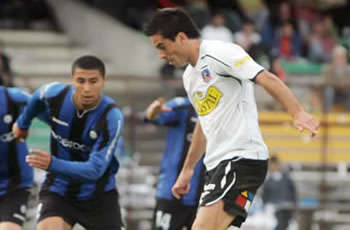 On the coaching side of things, the eccentric Bielsa is one of the most tactically intriguing coaches in world soccer, with his unconventional attacking play drawing plenty of praise in the run-up to the 2010 World Cup, even though the Chileans were exposed by a superior Brazil side.
Bielsa tends to use something akin to a 3-3-1-3 formation, though in reality it is constantly shifting to match the circrumstances of the game. The formation uses one out-and-out striker, in this case likely Paredes, with two wide forwards who often appear more like wingers, in this case possibly Puch and Gutierrez or Fuenzalida. Behind them is a playmaking-type of player, which in this case could be Meneses.
These players almost always stay high up the pitch to pressure the opposition defense and get forward whenever possible once possession is won, and Chile is known for filling the opposition box towards the end of its attacking moves.
Of course, it remains to be seen whether Bielsa will even still be the manager of Chile come Jan. 22, as he tentatively announced his resignation, effective Jan. 15, after the election of Spanish businessman Jorge Segovia as the new president of the Chilean federation, citing philosophical differences with the president-elect.
Segovia has been barred from holding office due to his business deals violating federation statutes, which has led to speculation that Bielsa, immensely popular among Chileans, will stay on. New federation elections are scheduled for Jan. 7 and Bielsa's fate will almost certainly be known after that. Should he stay on, though, his side will provide a stern tactical test for Bob Bradley's charges and plenty of entertainment for the fans at the Home Depot Center, even in a match devoid of both teams' star players.
Chile's full roster for the match is listed below:
Goalkeepers:
Paulo Garcés (Universidad Católica), Raúl Olivares (Colo Colo)
Defenders:
Eugenio Mena (Universidad de Chile), Sebastián Toro (Colo Colo), Paulo Magalhaes (Colo Colo), José Pedro Fuenzalida (Colo Colo), Carlos Labrín (Huachipato), Fernando Meneses (Universidad Católica)
Midfielders:
Felipe Seymour (Universidad de Chile), Francisco Silva (Universidad Católica), Luis Pedro Figueroa (Unión Española), Felipe Gutiérrez (Universidad Católica), Lucas Domínguez (Audax Italiano)
Forwards:
Edson Puch (Universidad de Chile), Esteban Paredes (Colo Colo), Daud Gazale (Colo Colo).
Visit the U.S. national team page on Goal.com for more and join Goal.com USA's Facebook fan page!