Goal.com ranks the winners and losers from Tuesday's scoreless draw between the U.S. and Colombia.
WinnersBob Bradley
- Was it a 4-3-3 formation or a 4-5-1? Or was it a 4-3-2-1? Semantics, really. Bradley comes out ahead for trying something new. He had a problem - find room for the talented central midfielders - and did so without forcing one into an awkward position as he did with Maurice Edu on Saturday against Poland. Sure, the formation did not work that great but it wasn't Bradley's fault the players did not produce. Better to test out formations and tactics in utterly meaningless games such as this one than to learn the hard way in an important game. Somewhere down the line, this experience will help the U.S.
Jermaine Jones
- It wasn't his cleanest game but Jones was constantly around the ball and never stopped running. Jones did well to win some balls and knock around some Colombians. The offense was not much in this game but Jones was not the central midfielder who should have been responsible for that.
Eric Lichaj
- Normally, players who debut for the national team play with some nerves and might not settle down for the duration of their first-ever appearance, ie Brek Shea. But Lichaj's debut could not have gone better. Lichaj held his own against some tough competition and looked as if he has been a first choice for Aston Villa throughout the season. Lichaj's composure stood out, and if he was as unfazed as he was in his first game, he should be more than capable of handling defensive duties going forward.
Losers
Michael Bradley
- With essentially a three-man midfield, Bradley needed to take on more of an attacking role in order to help the formation work. He did not. The attack sputtered badly for the United States due to Bradley's inability to move the ball around. He was hardly around the ball, and for a player of his two-way ability, he needed to show more.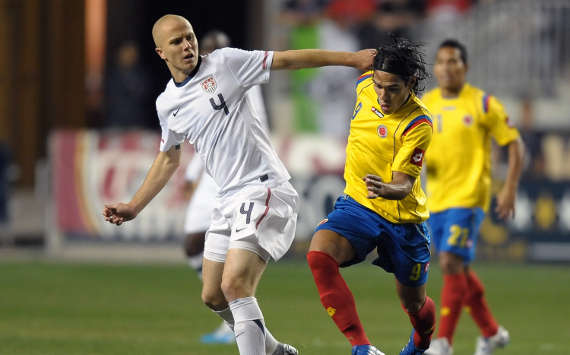 Jozy Altidore
- It's tough to create much when the midfield can't get the ball to the forwards but Altidore did not help his own cause when he did get the ball. He reverted back to his old self, unable to show the finishing prowess he showed against Poland. Altidore also showed how he can be hurtful to his team by picking up a silly yellow card late in the game.
Jonathan Spector
- A dreadful season with West Ham has carried over to the national team. Spector had a terrible giveaway early in the game that could have led to a Colombian goal had his fellow defenders not bailed him out. Spector's shaky play was made even shakier with the steady and composed effort by Lichaj. A player who, just one year ago, many felt should be the first-choice right back now is in danger of slipping further down the depth chart at a point of his career when he should be rising.
Visit the U.S. national team page on Goal.com for more and join Goal.com USA's Facebook fan page!