Jim Cassell knows talent.
Since joining Manchester City in 1997 as the director of the team's Youth Academy, he has overseen the development of some of the United Kingdom's top footballers, including Stephen Ireland, Daniel Sturridge, Shaun Wright-Phillips and Micah Richards.
Exclusively with
Goal.com
, Cassell shared his insights on what is holding the United States team back from winning competitions. For him, the tricky area is up top.
"In football, you live and die with your forward players," said Cassell. "It is clear that [the U.S.] can produce goalkeepers and defenders but the forward position is a problem."
He adds, "For example, if you were to take out Wayne Rooney from the England side, you would be taking out the best player that we've got."
None of the Stars and Stripes' strikers have scored a goal in the past two World Cups. While the current crop offers workrate (Jozy Altidore), pace (Robbie Findley), and hold-up play (Brian Ching), goals remain at a premium.
See also:
Still, Cassell acknowledges that America has clearly gotten better at the sport over the past decade. He remembers when Kasey Keller joined the English Premier League, many clubs wouldn't scout the U.S. due to the complex work permit regulations. Now, he says, teams can't ignore the country because players are continually emerging Stateside.
"In Europe, while I can't comment on specific players, scouts out here know that the standard is absolutely rising," said Cassell. "There is no doubt that the talent is getting better and better. I think the roots are in place now. Still, the one thing that hasn't been produced yet is a clear-cut striker."
Illustrating his case further, Cassell pointed to some of the most successful teams in the world both on the club and international level and said that all have a world-class player hungry for goals. He claimed that City's own success this season will depend on the efforts of Carlos Tevez, who in his opinion has been magnificent so far.
"Once a player is produced that can play in the front position either at striker or creative midfield, that's where success in the game comes from," he said. "If you look at Chelsea for example, they won the league last year and you look at their front players and you start off with Didier Drogba.
"In my opinion, when you have a talented player in the front, then everything falls into place, especially with the U.S., because you already have solid goalkeeping."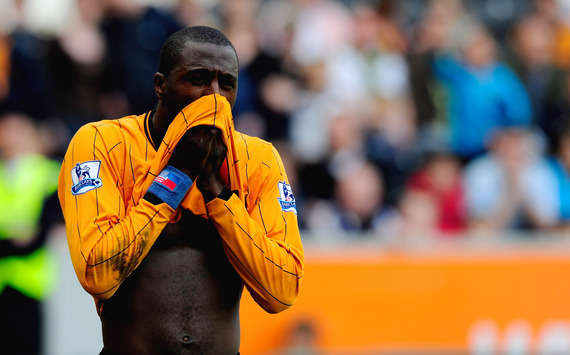 Jozy Altidore hinted that he could develop into a reliable scoring threat when he first emerged as a teenager with the New York Red Bulls. He still holds the record for youngest player to score in the MLS playoffs and youngest player to notch a hat-trick for the U.S. national team.
However, in his third year in Europe, Altidore has yet to tap into that goalscoring vein. He has yet to score more than one league goal a season in Europe and has spent two stints out on loan.
Cassell believes that the issue with Altidore isn't talent and hints that the conditions at Villareal, Altidore's club, aren't allowing him to develop properly.
"Sometimes, you get an environment that isn't conducive to the youth development because people within that environment can't effectively communicate to the player," said Cassell.
"People always believe that coaching is the reasons behind proper development but in my opinion, coaching is a very important part but creating the right environment is crucial."
Referring to his own experience in developing young talent, Cassell believes that there is a formula to develop young talents correctly.
"I always maintain that in our academy, there are three things that make it successful: good selection of talent, good people working with that talent and the proper environment," Cassell explained.
"For example, when a young boy comes to Manchester City, he might think that he has to defer to me as the boss of the academy but actually it has to be a mutual relationship all around because I am trying to develop a first team player."
As for America's problem at striker? Cassell believes that once more MLS teams invest in strong youth academy programs the national side can become a very dangerous team.
"There is no reason why America can't produce talented [national] football teams. If you get your structure right, you can do anything."
Free Kicks:
Jim Cassell spoke to Goal.com on behalf of Manchester City's CityEcademy initiative. The team has invested in worldwide youth development in football..
Cassell was involved with many of the program's features and believes it takes away some borders that some face in trying to get acquainted to soccer.
"It's a fantastic tool for anyone to use because it teaches all levels," Cassell said. "Now there are no boundaries, it is there for everybody. People from the very top all the way down, this is a fantastic tool to develop their game.
"I compare it to learning another language. If you want to learn, there has to be an interest. This [program] can help you with all of the basics, it is a great opportunity."
CityEcademy launched last week at
www.cityecademy.com
. As part of the site's launch, U.S. youth soccer players who register on the site will be entered into a contest where one teenager will spend a season at Man City's renowned youth academy.
Alex Labidou is a Goal.com contributor based in New York City. Follow him @SportsLab on Twitter.
Visit the U.S. national team page on Goal.com for more and join Goal.com USA's Facebook fan page!