Andrea Canales and Shane Evans debate.
Question:
Could Bob Bradley be the right fit as coach of Aston Villa?
Andrea Canales:
Bob Bradley at Aston Villa - it's about time and overdue that people see that Americans can coach. Bradley isn't spectacular, but he's steady and he works very hard.
His record as USA national team is quite good, yet I've always thought he was better suited for a club team set up.
He'll bring in discipline and get good performances out of Villa players.
Shane Evans
:
Agreed, to a point. I could see him at a club team in Europe and I could see him being very successful. Unfortunately, I think Aston Villa is a step above his abilities at the moment. Before Martin O'Neill left, Villa were a well-oiled machine built in his image. They aren't ready for an unproven manager yet and need stability. Bradley just isn't the right fit right now as they need someone to continue O'Neill's work, not start things over.
Canales
: I think the way O'Neill left sets Bradley up perfectly. O'Neill's fatal flaw was that despite his excellent coaching on some points, he couldn't admit when he was wrong - not even a little. He was inflexible and very dramatic. That wears out players, because they feel their leader isn't taking responsibility. Bradley is the opposite of all that. He protects his players. He lets them know what he expects. And he's the least dramatic person in the history of soccer.
Evans
:
That may be true, but we've seen how inflexible Bradley can be with his tactics. He gets set in his ways, and that could lead to a quick exit if things don't go well. Trust me, I'd like to see Bradley a success at a team like Villa as he certainly deserves it, but I think it's just a step too high right now. The pressure is on Villa to make something of this season and with Bradley, I don't think they'd be able to push for anything but mid-table, which would be a huge disappointment.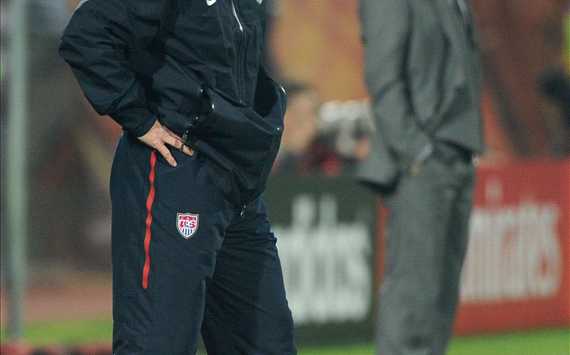 Canales:
I still see it as a unique opportunity. Bradley has ties to certain key Americans at the club - he coached Brad Guzan at Chivas USA, he was an assistant in MLS during Friedel's run in the league, and he was one of the area coaches when Eric Lichaj was coming up through the youth soccer ranks in Chicago, and Bradley even brought Lichaj in to play with the USA national team recently as a guest practice player. Those players are likely to be in his corner and probably help win the rest of the team over.
Plus, O'Neill left his players and the entire team in the lurch. I think Bradley, more than anything else, is Mr. Loyal and Reliable, an absolute pro, and it's the perfect time for fans to appreciate that now.
Evans
:
Ties with a couple players is one thing; going into a club expecting to win and being led by a guy with relatively no big club experience won't go over well with some of the bigger names. I like that Bradley is reliable and all that, but it'll only take you so far. I just don't think he is tactically ready for a jump to the Premier League just yet and especially not with a team that is as creative and forward-thinking as Aston Villa. Even without James Milner they have a host of quality players that may be too much for him at this stage in his career.

Read more Counterattacks!
For more news on England, visit Goal.com's England section and join Goal.com USA's Facebook fan page!