With the performance of the United States at the 2009 Confederations Cup and 2010 World Cup, manager Bob Bradley significantly raised his profile overseas. He has been linked to the managerial positions at English clubs Fulham and Aston Villa and has received lavish praise from Manchester United manager Alex Ferguson.
"I think he would do well [in England]," Ferguson said about Bradley's managerial abilities during Manchester United's U.S. tour. "I like Bob, I like his approach. I think he has a steely determination about him, and he goes into a lot of detail in his coaching. I think he did a fantastic job, and I am surprised the USA have not sprinted to his house and given him a new contract, I must say."
Yet, despite the tabloid rumors and the opinion of Ferguson, Bradley's future with the United States national team hangs in the balance. He has yet to agree to a new contract and speculation is that the U.S. Soccer Federation will let it expire at the end of the year. In his home country, he is generally thought of as a manager with more faults than strengths. Popular opinion is that the United States needs to move on to reach their goals in international football.
U.S. fans generally cling to three main qualms with Bob Bradley.
1. Tactical Inflexibility
One of the most common criticisms of Bradley's managerial style is his tactical inflexibility. The last time Bradley played a formation other than his normal 4-4-2 with two holding midfielders was on June 3, 2009 in a World Cup qualifying match in Costa Rica, a match the United States lost 3-1. Three days later in a match against Honduras, Bradley reverted to the setup that he would use in every single match for over a year.
When teams have lined up in ways that made it difficult for the United States to execute their game plan – Brazil's fluid 4-2-3-1 setup last Tuesday, for example – Bradley has refused to alter his tactics to compensate. The United States' draw against England is seen as one of Bradley's finer accomplishments, but with the way Fabio Capello lined up his side, a draw was always the most likely result. Whenever teams use tactics that are a bad matchup for Bradley's preferred setup, he fails to adjust.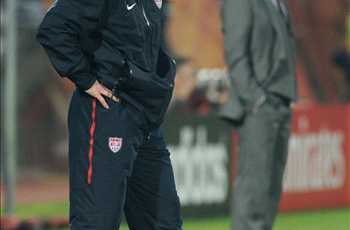 2. Inability To Learn From Mistakes
Along the same lines, Bradley is a manager who often fails to learn from his mistakes. In the last two matches in group play of the World Cup, the United States got off to a slow start and improved when Benny Feilhaber and Maurice Edu were both in the lineup and the team played a fluid variation of a 4-5-1 formation.
In the round of 16, despite what happened against Slovenia and Algeria, Bradley started the game with his normal 4-4-2 setup and Ricardo Clark preferred ahead of Maurice Edu in the center of midfield. The team put in a shocking first half performance, Clark in particular standing out as exceptionally poor. Maurice Edu replaced Clark in the 31st minute and Feilhaber relieved forward Robbie Findley at halftime. Unsurprisingly, the United States were the better side for most of the second half against Ghana and eventually found an equalizer.
It seemed blatantly obvious that Edu and Feilhaber should have started the match. Bradley saw with his own eyes how well the team played in the second half of the matches against Algeria and Slovenia and he failed to act on the evidence against Ghana.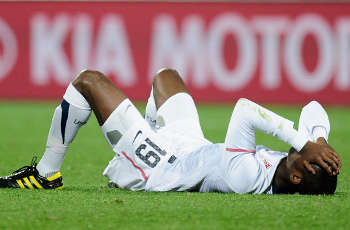 3. Poor Man-management Skills
Before the World Cup, even Bradley's biggest detractors seemed to agree that he was a good man-manager. He was thought of as someone who did very well at preparing his players for matches and someone who knew when to pump his players up and calm his players down.
That sentiment went out the window during the World Cup, though, as the United States allowed goals inside of the first 15 minutes in three out of their four matches. Once might be a fluke and twice might be a coincidence, but three times in one tournament is a trend. The team did not defend well early against Algeria either. The Desert Foxes had their fair share of chances early but failed to convert. When early goals go in, most of the blame has to go to the players, but Bradley is not faultless. When a team starts poorly in all of their matches during a tournament, the manager is obviously doing a poor job to prepare his players mentally.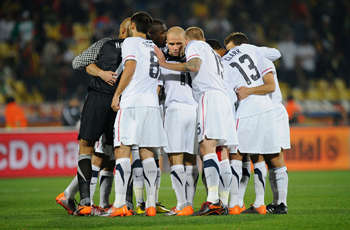 The Complaints Continue
The list of fan criticisms of Bradley could go on for pages. His squad selections are thought of as curious at best. He seems to play favorites and select certain players regardless of their form. He values speed over all other attributes. He made a poor judgment call by bringing Oguchi Onyewu to the World Cup when the AC Milan defender was not fit. He plays his own son out of his natural position.
The average fan of the United States seems to rattle off most of these criticisms without pausing to think or take a breath. (Though, it must be mentioned, some U.S. fans are quite content with Bradley's record as an international coach.) However, the most prevalent public sentiment is time for the United States to go in a different direction with their manager.
Visit the U.S. national team page on Goal.com for more and join Goal.com USA's Facebook fan page!