In what will probably be remembered as a tournament where the USA largely willed it's way into the round of 16, and a final loss that will leave Ghana as new rivals just a notch or two below Mexico, at least on the USA's end, there should also be a note as to how well this relatively young set of players performed, even in a loss.
That said, it was one of the elder statesman who did all he could to lead from the front. Clint Dempsey was everywhere against Ghana.
Playing both in the midfield and up front Dempsey, from the outset, was clam and collected. His ability to hold the ball was the lone calming influence on a USA side that looked rattled in the early going.
Even before being pushed up the pitch Dempsey looked dangerous. His pass to Robbie Findley set the stage for what should have been the USA's first goal, and his ability to work out of tight spaces opened up nice passing lanes throughout the attacking third.
After being moved up top at the half Dempsey took his game to a different level. His confidence and skill on the ball came through in spades. Dempsey was at the heart of almost every positive move made by the USA on the day.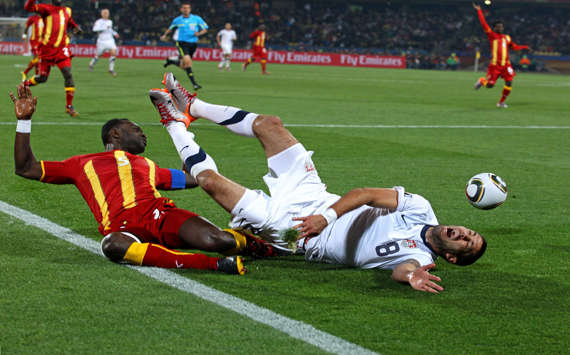 Most notably one Dempsey run led to the USA's only goal, and while Landon Donovan will rightly get plenty of credit for sticking the penalty home, Dempsey's meg of a Ghanaian defender to set it up should not be forgotten.
Much has been made of Dempsey's play for the USA in the past, but in the biggest game, on the biggest stage, he brought his best.
Not that the Texan was alone. Benny Feilhaber provided a spark off the bench as did Maurice Edu. Michael Bradley has another good showing, and Landon Donovan grabbed another goal.
But to watch the last ten minutes of overtime, watch the way Dempsey worked to get on the ball, watch his calls to find his feet, and watch him fight for every ball thrown into the air near him, is to watch a player at his best, doing all he can to pull his team through.
The 2010 World Cup is finally here, so keep up to date with all the news at Goal.com's World Cup homepage and join Goal.com USA's Facebook fan page!