Landon Donovan, a three-time World Cup veteran, has seen the highs of a goal scored early on -- like the USA did in 2002 versus Portugal -- and felt the lows of early goals against, like the Czech Republic verus the USA in 2006.
Yet he didn't despair when the American side fell behind in the fourth minute to England.
"I just felt like, 'ok, let's get back in the game; we don't have to get it in the next five minutes, we just need to get back in the game' and sure enough, we got right back in the game," the midfielder explained.
To Donovan, it was very important that the USA team not get intimidated or discouraged by England.
"We feel like we have a chance to beat any team," Donovan stated. "Maybe if we could have been a bit better in a few plays going forward we could have won the game."
Indeed, the USA had one of its best chances to nick the game on a Jozy Altidore shot.
"It was a good game," said Altidore. "You can't fault our effort. We played well and England is tough to play against. It definitely wasn't an easy game."
The Americans pressed the entire game, chasing the ball as England circled the USA goal, trying to add to their early advantage.
"When you play England, it's not two guys, it's not three guys, it's eight, nine, ten guys if you're going to play well," Donovan noted. "I thought our group effort was good and I thought when Jay [DeMerit] and Gooch [Onyewu], when they had to make plays, they made plays."
What was notable for the Americans was how well they responded to the early challenge of going a goal down. It showed an improved maturity in the squad.
"Four years ago, when [Czech Republic striker Jan] Koller scored in the first five minutes, there was this this feeling like, 'Oh, shoot'," Donovan said. "We didn't respond very well. Tonight, I think our response was very good. We slowly got ourselves back in the game, got some chances and then got the goal."
One player who set a heroic example for the rest of the squad was goalkeeper Tim Howard, who made a number of stops.
"He hurt himself early," Donovan said. "His competitiveness impresses me. For him to just get through it, continue and make some big saves is fantastic. Tim doesn't usually get hurt, so when he goes down, you know it's something. I wasn't sure if he'd be able to keep playing. He looked like he was in a lot of pain. But he's a competitor, and he's a gamer and he kept going."
Howard wanted his teammates to keep early setbacks in perspective.
"You come out, emotions are high because you waited six months, and for that to happen, it hurts you," said Howard. "But we bounced back. We knew it was going to be a long 90 minutes, and after the third or fourth minute it makes it even longer."
The consistency of the USA seems to be improving, but the next game will perhaps be the proof of this.
"I've been to two World Cups, where we've had a great game and then let down the next game," Donovan said. "We did it in 2002 in the Poland game and 2006."
Donovan pledged to do his level best to avoid another USA letdown. "I'll make sure the team doesn't let that happen."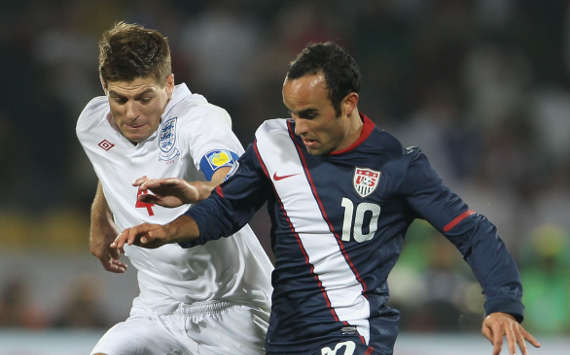 Some may consider that the USA has played the toughest challenge in their group phase to a decent result, but the Americans are focused on the next goal.
"When you're playing England, you realize that they're going to have a lot of the ball," said Donovan. "Maybe Slovenia and Algeria won't have as much of the ball. But they're still going to be very good teams."
Though he wouldn't look past the goal of advancing from the group stage Donovan promised that the USA would not be overawed at facing any future opponent.
"If we play well and we put the kind of effort we did today, we feel we can beat any team in the world," Donovan said. "Anything is possible. "
Visit the U.S. national team page on Goal.com for more and join Goal.com USA's Facebook fan page!