Bob Bradley has some decisions to make. The preliminary 30-man roster for this summer's World Cup is due on May 11, and the United States Men's National Team manager and his staff are preparing to build the squad. The Stars and Stripes will convene for a pre-tournament training camp in Princeton, New Jersey from May 17-23 before chopping the list to the 23 members who will travel to South Africa. Here are the 30 players Goal.com expects to make the first cut (although it's possible that not all of them will be invited to the camp).

Goalkeepers
Tim Howard:
Another year, another excellent season in the English Premier League for the U.S.'s best player.
Marcus Hahnemann:
Opta Sports named the Wolves 'keeper as the EPL's best, and the 37 year old looks to make his second-straight World Cup roster.

Brad Guzan:
Can Brad Freidel's backup at Aston Villa keep his No. 2 spot on the U.S. team?
Goal.com's take:
This is one position where Bradley doesn't have to think hard. Everton's shot-stopper is the clear No. 1, while his two understudies battle for the second slot. The trouble starts if Howard goes down, but that's not a consideration at the present moment.

Defenders

Jonathan Spector:
The Manchester United product has struggled at West Ham recently, but his versatility and experience make him a lock for the roster.

Steve Cherundolo:
Hannover 96 has two matches to avoid relegation, but their captain will battle with Spector for the starting position at right fullback.
Oguchi Onyewu:
The aerial force is back training with A.C. Milan and hopes to regain his touch in the coming weeks.
Carlos Bocanegra:
The American captain will either partner with Onyewu in the middle or start out wide in hopes of shoring up the left flank.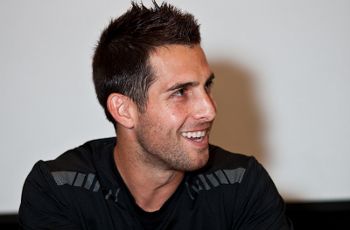 Jay DeMerit:
One lesson from the Confederations Cup was that the Watford soldier can play effectively with either of the two first-choice centerbacks.
Clarence Goodson:
The 27 year old won the fourth centerback job with his strong performances against El Salvador and the Netherlands.
Chad Marshall:
The reigning two-time Major League Soccer Defender of the Year won't make the final 23.

Jonathan Bornstein:
Like it or not, Bornstein should start against England on June 12.

Heath Pearce:
The defender's spent some time in the FC Dallas midfield, allowing Pearce to demonstrate his offensive playmaking abilities.
Goal.com's take:
Assuming Onyewu returns to full health, Bradley has options on the backline. The central defenders are one of the team's strengths, while the flanks continue to be a trouble spot. There's a wealth of experience out wide, but is there enough talent? The U.S. manager could call Frankie Hedjuk instead of Chad Marshall if he wants to add additional depth.
Midfielders
Landon Donovan:
After a successful loan stint at Everton, this is Donovan's tournament to make himself many millions.

DaMarcus Beasley:
When he's on his game, the Rangers flanker provides a dimension few other U.S. talents can bring.

Michael Bradley:
With a good World Cup, Bradley can write his ticket to a bigger club (and disprove the nepotism theory once and for all).
Maurice Edu:
The frontrunner to team with the coach's son in the middle of the pitch, Edu needs to continue his good run of form.
Ricardo Clark:
The former Houston Dynamo star finally found the pitch at Eintract Frankfurt and will push Edu for playing time.
Benny Feilhaber:
The U.S. needs players who can enter a match and spark a change. Feilhaber will play this role effectively.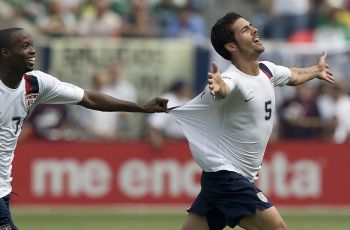 Jose Torres:
See above. Torres can also provide the Stars and Stripes with an offensive charge in the second half.
Kyle Beckerman:
He's a long-shot to make the World Cup roster, but Real Salt Lake's captain has proved he can contribute in short stints.
Clint Dempsey:
If Charlie Davies can't return, Dempsey could take the role of second striker.
Stuart Holden:
The Scottish Texan is almost ready to return to Owen Coyle's Bolton side.

Alejandro Bedoya:
From nobody to World Cup participant in just six short months. Next up: an ESPN soft-focus piece.

Goal.com's take:
Bradley could trade Beckerman for Sacha Kljestan -- who's finding himself in MLS -- or Robbie Rogers (if the coach desires more depth on the flanks), but none of the three will be in South Africa unless massive injuries occur. Beasley, Bedoya, Feilhaber, and Torres are battling for three (possibly two) spots on the final roster.
Strikers

Jozy Altidore:
The only lock at forward (despite his season-ending red card), Altidore needs a new team and the World Cup presents the perfect opportunity to showcase his skills.

Charlie Davies:
The striker resumed full training with Sochaux as his remarkable comeback continues, but can he beat the loudly ticking clock?
Brian Ching:
The warhorse returned to training last week from a hamstring injury but has to show Bradley he can stay healthy.

Conor Casey:
He and Ching will battle for a spot with the latter currently in pole position.
Hercules Gomez:
A massive scoring push in the Mexican League gave this also-ran a legitimate shot a sneaking on the plane to South Africa.
Edson Buddle:
Replace "Mexican League" with "MLS" and re-read the Gomez sentence.

Eddie Johnson:
Why not? Johnson played well at Aris in Greece, knows the U.S. team, and shows flashes of brilliance. He's not making the team, however.
Goal.com's take:
Robbie Findley didn't look good in friendlies nor has he played well in MLS action so far this year, but he has another couple of weeks to state his case. Buddle, with backing of Donovan, will be given a chance to show off as will Mexican scoring champion Gomez. And there's the matter of Davies, who Bradley said would only be called if he were "match fit." It's possible the U.S. could bring only three true forwards to South Africa and turn to Dempsey (and Donovan) for the scoring punch.

Noah Davis (@noahedavis) covers the United States Men's National Team for Goal.com and will be reporting from the World Cup in South Africa.


Get the latest on Nike Soccer's training content, athletes, teams and products. Become a fan of Nike Soccer on Facebook.