Bonnie and Clyde. Rodgers and Hammerstein. Joya and Cuevas.
Sometimes duos get mentioned as a pair so often it's easy to forget they're still comprised of two individuals. Such was the situation with Benji Joya and Daniel Cuevas, two 20-year-old Americans from northern California who have pretty much always been on the same team, whether with club or country.
The country part won't change, but their paths are diverging for the first time since they came together early in 2012. Joya is on loan with the Chicago Fire. He scored his first MLS goal Sunday less than a minute after entering the Fire's 3-2 loss to Chivas USA. Cuevas is still in Mexico, playing with Lobos BUAP in the second division.
It's easy to understand why the players have often been lumped together in the media and by fans, and they have no problem being thought of as a unit. The first word out of each players' mouth to describe their relationship is "brother." But the differences start with their positions — Joya plays in the midfield while Cuevas plays up top — and continue off the pitch.
U.S. SOCCER LATEST

"One of the things I think the MLS fan will really like about Benji is that he's an honest, hardworking player that always wants the ball. He always wants to make the right play. He cleans up the play," U.S. U-20 national team coach Tab Ramos told Goal USA. "You know, MLS tends to be very fast-paced, to some extent at certain times out of control, and Benji's one of those guys that can give a little bit of a pause in the game.
"He's one of those guys that doesn't mind having the ball at his feet, even in the middle of traffic and not necessarily having to speed up the game to go 100 miles an hour."
Cuevas, on the other hand, relishes an up-tempo match.
"I like to attack. I see myself as a fast-paced player," Cuevas said. "I like to go forward and pressure and everything. Over here it's more long balls, and I like to run after the ball. That's something I like to do."
In addition to Cuevas' speed, he also has some mass, something not lost on his now-former teammate.
"We're always doing something different," Joya said. "I think his speed, his power, his strength, he's buff, he's very buff. That helps him a lot. I think those are the different things he has."
Away from the field, the differences continue. Joya is a charismatic presence who draws the spotlight while Cuevas is content to let Joya do most of the talking.
"I'm more serious. I don't talk a lot, but when it comes down to anything I'm not usually the first one to say anything," Cuevas said. "Benji's more of a jokester, he always likes to talk and meet people. He's always meeting new people, and that's how he is."
The forward can also be funny and will crack a few jokes once you get to know him but takes a bit of time to warm up to people, those around him agreed. And while Joya is known as the guy who's always talking and laughing, there's something else that comes up pretty often when people describe Joya off the pitch.
"He likes to sing a lot. He sings everything. All day he's around the house singing. He sings Spanish, English, any songs. Even, I showed him an Italian song and he sings the Italian song," said Fabrizio Tavano, a former teammate and roommate of both players at Santos who has Italian heritage.
Searching for more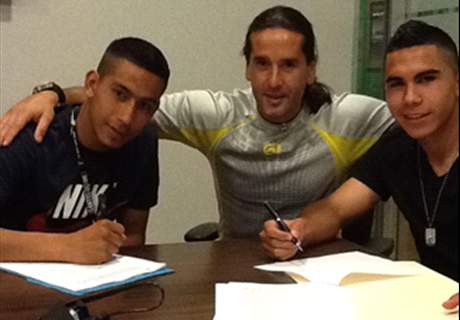 Signing at Santos
It was a search for more playing time that had both players looking to leave Torreon on loan this winter, with Joya ending up in That Toddlin' Town when the Fire won his rights in a weighted lottery and Cuevas staying in Mexico but moving down a division.
The more first-team minutes, the more chances to play against the best possible players and alongside the same.
"Obviously the No. 1 thing is that their development is a good one and they're getting good, competitive opportunities to make progress," Ramos said. "Playing against players, hopefully as good or better than they are. I would say that's the No. 1 thing, that's regardless of the league they're in or club they're with."
"Part of development is having minutes. It doesn't matter where as long as you're playing," Joya said of his own developmental desires. "But I'm anxious. I'm hungry. I'm hungry for more. I want to jump out already and play in first division."
"I feel, obviously getting minutes wherever you're at is very important for your development because that way you learn," he continued. "You make mistakes and you learn from them, and the only way to make mistakes is by playing a game. I think that's a big part."
Is MLS putting Joya on a better path or does Cuevas gain an edge on his former teammate by staying in Mexico? Ramos, who played in Liga MX and MLS in addition to playing with Real Betis and the U.S. national team, doesn't see it like that.
"I would rather all our Under-20s are starting for Real Madrid or Manchester United," he says earnestly when asked if he has a preference for which team his players are representing at club level. Ramos elaborated, however, saying it depends on the team, with several MLS sides providing "great environment(s) for a player."
One thing might give Mexico a slight edge in Ramos' eyes. "What I do like about the Mexican league possibly more than I like about MLS is that the league is in a worldwide calendar, they play all year round where MLS is way too much time off for the players. I think in particular for a younger player, that's a big difference," the coach said.
Another factor in young players choosing a team is coaching. Part of Cuevas' decision to stay in Mexico was the fact that the Lobos BUAP staff members made him feel they were eager about the possibility of the player ending up on their squad.
Being in the right system or having a coach who understands an individual's needs can make all the difference.
"Dani Cuevas is very explosive. He can be out of games for periods of time, but then he's also a player that can win the game any time, so that's something to consider and not every coach likes to give a player like that an opportunity for 90 minutes," Ramos said.

The world stage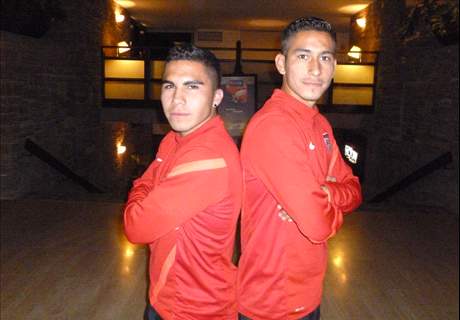 Cuevas and Joya with the U.S. U-20 team
Both players cite playing in the 2013 U-20 World Cup as a career highlight. Cuevas scored late in the Americans' second group match against France, giving the team a 1-1 draw. It would be the only point the U.S. would secure in the competition.
"Oh man. It was exciting," Joya said. "I think every player's dream is to play the World Cup, doesn't matter if it's 17, 20 or senior team. A World Cup is a World Cup and you're representing your country. Representing my country is honestly a great honor.
"I was able to learn a lot playing in spots on the field, there are some really great players who are playing in Europe and matching up to them, it's really exciting."
Joya played in the team's first two matches, while Cuevas came on as a second-half substitute in all three matches. While both became regulars, it was the forward who made it onto Ramos' radar first.
"Starting the last cycle, I spoke with Hugo Perez, and Hugo is the one who recommend Dani Cuevas to me," Ramos said. "Dani was one of those guys that was I guess marginalized to some extent from northern California and ended up finding his way to Mexico and Hugo knew about him a little bit. Then Hugo happened to also recommend, while we were looking at Dani Cuevas, to recommend Benji Joya."
Joya's first camp was "average," according to Ramos, but he and his staff still felt Joya could add something to the team. It was in the second camp the coach realized he had a player who could play a pivotal role in the World Cup campaign.
Now, Ramos will focus on culling new players, including those similar to Joya and Cuevas who are American-born but playing in the youth setups at Mexican clubs.
The coach has several contacts there and played with many people who are now executives in Mexico and can pass along some tips. He's recently been in contact with another player from northern California who is in the Tigres youth system.
But while Mexican clubs expand their scouting efforts into the U.S., Ramos said the U.S. doesn't necessarily do the same in Mexico.
"I think we just probably need to improve and continue to improve identifying the Mexican-American players when they're younger here in this country," he said. "We don't necessarily need to be going into Mexico and seeing who's playing in their second-division teams or reserve Under-21. Our goal should be that we need to identify those players before we go."

Chasing heroes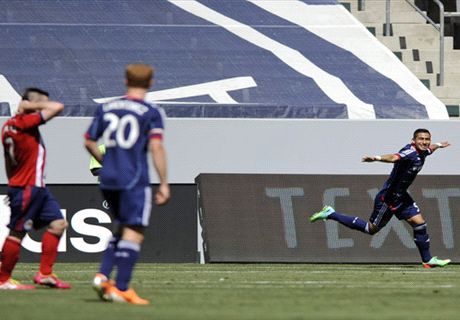 Joya celebrates his first MLS goal

Joya hopes to get plenty of minutes and "learn a lot" this season in Chicago.
"Lately I've been having fun and haven't been worrying. I've just been going out to the field and having fun and trying to always learn more," he said. "I feel MLS is going to help me a lot. There's a lot of great talent, a lot of great players there. Wherever you're at, if you really pay attention to the environment you're in soccer-wise you're going to learn if you're always focused.
"In MLS, there are a lot of great players. I'm really excited. (Clint) Dempsey's one of them. (Michael) Bradley. Honestly, Dempsey is really my idol. I want to be just like him."
Cuevas is near an idol of his as well, though that man is part of the reason Cuevas has played only in the Copa MX, where Lobos sit third in Group 3 with a game to play and needing some luck to go through to the next phase.
He's currently at the same club as Mexican legend and former Fire player Cuauhtemoc Blanco.
"It's a good experience. I'm learning a lot from him. He's good at giving me advice on little things that I mess up and how to correct some things," Cuevas said. "I try to learn as much as I can from him. I've got to take advantage because I think this could be his last season. You see talk about him retiring already depending on how we do this tournament."
While the duo's paths have diverged, they still communicate often. If one has a bad day, he'll send a note to the other and usually get an encouraging message of support in response.
"We're just staying in touch right now, honestly," Cuevas said. "He's doing really good right now in Chicago, it's going good for him, so I just hope he keeps it up. Hopefully we meet up soon."
Until then, the duo will keep pushing on, each trying to make a name for himself.