Yosniel Mesa peered out his hotel window Thursday night in Charlotte, N.C. He peered again. The 5-0 pasting by Mexico a few hours earlier didn't even register in his mind. Finally, late and long overdue, he saw it: his uncle's car. Mesa waved.
Grabbing a cup to act as a feeble excuse, he headed downstairs. Team administrators waited in the lobby, so he climbed down a fire escape. ("What, this isn't where Americans keep the drinks?") He slid into the waiting car, and with a cough of exhaust into the night air, they lurched forward toward Miami, driving all night.
"I didn't have anything to lose and everything to gain," Mesa told El Nuevo Herald, in one of many interviews he's given since arriving in Florida (the United States typically grants Cuban defectors political asylum once their feet are on dry land and Cuba does not pursue or antagonize the families of those who leave).
The 30-year-old midfielder did have something to lose, though. Mesa left a five-year-old daughter behind in Cuba without ever saying goodbye. "She wouldn't have understood," Mesa said to the Charlotte Observer.
They all leave behind family. Maykel Galindo, who defected during the 2005 Gold Cup, says his grandmother, Isabel, is the most important person in the world to him. Osvaldo Alonso, one of two players to slip away in the 2007 Gold Cup, calls his mother every week. Recently, Alonso's grandparents visited and attended a game in Seattle, the first time Alonso had seen anyone from his family in four years, time enough to get married and have a son of his own. The seven who disappeared into Tampa during Olympic qualifying in 2008, they all left families behind.
They all have similarly harrowing stories of escape too.
Galindo took the stairs to exit the Westin Hotel in downtown Seattle and convinced a frazzled bus driver to help him call a translator who had given Galindo his number. For the first few months, the pacy striker played for the USL Sounders and chopped up bananas into all his food to make it taste more like the victuals of his Caribbean home.
Galindo joined Chivas USA in 2007, tearing up MLS with a sprinter's first step and a direct mentality, scoring 12 times in his first season. Now with FC Dallas, he still sends most of his paycheck back to his family in Cuba. Despite being limited by injuries and falling down the pecking order in Dallas, the 30-year-old is one of the most infectiously happy and charismatic personalities MLS can boast. In California, he teased and joked with reporters years before he ever granted an interview in English. Bizarrely, he's an avid New York Yankees fan, and will ask an entire locker room the score if an MLS game means he misses watching the Yankees live.
Citing Galindo as an influence, Alonso walked out the front door of a Wal-Mart in Houston, Texas, two years later. A couple blocks down the road he borrowed a cell phone and called a buddy in Miami. After a trial with Chivas USA, he and fellow 2007 defector Lester More joined the Charleston Battery in the USL. After only a year, Alonso earned a move to Seattle Sounders FC for its debut season in MLS.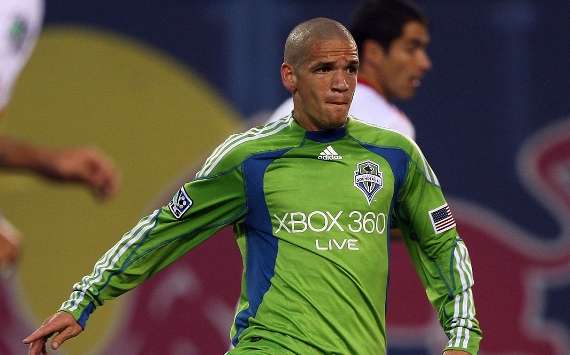 Alonso marries superior physique with a frightening tenacity to do what only Shalrie Joseph and Ricardo Clark (and, at a stretch, Kyle Beckerman) have been able to in recent years – singlehandedly dominate an MLS midfield. Last matchday Alonso, 25, led MSL in successful tackles, with nine, according to Opta Stats.
The successes of Galindo and Alonso don't necessarily mean much for Mesa, however. Both were younger than Mesa when they defected and spent time working their way up from the lower leagues. Lester More, for example, now plays all the way down in the PDL. None of the seven who defected in 2008 have emerged in MLS yet.
Also troublesome is the injury records of Galindo and Alonso. Both have missed consistent time through recurring muscle injuries, perhaps because their bodies aren't used to full-length professional seasons, or perhaps because the fate sisters decided they haven't suffered quite enough in their lives just yet.
Mesa won't care about any of that. Now in Miami, just over 200 miles from Cuba, he has an entirely new life ahead of him.
Follow Goal.com on

to get the latest soccer news directly. Check out Goal.com's

page; be part of the best soccer fan community in the world!