Don't trust everything you read on the Internet, unless of course you're reading this.
AZ wanting to keep Jozy Altidore is the latest status on the U.S. international. Earlier this week, Dutch media published quotes by manager Gertjan Verbeek stating that AZ would be open to cashing in on Altidore after an impressive 28-goal season so far. AZ's general manager Earnest Stewart calls those reports inaccurate.
"The reports in the media are not correct," Stewart explained to Goal.com via email. "The only thing that was said was that interesting players like Jozy are always in demand when they do well.
"We hope Jozy stays here for another season."
In fact, according to Stewart, the two parties have already discussed a possible improved deal for the former New York Red Bulls prodigy.
"We have spoken to each other about possibilities concerning a new contract but are not in negotiation," Stewart revealed.
Based on Stewart's statements, it now looks very likely that Altidore could remain at AZ for at least another season though some things will need to be addressed. In an interview with
Yanks Abroad
earlier this week, Altidore touched on AZ's disappointing year, as the club went from a fourth-placed finish last year to currently battling relegation. Altidore admitted that it's difficult to celebrate his progress when his team has been mired in a frustrating season.
"It's certainly not a dream season," Altidore told
Yanks Abroad
.
Adding to AZ's dilemmas this year is the fact that promising playmaker Adam Maher appears to be heading away from AFAS Stadion in Northern Holland.
Top clubs including Manchester City, Arsenal, Chelsea and PSV have all expressed interest in the attacking midfielder and it is almost certain that he will be sold this summer. Stewart wouldn't even deny the possibility when asked about the subject. A very high percentage of Altidore's goals have come off passes from Maher, who is called the Netherlands' best prospect in a generation. That will definitely be a tough loss moving forward.
Finally, Alkmaar isn't London, Paris... heck even Newcastle. Having visited Alkmaar myself a month ago, it's a small, friendly village, a great place for a young soccer player to focus on his development but not to become the marketing icon that Altidore wants to become. Focused on his brand which includes his numerous charitable functions in Haiti, Altidore shares the same publicist as New York Yankees star Curtis Ganderson. Joining a team in the highly recognizable Premier League or a major club in Europe would allow Altidore to expand his reach.
Still, there are some aspects that are appealing about an extended stay in Holland.
After being with five clubs in three years before joining AZ in 2011, Altidore insisted in the same interview that he is comfortable in Alkmaar and he doesn't want to jump ship after one disappointing season.
Altidore told the
Yanks-abroad.com
: "I have to find a place where I am comfortable. I love playing here and I've grown fond of the place. I've settled down well but if the club feels it's in their best interest to part paths, you have to look and find a situation that's good for you too. I'm certainly in no rush to jump ship."
Staying with Alkmaar would allow Altidore to develop further and build on his confidence.
If AZ beats PSV in the Dutch Cup, the team will compete in the Europa League next season even after a troubled season. That could be the impetus that Stewart could use to turn The Cheese Famers (AZ's nickname) back into a Eredivisie contender. The GM insisted that the team will be recruiting new players and raising expectations even if Maher departs.
"For all players that leave we will search for new players," Stewart said. "Not necessarily in the same position."
And that would allow Altidore to prove that this season wasn't a by-product of Maher's success. Another strong season could equal a bigger transfer fee and a higher salary.
Or we could have a protracted transfer saga akin to Clint Dempsey's at Fulham. Altidore does share the same agent.
It will be an interesting summer.
Follow Alex Labidou on

Picking His Brain: Tab Ramos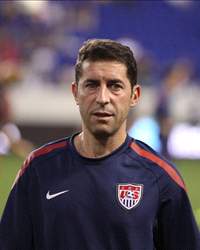 The United States' U-20 team learned its fate in the upcoming World Cup in Turkey this summer and many observers are saying the odds are stacked against the team. A draw of France, Spain and Ghana would be daunting in any competition, but Ramos is optimistic.
Two weeks ago, the U-20 boss spoke with Goal.com to discuss his team's chances to succeed in Turkey.

Goal.com: People have called the United States' draw in the U-20 the group of death. Are there any advantages toward the U.S. when the tournament kicks off in late June?Ramos:
I don't think we have any advantages but I am looking forward to the group. This is a good challenge for us.
What are your goals for this tournament?
We don't have goals, we are trying to take things one thing at a time. Obviously, we play Spain first, so that's our priority. We want to win that game.
Who is a player who has made some strides that we should keep an eye for this summer?
That's a great question. I think Benji Joya has come along from a player that people didn't really know about to being a true leader on this team. He has great charisma and he's willing to do anything for the team. The one who has come out of nowhere has been Benji.
One guy who you will be missing is Liverpool's Marc Pelosi, who broke his leg earlier this year. Have you been monitoring his recovery and staying in touch?
It's my understanding that Marc will not be available for months... I haven't spoken with him since after his surgery. I spoke with him initially when he got injured. At this point, I know that Marc will be a big part of the future for our team. So hopefully, he recovers well and in the next couple of years he'll be back in the [U.S.] program.
Random Thoughts On Soccer:

Juan Agudelo to AZ:
Considering Altidore's sizable success, I asked Stewart if there was any interest in bringing Agudelo, whose contract with Chivas USA and MLS ends this winter. It could be striking gold twice right? While Agudelo should draw suitors from all over Europe, Stewart admitted he hasn't shortlisted the young forward... yet.
"Juan is not a target for us at the moment," Stewart replied.
Kudos to Michael Bradley...
for becoming the fifth American to reach a major cup final after Roma knocked Inter out of the Coppa Italia on Wednesday. Bradley joins Dempsey (Europa League), Jovan Kirovski (Champions League) and goalkeepers Brad Friedel and Tim Howard (FA Cup) in an elite group.
It wasn't easy especially against a desperate, hungry Inter squad but Bradley's Roma will now join heated crosstown rival Lazio in the deciding match on May 26. Also helps that Bradley has recently started showing his human side as evidenced in
this chummy VW commercial
with Roma legend Francesco Totti. Buddy cop movie in the works?
Sporting KC tidbit:
Is there a more underrated American midfielder than Graham Zusi right now? I know he recently signed a new contract a few months ago but I don't care, give him more money. Deft at set pieces, great at moving channels and seeing the field, one of the MLS players I tune in to watch. Check out
his precise corner
against the New York Red Bulls to set up a goal for Aurélien Collin.
Now here's hoping that Sporting doesn't become MLS's version of the Oklahoma Thunder - a midwestern town with rabid fans and an intense coach but still manages to break your heart year-after-year in the postseason.
Let's go New York Knicks:
Not soccer but just felt like mentioning. Hey, playoffs start on Saturday.
Three Must-Watch Games:

PSV at AZ - ESPN3.com - 2:45 p.m. ET, 4/20-
Altidore can reach new heights for any American soccer player if he scores two goals to push his tally to 30 goals. I don't care if you play in the A-League, that is an impressive haul. Plus PSV is a strong title contending team out in the Netherlands.
Seattle Sounders at Colorado Rapids - MLS Live - 6:00 ET, 4/20-
Eddie Johnson, Osvaldo Alonso, Mauro Rosales and hopefully Obafemi Martins if he's healthy, this team's got to win eventually right? If Seattle goes winless in its first seven, is it fair to question the future of head coach Sigi Schmid? I think so.
Manchester City at Tottenham - FSC -
8:30 a.m. ET, 4/21
-Three years ago, Spurs pulled off a huge upset over the expensive City squad to secure its first ever trip to the Champions League. Can the club repeat the feat again this Sunday?
As Dempsey
bluntly pointed out
, missing Europe's top competition would be an disappointment for Tottenham as it will regret not taking advantage of Arsenal's woeful midseason.