A few eyebrows were raised when Californian teenager Marc Pelosi joined Liverpool's youth academy last November.
Pelosi declined offers from UCLA and Major League Soccer, the traditional routes for young American prospects, to join the English soccer giant. Many wondered if the then 17-year-old midfielder would make an impact during his stay at Merseyside or fall wayside the way Anton Perterlin did at Everton in 2008.
So far, it has been a wise decision by Pelosi. In his first year with the Reds, Pelosi has made quite an impression on the team's coaching staff. Liverpool's Academy Director Frank McParland believes that once Pelosi develops his talent, he can be one of the best central midfielders in the English Premier League.
"He reminds me of Gareth Barry of Man City," McParland told Goal.com. "We think he has really high potential."
According to McParland, there aren't many young midfielders who come into English youth academies with the rare combination of size (Pelosi is 6 feet tall), speed and passing ability as the American does. Though the expectations are high for Pelosi at Liverpool, McParland and the team's coaching staff have been careful about bringing him along slowly.
Liverpool Academy Director on U.S. talent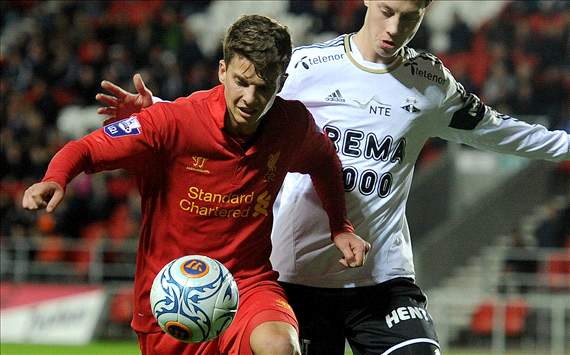 "I think there are lots of players in America who can play here, the problem is the work permits situation."
- Frank McParland

Liverpool ensures that its youth academy players are a close-knit unit despite the fact that all of the players are competing for first team opportunities.
Outside of training and working out together, the players live nearby each other in an apartment building in the city's center. If necessary, they attend high school and continuing education classes together in private classes separate from normal students. They eat at least two meals together every day. It's an insulated environment but it allows the club to protect its young players from the obvious social pressures of playing soccer in England, especially in the Merseyside.
Pelosi admits that the adjustment from being a young man in California to a full-time soccer player was tough at first but was thankful for the team's approach.
"When I first moved, it was hard." Pelosi told Goal.com. "I didn't have too many friends, but the people at the club really helped in fitting in."
Now, Pelosi sees Liverpool as his second home. His friends, fellow youth teammates, are close-knit but isolated from distractions. It is the trade off for having an opportunity to learn from some of the world's best. Dealing with high expectations is exactly why Pelosi decided to pick Liverpool over MLS and college in the first place.
"I choose Liverpool because it is such a big team and it is well known. I thought it would be a good fit for me," Pelosi explained.
When Pelosi first learned of Liverpool's interest, he admits it was "pretty overwhelming," though he remained focused on impressing in various U.S. youth competitions. While it all happened pretty quickly for him, McParland reveals that the club had scouted Pelosi for almost two years before deciding to sign him. Since he was born in Germany (he lived in the country until he was three years old) and his mother is also German, it was easy to bring Pelosi abroad.
McParland is a big admirer of American talent. He characterizes the typical player from the U.S. as having "exceptional attitudes" and being "physically fit." He believes that there will continue to be an influx of American talent in Premier League though he explains that it is continually difficult to import players due to the United Kingdom's work permit system.
"I think there are lots of players in America who can play here, the problem is the work permits situation," McParland said.
McParland explains that one way that teams are beginning to counteract the UK's strict immigration policies is by affiliating themselves with feeder clubs where the player can stay until he qualifies for a permit or attempt to gain a second nationality. Liverpool is currently doing that with Pelosi's youth compatriot Villyan Bijev, who was unable to secure a work permit upon arriving at the club.
"That's [the work permit system] not going to change so it's progressive clubs who will put players into feeder clubs and that's going to be the best market for the American player," Parland said.
Fortunately for Pelosi, all he has to focus on is his development. One of the perks of joining a club with such a lengthy tradition is being able to learn from some of the best. Before he joined Liverpool in 2011, he long admired the team's icon Steven Gerrard, watching the midfielder from thousands of miles afar on his television back home in the U.S.. Within Pelosi's first few months of being at the club, he immediately had a chance to learn under the legendary midfielder.
Gerrard was recovering from lengthy injury spell and played with Pelosi in the reserves. During certain training sessions, the England captain would speak with the team's young talent, including Pelosi. Adding to Pelosi's surreal experiences, he also had an opportunity to train directly with the first team squad and have brief chats with head coach Brendan Rodgers.
It is that education that Pelosi's U.S. U20 manager Tab Ramos believes will bode well. Ramos hinted that he doesn't expect Pelosi to feature for the U.S. anytime soon as he needs to play in first team games first but likes what he has seen so far.
"We think he's someone who could [eventually] feature for the national team for the next decade," Ramos told Goal.com.
Luckily for both the United States and Liverpool, Pelosi makes it pretty clear that he wants to be a part of the first team sooner than later. He isn't interested in searching for a loan move to get extra playing time. He looks at the recent progress of Liverpool starlets Raheem Sterling and Suso and believes he can follow suit into Rodgers' plans.
"Those players were training and playing with us on the reserves and it was just to great to see that you are on their level, you just have keep working hard every day," Pelosi said. "It's everyone's dream to play for the first team."
Follow ALEX LABIDOU on

Free Kicks:
- One player that left quite an impression at Liverpool is Chivas USA's Juan Agudelo, who is linked with a possible move to Celtic in January. Agudelo spent a two-week training stint with the Reds during the MLS offseason late last year.
McParland didn't get to see much of Agudelo as the striker worked almost exclusively with the first team but got rave reviews from a former first team coach who is now the manager of high-flying West Brom.
"Apparently, I know the first team staff were really impressed with him," McParland said. "They said he was a very good player. I remember [West Brom's head coach] Steve Clarke saying to me that he did really well when he was with the first team."
-McParland envisions Pelosi as an attacking central midfielder. He admits that Pelosi isn't good enough defensively yet to play in a two central midfield system but in a 4-3-3 flanked by a strong holding midfield, he can be very effective.
"I think he's more of an attacking player. He has an intelligence when he has the ball, he sees the pass very well," McParland said.