In 2005, Alexi Lalas sat teenaged Michael Bradley down for an uncomfortable chat. Lalas, the New York Metrostars general manager, had just fired Michael's father, Bob.
"He spoke to me and said exactly what you would have expected him to say," Bradley, who made 32 starts that year, told ESPN. "I didn't need him to say anything, though. I was going to do everything in my power to make sure we made the playoffs no matter what."
Bradley scored the playoff-clinching goal a few weeks later. That offseason he left for Heerenveen, at 17 the youngest ever transfer out of MLS, beginning a European career that led him to, imminently, AS Roma.
When he arrives for training, assuming the final signatures land on the proper forms, Bradley won't be allowed to consume any coffee or cake, per the orders of coach Zdenek Zeman, who demands nearly unsustainable fitness and energy levels from his high-octane teams. That shouldn't be a problem for Bradley, even if he has come to enjoy espresso while playing for Chievo Verona. The 24-year-old has devoted his life to soccer, cutting out all hindrances like his lean 6-foot-2, 175 pound frame shuns body fat.
Instead, the charge against Bradley is that he's
too
serious. During one celebration in the locker room, a YouTube clip shows Bradley giving an interview, only for a giddy, drunk teammate to interrupt by pouring champagne on Bradley's head. The midfielder snaps, craning around to bark at his teammate before remembering that he's on air and attempting to regain composure.
His intensity can burn too brightly. FIFA slapped him with a four-match ban after Bradley confronted the referee who sent him off against Spain during the 2009 Confederations Cup semifinal in the tunnel after the match. He also laced a few expletives together in a rant against Eric Wynalda when the pundit suggested Bradley didn't deserve his starting spot on the U.S. national team.
Lately, however, Bradley has channeled his searing determination into an impressive rise through the European club hierarchy.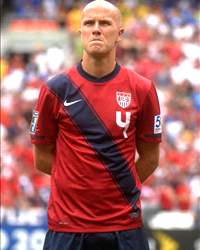 He started, like many current American internationals, at the IMG Academy in Bradenton, Fla., at 13. Skipping college, he joined MLS at 16, and was off to Heerenveen in the Netherlands after two seasons. There Bradley honed his understanding of space and timing, bursting into the box to score 21 goals in all competitions.
Despite a slick passing game, Bradley didn't develop into the attacking player that goal tally would suggest. Instead, he joined Borussia Monchengladbach for 2.5 million euros and ossified as a holding player. U.S. captain Carlos Bocanegra described him to Nike's Inside the Pro as "like a little pit bull running around in there just wreaking havoc. The No. 10s on the other team hate that."
An unsuccessful loan at Aston Villa in 2011 only further chilled Bradley's steely resolve. He jumped from the Bundesliga to the Serie A, signing for Chievo for 1.2 million euros the next summer and setting about learning Italian immediately. He'd grown up watching and supporting AC Milan, and modeled his game after Demetrio Albertini.
Quickly he became an automatic starter, averaging 3.1 tackles and 2.1 interceptions per game. His 42.3 average passes per match led the team, and his 3.9 accurate long balls every game were second only to the goalkeeper. He created 1.5 goal-scoring chances every game. Also indicative of the steady maturation of a once reckless tackler, Bradley picked up only four cautions and zero reds. (Stats come from Opta, via whoscored.com.)
"He fought his way through the roster on his own team to become one of their leaders within one year," U.S. coach Jurgen Klinsmann said, according to Fox Soccer. "This is exceptional."
Chievo boss Domenico Di Carlo wasn't the only coach Bradley convinced. Klinsmann started Bradley in his first match in charge of the United States, a 1-1 draw with Mexico, and then for five games the best Bradley managed was two substitute appearances. That changed in a friendly against Slovenia, when Bradley started and gave a composed, assured performance on the right of midfield.
Klinsmann has since built his midfield around his predecessor's son. In recent World Cup qualifiers, Bradley started as the deepest midfielder, winning back the ball and then racing ahead of the scattered distribution of Maurice Edu to orchestrate play.
Even after scoring five goals in qualifying for the 2010 World Cup, including a brace against Mexico in Columbus, Ohio, Bradley had to prove himself. His father was the U.S. coach for five years, which amounted for all but Michael's first two caps.
Bob Bradley was also the caveat on the club level, drafting his son and installing him as a starter at the Metrostars. But the son's accolades have rendered that particular astrix negligible. In fact, compared to other American stars, such as Clint Dempsey, who had a career year at 29 and bemoans that he didn't turn professional until his second decade, Bradley's rise has been atypically quick.
Now the caveat is that Roma naturally edged toward the eyeball- and sponsorship-heavy country of owner Thomas DiBenedetto, an American who also has investments in the Boston Red Sox. Bradley should arrive just in time to join Roma's three-match U.S. tour.
"I want to make it clear that his capture is not a marketing ploy," said director of football Walter Sabatini. "Bradley is a pragmatic player, one sure of himself, who knows how to play and knows how to win."
Zeman allegedly asked for Bradley instead of Dempsey, who scored 23 goals for Fulham last year. But how highly Roma thinks of Bradley is debatable considering his modest transfer fee (3.5 million euros plus loans going the other way, according to the highly-connected Greg Seltzer) and salary (800,000 euros per season, according to Corriere dello Sport, which would rank 18th on the squad according to last season's figures).
Of course, if Bradley succeeds – and his track record suggests he will – those qualms will just join the extensive list of caveats his grim determination has obliterated.
Follow ZAC LEE RIGG on

or shoot him an email